OROP – One Rank One Pension Arrears Calculator – Get to know your OROP Arrears at ease using online tool launched by exweltrust.in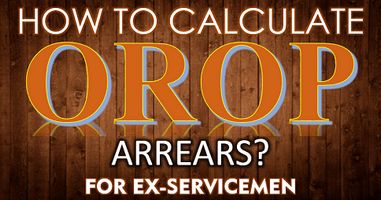 Exwel Trust, which is promoted by veterans of Three Defence Services has come up with an online calculating tool for determining One Rank One Pension Arrears for Ex-Servicemen.
In the brief for using this OROP arrears calculator, exwel trust says that given the Rank, Qualifying service, Group and Date of Birth, an ex-serviceman can easily calculate the One Rank One Pension Arrears taht accrues from 01.07.2014.
Here is what Exwel Trust says about this OROP Arrears Calculator
An on line solution to find the correct pension of a Defence pensioner and Family pensioner is a long pending need.  Unfortunately, the PDAs and DPDOs have not given much importance to this aspect.  Also frequent changes in the pension regulations, various anomalies arising while implementing  the pay commission's recommendations, rigid attitude of MOD and the lethargic attitude of the CDA(P) and CGDA have all joined together and made the Defence pension pension payment a most complicated job to the Banks.

Now the pensions of the entire 2.5 million Defence pensions have to be revised under OROP Scheme.  The Banks are struggling to find a solution to this task.  None of the Banks have any comprehensive software for revising the pension of such a huge number of people.  The ultimate sufferers are the poor pensioners.  The refinement of Defence pension account is an urgent need.

OROP orders were released on 4.2.2016.  Till today, none of the banks have bothered to pay the arrears. Nowadays, the banks spent huge amounts  for automation.  But somehow, they have neglected the Defence pension payment.

In fact the OROP orders have simplified the entire Defence Pension payment system for fixation of revised pension and opened the gates for developing a comprehensive software for calculation of OROP arrears and fixation of revised pension.  Even then, the banks are delaying payment.  The Table No.7 is the basis for creating all other types of pensions for JCOs and Ors.  The various Groups have been reduced to only Two Groups now.  Therefore, it is easy for the banks to develop a software only for OROP arrears and revised pension.  Unfortunately the banks have not given importance to this aspect.  Moreover, the most important parameters required for fixing the new pension is the Rank, Qualifying Service, Group and Date of birth. The banks can pay immediately for whom the above information is available.  For others, they can get it from the PSAs on urgent basis.  But, it seems that none of the above work is undertaken by any of the banks.

In view of the above, we thought of developing a simple software to calculate the arrears online and forward the working sheet directly to all the CPPCs of the respective banks by email so as to enable them to take up the payment without any further delay.

Click the following link.  You will be taken to Exwel Trust website. Follow the instructions given in this Blog dated 12.3.2016.

Now click only the OROP arrears for pensioners and fill up all the details.  Do not try "Defence Pension" Tab and "Family Pension Arrears Tab" for the time being. At the end you will get Print PDF button.  Click and take a print out if you want, and save it in your computer.

Now come back to the original blog, click the link for getting email ids of all the banks.  Search your bank's CPPCs email address and forward the OROP arrears print out as an attachment to your bank.

click here for the email ids of all banks CPPCs.

This is our humble effort to make the banks to take up the payment at an early date.  All the readers of this Blog, please forward and give us feedback.  We welcome your comments on our efforts.  Officers OROP arrears are not covered under this system.  A separate software is being developed for  Officers.  We will inform as soon as it is ready.

Please note that this is for testing purposes only.  If you find any errors, please bring it to our notice. It is also not applicable for Officers.
Here is a brief tutorial on using OROP Arrears Calculator given by exweltrust.
Now that the Banks and the DPDOs have started paying O.R.O.P. arrears.  There is a doubt in the minds of the Defence Pensioners whether they have been paid the correct arrears are not.

We have given you a simple solution to know your arrears on line. Please follow the given steps. This process is in two stages.  First you have to register by giving particulars with your email, mobile number etc.  Then on receipt of your request, it will be activated by Website moderator.

The activation will take minimum  maximum 24 hours.  After activation, you can visit http://exweltrust.in  click Pension arrears tab and get your arrears print out.

Here is the procedure:-

Go to http://exweltrust.in/

Click  Subscription

Look at "our pricing"

Go to Basic Rs.200

Click "Get started now" at the bottom

You will see "Check out"  Billing details

Fill up your particulars. (The Red star fields are mandatory)

On the right hand side click "Make payment"

You will get confirmation !! The Registration is successful. (This is the first stage)

All successful registrations will be activated by the Website Moderator within 24 hours.

Wait for activation.   Meantime you can send SMS "activate" to 9894152959 or 9442801632.

After activation, you can log in http://exweltrust.in  with your user name and password.

Click "Pension arrears" Tab.  In the user Login, use your username and password.

Now you will get user dashboard.

Now you click "Pension arrears".  You will see a drop down menu showing various types of arrears. Click the appropriate menu, fill up your particulars, at the end click "Print PDF" to get Arrears print out.

You can get this free service for 15 days.  You can log in any number of times, and take print out to your friends.  You need to fill up the following information only:-

Your Rank, Qualifying  service, Group and Date of Birth.
Keywords: Defence Pension, Family Pension Arrears, OROP arrears for pensioners, OROP for family pensioners, OROP with disability.
Source: exweltrust.blogspot.in