7th Pay Commission Calculator with Arrears after deductions
7th Pay Commission Calculator with Arrears after deductions such as NPS contribution and CGEGIS.  Calculate month wise 7th CPC Arrears of Pay and allowances from January 2016 till the month of your choice.
Update: 01.07.2016: After cabinet approval GConnect 7th Pay Commission Pay and Allowances Calculator has been updated now.  Pl checkout the link given below for updated Tool and decision of govt on 7th Pay commission recommendations
After release of 7th pay Commission's recommendations in November 2015, GConnect had launched 7th Pay Commission Calculator for estimating new pay for all Central Government Employees. Since, new 7CPC Pay is already due from January 2016, we have now come up with this online tool which would estimate the new 7th CPC Pay and month wise arrears
Update : 15-04-2016: On the basis of feedback from the readers, we have updated the tool to include the quantum of deductions from the Total Arrears our of 7th CPC implementation viz., NPS and CGEGIS.
Employee contribution of NPS would be 10% of increase in Basic Pay and DA. As far as CGEGIS is concerned the level wise monthly deduction as proposed by 7th Pay Commission is taken. CGEGIS deducted already has been ignored as the same is negligible.
Click here to get the Level wise CGEGIS Monthly deduction and Insurance amount proposed by 7th Pay Pay Commission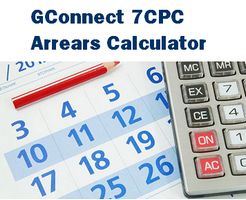 Need for this new 7th Pay Commission Calculator – Efforts taken by Govt such as appointment of Empowered Committee immediately on receipt of 7CPC report, allocation of adequate funds in the budget etc indicate that Govt is keen to award 7th Pay Commission pay and allowances all Central Government Employees and Defence Personnel as early as possible.
When 7th pay Commission recommendations will be Implemented ? – Implementation of 7th Pay Commission may not be possible till the end of May 2016 on account of model code of conduct in connection with Assembly Elections in States. In the mean time, the empowered committee appointed by govt to process 7th Pay Commission recommendations is into the job of hearing the demands and suggestions of Staff Side and department. Thereafter, the Committee would finalize its decisions for approval by Union Cabinet.
It is widely expected that 7th Pay Commission's recommendations would be implemented any time after May 2016, during this financial year itself (2016-17). So, this 7th Pay Commission Calculator has been designed to estimate arrears of pay till the month of user's choice. In other words, month up to which arrears to be estimated can be selected by the user.
How to Use 7th Pay Commission Pay and Allowances Arrears Calculator ?
1. Select present 6CPC Pay Band / Grade Pay to which you belong to presently
2. Enter your present 6CPC pay in pay band (Do not include your grade pay)
3. Select present HRA Rate
4. Select City in which you are presently working for the purpose of TA Rate
5. If you are eligible for Double TA (applicable to physically challenged employees) select the option yes.
6. Select Yes option if you are eligible for TA of Rs. 7000 (Applicable to employees who are in the GP of Rs. 10,000 and eligible for official Car)
7. Select Yes if you are entitled to NPA (Non-Practicing Allowance)
8. Select Yes if you are covered by NPS
9. Finally Select the month up to which arrears of pay and allowances is to be calculated
Then Click Calculate Arrears button. Now this online tool would display the following
1. New 7th Pay Commission Pay,
2. Your new level and index in the 7th CPC Pay Matrix
3. Arrears if new HRA is is paid from 1st January 2016 after necessary deductions such as NPS Contribution, CGEGIS etc.
4. Arrears if new HRA is paid from the date of implementation
5. Month wise Pay drawn and Pay due statement
6. Display of your fitment in the new 7th Pay Commission Pay Matrix
Want to know more about 7th Pay Commission Pay Structure, Pay Fixation Method and fitment formula? Checkout this link
Click here to know the details of new HRA recommended by 7th Pay Commission
Click here to get the more information about Transport Allowance recommended by 7th pay Commission

Note: This 7th Pay Commission Calculator calculates New DA from July 2016 as 2% (CPI from July 2015 to April 2016 indicates 6% or 7% increase in DA from July 2016 for pre-revised pay and 2% or  3% from July 2016 after implementation of 7th Pay Commission)
Checkout this GConnect Article : DA from July 2016 set to increase by 6% or 7%

Disclaimer: Estimation of new pay and arrears by this online tool is only approximate and on the basis of pay, allowances and date of effect recommended by 7th Pay Commission. Actual Pay and date of effect of the same will be known only after Govt implements 7th Pay Commission recommendations