High Court asks Centre to file its LTC Policy
High Court asks Centre to file its LTC Policy – The court asked the Centre to file its LTC policy along with an affidavit.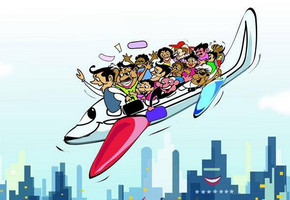 The Delhi High Court has asked the Centre to file its policy regarding grant of leave travel concession (LTC) to government servants while observing that there were "serious anomalies" in the scheme.
"There are serious anomalies in it (LTC), not just with regard to airfare, but generally," a bench of Justices Badar Durrez Ahmed and Ashutosh Kumar said while hearing a PIL alleging misuse of the leave fare concession (LFC)/LTC scheme by employees of Syndicate Bank.
The court asked the Centre to file its LTC policy along with an affidavit, which would also include the "air travel component" applicable all over the country, on the next date of hearing on September 19.
The bench also suggested to the government to streamline the LTC policy to include air travel to foreign destinations, saying travelling to some overseas locations cost less than what it did to go to some places within the country.
It noted that air travel to Thiruvananthapuram was costlier than taking a flight to Nepal.
During the hearing, advocate Anuj Jain, appearing for the petitioner Yatendra Kumar Jain, contended that enquiry carried out into the alleged misuse of LTC scheme by bank employees was an "eyewash" as the travel agents who booked tickets were not traceable.
He also alleged that CBI was being reluctant to probe the matter, after which the bench also sought response from the agency on the issue.
The lawyer alleged that misuse of the scheme has caused a loss of Rs 450 crore to Syndicate Bank alone and the amount would be much more if all the 27 public sector banks in the country are taken into account.
The bank, meanwhile, filed an affidavit stating that to curb the alleged practice of travel agents presenting bills which were higher than that of the actual fare, it has started asking for copy of the ticket and boarding pass.
Jain has alleged that officials of the bank, even in higher scales of their rank, misused LFC by over-billing and excess-drawing hugely inflated fares, in league with private travel agents as well as the bank's sanctioning authorities.
He has sought an investigation into the alleged misuse of LTC by the bank employees as well as disciplinary action or initiation of criminal proceedings against those held responsible.
Source: PTI