Air India LTC 80 Fare as on March 2017 for Central Government Employees
Travel by Air while availing LTC – Air India LTC 80 Fare as on March 2017 – Central Government Employees travelling on LTC will have to purchase only Air India Tickets under LTC 80 Fare
Instructions issued by Govt from time to time envisages that Central Government Employees will have to travel only by Air India by purchasing LTC 80 tickets, when they availAir under Leave Travel concession.
Click here to read: Guidelines on Air Travel / LTC – Condition to travel by Air India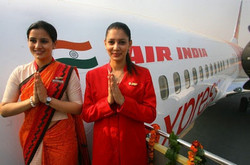 Govt has also issued instructions regarding eligibility for reimbursement of Private Air tickets fare other than Air India LTC 80 Tickets, in certain circumstances such as non-availablity of Air India flights, tickets etc.
Click here to read:Permission for Travel by Air for Official and LTC purpose in private airlines
The Latest Air India LTC 80 Fare with effect from March 2017 along with Air India's conditions for booking air tickets under LTC concession.
LTC Concession
Eligibility:
Air India offers LTC in Economy and Business class Indians and their family members traveling on leave.For the purpose of concession, the family includes Spouse, dependent children 12Yrs and above and dependent Parents. They must be employed in the following institutions where leave facility is available:
– Central & State Government.
– Public Sector Organizations.
– Educational Institute recognized / aided by Central / State Governments and / or officiated to any of the Universities / Education Boards.
Required Documents:
Official ID card. Family members to carry the copy of the same.
Discount:
Specific HLTC fare in Economy and DLTC in Business class.
Travel:
Any sector within India.
Ticket Validity:
1 Year from date of issue
Advance Purchase:
Not required. Ticket can be purchased any time
Children:
Normal discount on the class of travel. No additional discount applies.
Infant:
(Under 2 years) 1st accompanying Infant – Rs.1000 per coupon, Plus applicable taxes. 2nd and more Infants, no discount permissible.
Date/Flight change, Cancellation & Refund:
Permitted – Fee applies
TABLE – IV : LTC Fares
SECTOR & V.V
HLTC (Economy Class)
DLTC (Executive Class)
Base Fare
Base Fare
Agartala
Kolkata

5741

12601

Agatti
Bengaluru

10141

Agatti
Kochi

10421

Agra
Delhi

7531

18476

Agra
Khajuraho

5741

11001

Agra
Varanasi

6796

15872

Ahmedabad
Chennai

10376

33856

Ahmedabad
Delhi

8150

22628

Ahmedabad
Hyderabad

9226

25124

Ahmedabad
Mumbai

6201

18792

Aizawl
Imphal

6316

11800

Aizawl
Kolkata

6476

13853

Allahabad
Delhi

8391

Allahabad
Kanpur

7531

Allahabad
Mumbai

12351

Amritsar
Delhi

6216

18680

Amritsar
Mumbai

13461

35400

Amritsar
Nanded

13461

35400

Aurangabad
Delhi

10951

27552

Aurangabad
Mumbai

6301

17880

Bagdogra
Delhi

12666

27400

Bagdogra
Kolkata

7286

17840

Bhatinda
Delhi

6901

Bengaluru
Chennai

6551

13396

Bengaluru
Delhi

13551

39956

Bengaluru
Goa

7001

20056

Bengaluru
Hubli

6671

Bengaluru
Hyderabad

7301

21556

Bengaluru
Kochi

6351

14032
| | | | |
| --- | --- | --- | --- |
| Bengaluru | Kolkata | 13351 | 37072 |
| Bengaluru | Mangalore | 6786 | |
| Bengaluru | Mumbai | 9001 | 21644 |
| Bengaluru | Mysore | 6351 | |
| Bengaluru | Pune | 8034 | 21368 |
| Bengaluru | Tirupati | 7071 | |
| Bengaluru | Trivandrum | 7301 | 16948 |
| Bengaluru | Vijayawada | 7101 | |
| Bhavnagar | Mumbai | 6786 | |
| Bhopal | Delhi | 6651 | 22200 |
| Bhopal | Hyderabad | 7900 | |
| Bhopal | Indore | 6131 | 12732 |
| Bhopal | Jabalpur | 6901 | |
| Bhopal | Mumbai | 7206 | 23880 |
| Bhopal | Pune | 7101 | |
| Bhopal | Raipur | 7180 | |
| Bhubaneshwar | Delhi | 11951 | 32813 |
| Bhubaneshwar | Mumbai | 12351 | 35108 |
| Bhubaneshwar | Port Blair | 14166 | |
| Bhubaneshwar | Varanasi | 8550 | 23880 |
| Bhuj | Mumbai | 8391 | |
| Chandigarh | Delhi | 6151 | 18508 |
| Chandigarh | Jammu | 6901 | |
| Chandigarh | Leh | 6551 | 14032 |
| Chandigarh | Mumbai | 11786 | 35400 |
| Chandigarh | Pune | 11786 | 35400 |
| | | | |
| --- | --- | --- | --- |
| Chennai | Coimbatore | 7171 | 17120 |
| Chennai | Delhi | 12106 | 39724 |
| Chennai | Goa | 8161 | 21052 |
| Chennai | Hyderabad | 6301 | 18328 |
| Chennai | Kochi | 7101 | 19312 |
| Chennai | Kolkata | 11516 | 36144 |
| Chennai | Madurai | 6101 | 17012 |
| Chennai | Mumbai | 11521 | 27680 |
| Chennai | Portblair | 12361 | 33312 |
| Chennai | Pune | 10001 | 26752 |
| Chennai | Trivandrum | 7451 | 19320 |
| Coimbatore | Delhi | 13401 | 41624 |
| Coimbatore | Mumbai | 10951 | 27480 |
| Dehradun | Delhi | 7071 | 17400 |
| Dehli | Dharamsala | 6671 | |
| Dehli | Durgapur | 12011 | 33672 |
| Delhi | Gaya | 9001 | 23524 |
| Delhi | Goa | 12471 | 33260 |
| Delhi | Gorakhpur | 7206 | |
| Delhi | Guwahati | 13461 | 33904 |
| Delhi | Gwalior | 6901 | 12614 |
| Delhi | Hyderabad | 11351 | 33960 |
| Delhi | Imphal | 12731 | 38000 |
| Delhi | Indore | 6701 | 20668 |
| Delhi | Jabalpur | 8251 | |
| Delhi | Jaipur | 5401 | 17880 |
| Delhi | Jammu | 6251 | 18836 |
| Delhi | Jodhpur | 7556 | 18940 |
| Delhi | Kanpur | 7171 | |
| Delhi | Khajuraho | 7501 | 19836 |
| Delhi | Kochi | 16001 | 44668 |
| Delhi | Kolkata | 12011 | 34600 |
| Delhi | Kozhikode | 13701 | 40024 |
| Delhi | Kullu | 8151 | |
| Delhi | Leh | 7351 | 19872 |
| Delhi | Lucknow | 6671 | 18680 |
| Delhi | Mangalore | 13551 | 39956 |
| Delhi | Mumbai | 11901 | 31360 |
| Delhi | Nagpur | 9321 | 22718 |
| Delhi | Pantnagar | 6151 | |
| Delhi | Patna | 9301 | 23120 |
| Delhi | Port Blair | 25166 | 44668 |
| Delhi | Pune | 12351 | 36872 |
| Delhi | Raipur | 10001 | 27952 |
| Delhi | Rajkot | 11251 | |
| Delhi | Ranchi | 11761 | 27480 |
| Delhi | Srinagar | 8051 | 22364 |
| Delhi | Surat | 11251 | 26536 |
| Delhi | Tirupati | 12666 | 38000 |
| Delhi | Trivandrum | 15806 | 44668 |
| Delhi | Udaipur | 7636 | 22680 |
| Delhi | Vadodra | 9201 | 25476 |
| Delhi | Varanasi | 7531 | 22600 |
| Delhi | Vijayawada | 11516 | 33874 |
| Delhi | Vishakhapatnam | 13351 | 35876 |
| Dibrugarh | Dimapur | 5101 | 11276 |
| Dibrugarh | Kolkata | 9551 | 18312 |
| Dimapur | Kolkata | 7951 | 16827 |
| Diu | Mumbai | 6901 | |
| Durgapur | Kolkata | 6253 | 17880 |
| Gaya | Kolkata | 6351 | 14550 |
| Gaya | Varanasi | 6701 | 12110 |
| Goa | Hyderabad | 7101 | 19880 |
| Goa | Kochi | 6851 | 19123 |
| Goa | Mumbai | 7171 | 17120 |
| Goa | Pune | 6386 | 17880 |
| Guwahati | Imphal | 6751 | 17880 |
| Guwahati | Kolkata | 6926 | 18280 |
| Guwahati | Lilabari | 7001 | |
| Guwahati | Silchar | 7101 | |
| Guwahati | Tezpur | 5951 | |
| Gwalior | Mumbai | 10551 | 23946 |
| | | | |
| --- | --- | --- | --- |
| Hubli | Mumbai | 6671 | |
| Hyderabad | Jabalpur | 7900 | |
| Hyderabad | Kolkata | 12646 | 33340 |
| Hyderabad | Mumbai | 7101 | 19696 |
| Hyderabad | Pune | 7081 | 18912 |
| Hyderabad | Tirupati | 6506 | 17880 |
| Hyderabad | Varanasi | 11761 | 27456 |
| Hyderabad | Vijayawada | 6901 | 17880 |
| Hyderabad | Vishakhapatnam | 6796 | 17880 |
| Imphal | Kolkata | 6131 | 14480 |
| Indore | Mumbai | 6331 | 17128 |
| Jaipur | Mumbai | 10001 | 24316 |
| Jaipur | Jodhpur | 7031 | 16280 |
| Jammu | Leh | 6736 | 17880 |
| Jammu | Srinagar | 6253 | 17880 |
| Jamnagar | Mumbai | 7031 | 16280 |
| Jodhpur | Mumbai | 9836 | 24180 |
| Khajuraho | Varanasi | 6786 | 19480 |
| Kochi | Mumbai | 11351 | 28068 |
| Kochi | Trivandrum | 6151 | 10804 |
| Kolkata | Lilabari | 9950 | |
| Kolkata | Mumbai | 12136 | 38000 |
| Kolkata | Port Blair | 14021 | 33708 |
| Kolkata | Ranchi | 6386 | |
| Kolkata | Shillong | 7331 | |
| Kolkata | Silchar | 6851 | 14228 |
| Kolkata | Tezpur | 7001 | |
| Kozhikode | Mumbai | 11250 | 29536 |
| Leh | Srinagar | 6453 | 17880 |
| Lucknow | Mumbai | 11001 | 33340 |
| Madurai | Mumbai | 10801 | 30284 |
| Mangalore | Mumbai | 7936 | 20552 |
| Mumbai | Nagpur | 6851 | 19892 |
| Mumbai | Raipur | 11650 | 26396 |
| Mumbai | Rajkot | 7131 | 17880 |
| Mumbai | Ranchi | 12701 | 34160 |
| Mumbai | Surat | 6151 | |
| Mumbai | Trivandrum | 13151 | 30552 |
| Mumbai | Udaipur | 6636 | 22280 |
| Mumbai | Varanasi | 12646 | 31221 |
| Mumbai | Vishakhapatnam | 12051 | 30016 |
| Port Blair | Vishakhapatnam | 12646 | 29621 |
| Pune | Raipur | 9301 | |
| Raipur | Nagpur | 7031 | 16280 |
| Raipur | Vishakhapatnam | 6101 | 15999 |
| Silchar | Tezpur | 5951 | |
| Vijayawada | Vishakhapatnam | 6901 | |
Source: Download Latest Air India LTC 80 Ticket Fare with effect from March 2017 released by Air India