Use of Private e-mail by Government Employees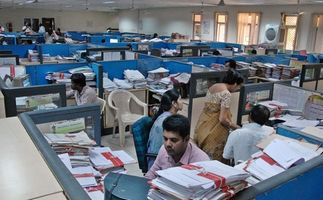 Ministers reply to Lok Sabha regarding Use of Private e-mail by Government Employees
Electronics and Information Technology Minister's reply regarding usage of Private e-mail by Government Employees
GOVERNMENT OF INDIA
MINISTRY OF ELECTRONICS AND INFORMATION TECHNOLOGY
LOK SABHA
STARRED QUESTION NO: 451
ANSWERED ON: 05.04.2017
Use of Private e-mail by Government Employees
GOPALAKRISHNAN CHINNARAJ
Will the Minister of ELECTRONICS AND INFORMATION TECHNOLOGY be pleased to state:-
(a) whether the Government is aware that the Government employees including PSU employees are still using private e-mail for official communication/work and if so, the reasons therefor;
(b) whether the Government is planning e-mail services at par with private e-mail services such as g-mail and Yahoo for officials work; and
(c) if so, the action taken to improve e-mail services provided by National Informatics Centre (NIC)?
ANSWER
(a) to (c): A Statement is laid on the Table of the House.
STATEMENT REFERRED IN REPLY TO LOK SABHA STARRED
QUESTION NO. *451 FOR 05.04.2017 REGARDING
USE OF PRIVATE E-MAIL BY GOVERNMENT EMPLOYEES
(a) to (c): The Government has notified the E-mail policy of Government of India vide Gazette Notification dated 18th February 2015. This policy inter alia mandates and provides for guidelines for use of Government email service, provided by NIC, for all official communications by Government officers.
The Government of India has also approved a project to strengthen the NIC email infrastructure. Once implemented, the new email system will provide for 50 lakhs email ids for Government users across the country. This new setup will be as per global standards.
National Informatics Centre (NIC) does not Track the usage of private emails by Government employees, including PSU employees.
Source : Lok Sabha