Consumer Price Index for February 2016 released – Calculation of DA from July 2016
Consumer Price Index for February 2016 released – Calculation of DA from July 2016 for Central Government Employees requires 4 more CPI from March 2016 to June 2016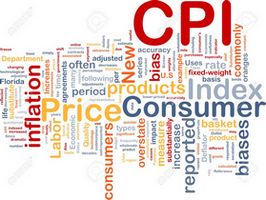 Ministry of Labour and Employment has released the All India Consumer Price Index for Industrial Workers (AICPI-IW) for the month of February 2016. CPI-IW for February 2016 is at 267, which is two points lesser than CPI-IW for January 2016. In fact, consumer price index is either sluggish or in decreasing trend since December 2015.
Trend in CPI-IW attracts the interest of Central Government Employees and Pensioners as their Dearness Allowance given as compensation for inflation, is fixed based this Index. As of now Central Government Employees are receipt of DA of 119%, which is effective from July 2016. As far as DA with effect from January 2016 is concerned, Cabinet has already approved increase in DA to an extent of 6% which will be effective from January 2016. Finance Ministry Orders for DA from January 2016 is expected at moment. Normally, Govt issues DA orders in respect of DA with effect from January, in the first week of April 2016.
Must Read:
DA from January 2016 will be 125% – No related correction need in 7th Pay Commission pay fixation formula
Union Cabinet approves increase in DA for Central Government Employees and Pensioners with effect from January 2016
Many blogs that provide Central Government Employees news have started predicting DA with effect from July 2016. But it may not be accurate, as we need 4 more CPI-IW from March 2016 to June 2016 to calculate DA from July 2016. GConnect would attempt to estimate DA from July 2016 after release of CPI-IW for March 2016.
CPI-IW from July 2015 to February 2016
| | |
| --- | --- |
| Month | Actual AICPI-IW |
| July-2015 | 263 |
| Aug-2015 | 264 |
| Sep-2015 | 266 |
| Oct-2015 | 269 |
| Nov-2015 | 270 |
| Dec-2015 | 269 |
| Jan-2016 | 269 |
| Feb-2016 | 267 |
| Mar-2016 | Yet to be released |
| Apr-2016 | Yet to be released |
| May-2016 | Yet to be released |
| Jun-2016 | Yet to be released |
Official Press Release of Ministry of Labour and Employment for release of CPI-IW for the month of February 2016
No. 5/1/2016 – CPI
GOVERNMENT OF INDIA
MINISTRY OF LABOUR & EMPLOYMENT
LABOUR BUREAU

`CLEREMONT', SHIMLA-171004
DATED: 31st March, 2016

Press Release

Consumer Price Index for Industrial Workers (CPI-IW) – February, 2016

The All-India CPI-IW for February, 2016 decreased by 2 points and pegged at 267 (two hundred and sixty seven). On 1-month percentage change, it decreased by (-) 0.74 per cent between January, 2016 and February, 2016 when compared with the decrease of (-) 0.39 per cent between the same two months a year ago.

The maximum downward pressure to the change in current index came from Food group contributing (-) 2.21 percentage points to the total change. At item level, Rice. Arhar Dal. Masur Dal, Moong Dal, Urd Dal, Groundnut Oil, Mustard Oil, Poultry (Chicken), Eggs (Hen), Garlic, Onion, Vegetable and Fruit items, Flower-Flower Garlands, etc. are responsible for the decrease in index. However, this decrease was checked by Wheat and Wheat Atta, Fish Fresh, Goat Meat, Milk, Tea (Readymade), Sugar, Cigarette, Tailoring Charges, etc, putting upward pressure on the index.

The year-on-near inflation measured by monthly CPI-IW stood at 5.53 per cent for February, 2016 as compared to 5.91 per cent for the previous month and 6.30 per cent during the corresponding month of the previous year. Similarly, the Food inflation stood at 6.18 per cent against 7.61 per cent of the previous month and 7.42 per cent during the corresponding month of the previous year.

At centre level, Giridih reported the maximum decrease of 8 points followed by Madurai. Tiruchirapally, Munger-Jamalpur and Bengaluru (7 points each) and Sholapur. Mundakkayam and Belgaum (6 points each). Among others, 5 points decrease was observed in 3 centres, 4 points in 8 centres, 3 points in another 8 centres. 2 points in 14 centres and 1 point in 10 centres. On the contrary, Quilon recorded a maximum increase of 5 points followed by Mysore and Rajkot (3 points each) and Kodarma (2 points). Among others, 1 point increase was observed in 9 centres. Rest oldie 14 centres' indices remained stationary.

The indices of 34 centres are above All-India Index and other 44 centres' indices are below national average.

The next issue of CPI-IW for the month of March. 2016 will be released on Friday. 29th April. 2016. The same will also be available on the office website www.labourbureaunew.gov.in

(SHYAM SINGH NEGI)
DEPUTY DIRECTOR GENERAL
Download Ministry of Labour Press Release dated 31.01.2016