We should accept "reasonably good" OROP scheme: Air Chief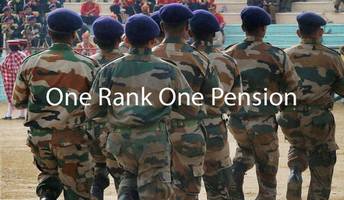 Chief of Air Staff, Air Chief Marshal Arup Raha, on Wednesday asserted that One Rank, One Pension (OROP) scheme of the government is reasonably good and said that one should accept it.
"The OROP by the government is reasonably good. We should accept it. The anomalies are being resolved by one-judge committee. Some of the anomalies and the discrepancies which cropped up from the transition from the sixth to seventh pay commission have been resolved… others will also be resolved," he added.
Prime Minister Narendra Modi yesterday accused the Congress Party of betraying the jawans by not fulfilling the long-pending OROP demand in the last 40 years.
Addressing a parivartan rally in Dehradun, Prime Minister Modi said, "My Army jawans were demanding OROP for the last 40 years, the party that ruled the country then never thought of their demands."
"In reality, the budget for OROP is over Rs. 10,000 crore. Why did they (Congress) betray the Jawans by allocating 500 crore for this," he added.
He said the Centre was always clear that from day one that the Jawans must get their due and therefore, his government always stated that OROP will be a reality.
Defence Minister Manohar Parrikar earlier last month said 95 percent of veterans have already got the benefits of the OROP scheme and they are happy with it.
The scheme, announced in September 2015, is meant to ensure equal pension to servicemen who retired on the same rank and after the same duration of service, regardless of the year of retirement.
However, retired soldiers have been alleging that the government has not addressed their concerns fully about disparity in pension payments.
Source: business-standard.com