7th Pay Commission Pay for Delhi State Govt Employees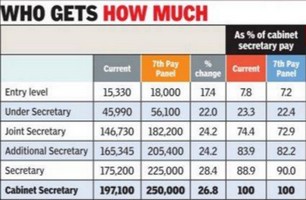 7th Pay Commission Pay for Delhi State Govt Employees – 7th CPC recommendations meant for Central Govt Employees adopted by Delhi State Government for its employees
The Delhi Government has adopted the recommendations of 7th Pay Commission, raising salaries of its employees and pensioners. The pay scale would come into impact from January 1, 2016 though the actual implementation would start from August 1, 2016. A notification was issued on August 16 after approval of Lieutenant-Governor Najeeb Jung.
"The arrears as accruing on account of revised pay consequent upon fixation of pay under CCS (RP) Rules 2016 with effect from January 1, 2016 shall be paid in cash in one installment along with the payment of salary for the month of August 1, 2016 after making necessary adjustment on account of General Provident Fund and National Pension Scheme as applicable, in view of the revised pay," the notification said.
Must read: Calculate your new 7th Pay Commission Pay Arrears – Use GConnect online tool
7th Pay Commission Option form for Pay fixation – Which option to choose ? Use this Online tool
7th Pay Commission Pension Calculator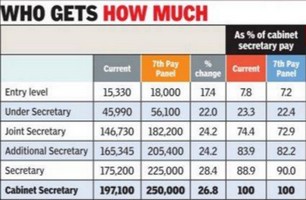 The Delhi government has notified implementation of the Seventh Pay Commission recommendations, which provides 2.5 times hike in basic salaries and pensions of its employees and pensioners with effect from January 1.
The over one lakh employees of the city administration, will get the increased salaries from next month. The arrears will also be paid in one go next month, a Delhi government official said.
The hike in pensions and salaries will cost the exchequer around Rs 2,000 crore annually. The notification was issued after Lt Governor Najeeb Jung gave his approval for the same, the official said.
The move comes nearly one-and-a-half months after the Centre approved the recommendations of the pay panel.
As per the the new scales of pay, the basic salary at entry-level is going up from Rs 7,000 per month to Rs 18,000, while at the highest level i.e. secretary, it would go up from Rs 90,000 to Rs 2.5 lakh. For class one officers, the starting salary will be Rs 56,100.
Source: The Indian Express