Payment of PLB for Railway employees for FY 2019-20 – FAKE Order is circulating
Payment of Productivity Linked Bonus for Railway employees for the financial year 2019-20: FAKE Order is circulating
Payment of Productivity Linked Bonus to eligible non-gazetted Railway employees for the financial year 2019-20. A fake order with this subject is circulating in media. All India Railwaymen's Federation has twitted the image of fake order stating that this order is fake.
Railway employees are eagerly waiting for the decision about the grant of productivity linked bonus for the financial year 2019-20. The same has not been materialized at the court of the govt and no any cabinet decision announced yet.
The order containing the RBE No. 265/2020 is also suspicious because the last order of Railway Board in the series of RBE is "Filling up of posts in ongoing electrification projects undertaken by CORE: Railway Board RBE No. 79/2020 dated 08.09.2020″ and it is clear that RBE No. 265/2020 dated 11.09.2020 seems not correct.
As usual the order is issued in name of the President and further stated that the President is pleased to sanction Productivity Linked Bonus (PLB) equivalent to 78 (Seventy Eight) days wages without any ceiling on wages for eligibility for the financial year 2019-2020 to all eligible non-gazetted Railway employees (excluding all RPF/RPSF personnel). Where, wages exceed 7000/- per month, Productivity Linked Bonus will be calculated as if the 'wages' are 7000/- p.m.
In the second para of order it is mentioned that the "Wages" for the purpose of calculating Productivity Linked Bonus shall include Basic pay' as defined in the Railway Services (Revised Pay) Rules, 2016 and dearness allowance drawn during the financial year 2019-2020. The order is also stating about the other conditions of eligibility, method of calculation of wages, etc., as prescribed in this Ministry instructions and clarifications issued from time to time, shall remain unchanged.
Further in the third para of the order the eligibility of the employees for the Productivity Linked Bonus is mentioned. The order is also confirming about payment of an amount of Rs/- 17,951/- towards Productivity Linked Bonus for the financial year 2019-2020. At last the order has also conveying the concurrence of Finance Directorate of the Ministry of Railways to be seems real and issued in the signature of Salim Md. Ahmed, Joint Director/Estt.(P&A)II, Railway Board.
It is also worth here to mention that a request from AIRF for early payment of bonus for F.Y. 2019-2020 i.r.o. Railway Employees & NFIR for removal of ceiling of bonus for the year 2019-2020 have already been made. However, the time for payment for the same is also is in hand and it is hoping that govt will approve the same, if found feasible in COVID-19 pandemic. The tweet of AIRF (@airfindia) is attached herewith with the image of the order.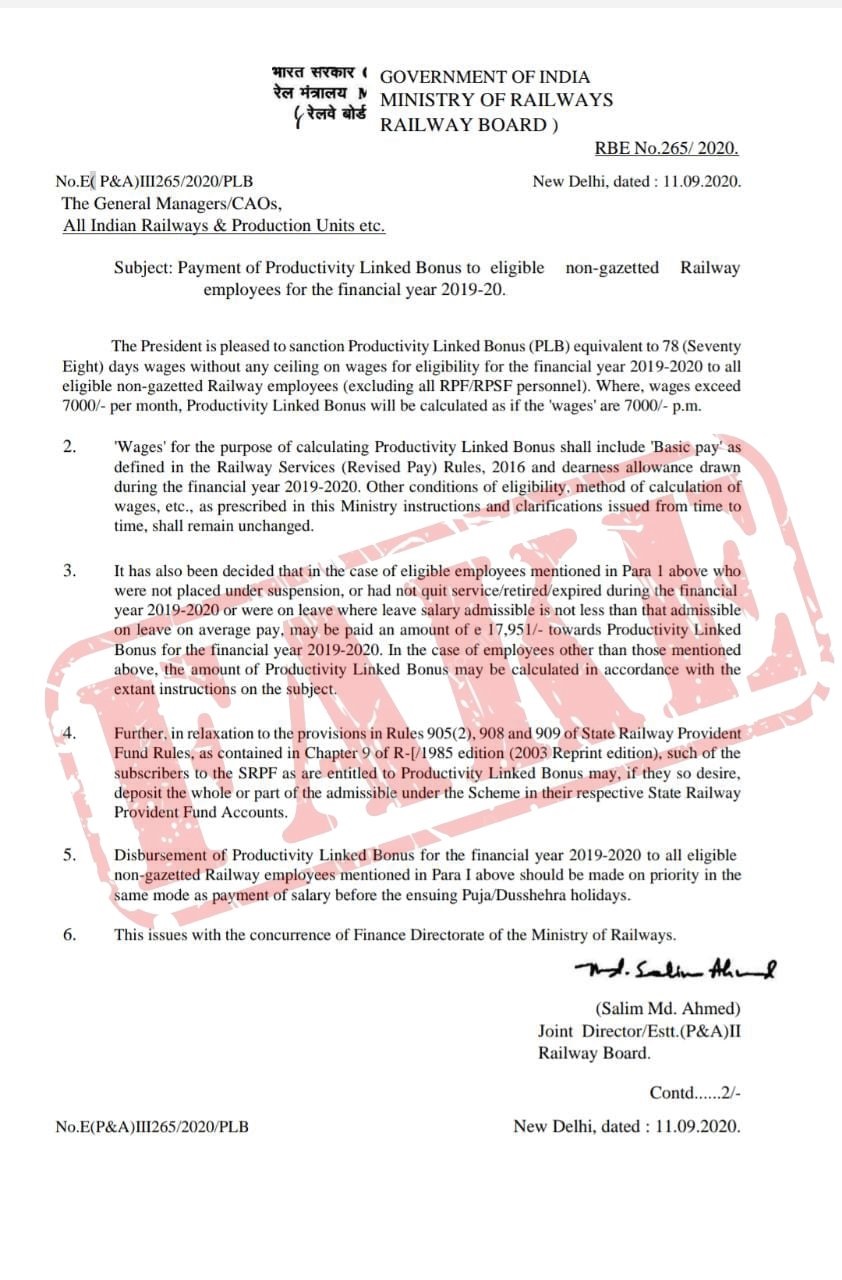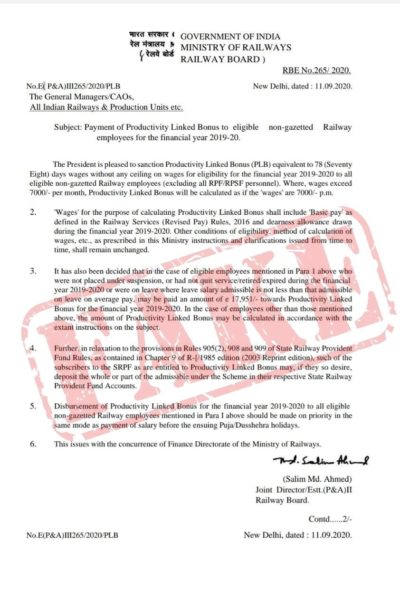 Source: AIRF