Air Ticket offer to Rail ticket waitlisted passengers – Innovative Scheme of IRCTC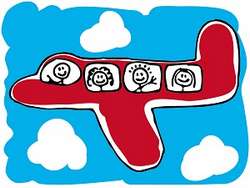 IRCTC offers Last Minute Flight Air tickets to Passengers who hold Wait-listed Train Tickets – Innovative Distress Flight Booking apply to tickets booked 3 days prior to Journey but not got confirmed
IRCTC has announced an offer for the waitlisted ticket holders with an offer for travelling in flight at their cost. The details are given below:
Great news to all Waitlist dropped train ticket passengers.
Now IRCTC users can avail the last minute flight offers using their train ticket booking.
Stage I –Wait list Train tickets booked 3 days prior to the date of journey and which are not confirmed at the time of chart preparation are eligible for the Last minute flight Offer.
Stage II – You would get an Email from IRCTC when you are eligible for the offer. Log on to the website www.air.irctc.co.in
Stage III – Choose the air passengers name from train ticket list & click on Search Flights.
Stage IV – Flights would show up only if airlines operate connecting those sectors. Choose the suitable flight from the list. You may use the next day button to check about flights for the next day also. After selecting the flight click the 'Book' button.
Stage V – Make payments and print Air ticket.
a) You have to make the full payments for the Flights bookings. Your W/L train ticket refund would be done as usual.
b) Don't forget to recheck the date, origin, destination & names before making the payments.
c) These are last minute flights (with stricter cancellation terms), make sure you have enough time in hand reaching the airport and checking in
d) No Changes in name allowed while booking distress flight, Also last name should be at least 2 character long to avail distress booking facility.
Click to view the booking page at IRCTC web site for Air Ticket offer to Rail ticket waitlisted passengers – Innovative Scheme of IRCTC