7th Pay Commission to visit Jodhpur
7th Pay Commission to visit Jodhpur from 12th December 2014 to 15th December 2014 – Email has to be sent to Secretary to having a meeting with 7th CPC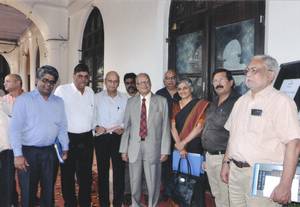 As a part of reviewing pay and allowances of Central Government Employees and to get the suggestions of Associations and Individuals representing central government employees from various departments, 7th Pay Commission has planned to visit Jodhpur from 12th December 2014 to 15th December 2014. It is informed by 7th CPC in its official website that the entities, associations, federations etc who wish to meet 7th Pay Commission at Jodhpur have to confirm the same by email along with 7th CPC Memorandum already submitted by them.
The text of announcement by 7th Pay Commission is as follows:
The Commission, headed by its Chairman, Justice Shri A. K. Mathur, proposes to visit Jodhpur from 12th to 15th December, 2014. The Commission would like to invite various entities/associations/federations representing any/all categories of employees covered by the terms of reference of the Commission to present their views.
Your request for a meeting with the Commission may be sent through e-mail to the Secretary, 7th Central Pay Commission at [email protected] The memorandum already submitted by the requesting entity may also be sent as an attachment with this e-mail.
The last date for receiving request for meeting is 8th December 2014 (1700 hours).
Meetings held by 7th Pay Commission so far at various cities and with various Associations, Federations etc (As on 12.11.2014)
| Date | Meeting with |
| --- | --- |
| 09.11.2014 | At Mumbai: IPS Association, Maharashtra; Assistant Audit Officers' Association; Competent Authority – SAFEMA/NDPSA; Indian Revenue Service Promotee Officers' Association; Indian Revenue Service Association, Mumbai; Films Division Cameramen; Indian Naval Armament Service Association; Directorate of Marketing and Inspection Employees' Association |
| 08.11.2014 | At Mumbai: All India Defence Pharmacist Association; Orthotics and Prosthetics Association of India; All India CGHS Employees' Association; All India Association of Statistical Investigators; National Railway Mazdoor Union; All India Naval Technical Supervisory Staff Association; Ordnance Factories Group B Gazetted Officers; National Defence Non-Gazetted Staff Association; All India Association of Non-Gazetted Officers; The Naval Employees' Union |
| 07.11.2014 | At Mumbai: ISRO Pensioners' Association; Directorate of Purchase and Stores Employees' Association; Atomic Energy Workers and Staff Union; National Federation of Atomic Energy Employees; Atomic Energy Workers and Staff Union; BARC Employees' Association, Tarapur; All India Association of Inspectors and Assistant Superintendents; All India Savings Bank Control Employees' Union; All India Central Labour Welfare Organization Staff Association; Central Government Pensioners' Welfare Association |
| 06.11.2014 | At Mumbai: Central Railway Promotee Officers' Association; Central Railway Mazdoor Sangh; All India Train Controllers' Association; Central Railway Engineers' Association; Bhartiya Pratiraksha Mazdoor Sangh; All India Loco Running Staff Association; Western Railway Motormen's Association; Indian Railways Radiographers' Association; All India Loco Inspectors' Welfare Association; Rashtriya Bhartiya Khani Vibhag Karmchari Sangh; Indian Bureau of Mines Employees' Association; Central Water and Power Research Station; Indian Forest Service Association, Maharashtra |
| 30.10.2014 | S30 Retired Pensioners' Association; PFRDA |
| 29.10.2014 | Director General and Other officers of Defence Estate |
| 13.10.2014 | At Leh: Personnel of Indian Army, Indian Air Force, Defence Institute of High Altitude Research, DRDO, BRO, ITBP, MES, All Ladakh Central Government Employees Association |
| 09.10.2014 | At Dehradun: Non-Gazetted Officers' Association, LBSNAA; National Institute for the Visually Handicapped Employees' Union; Ministerial Staff Association, Survey of India; Topographical Staff Association, Survey of India; Class III Service Association, Survey of India; Central Government Library Association; Faculty, Indira Gandhi National Forest Academy; Indira Gandhi National Forest Academy Staff Association; Faculty, Indian Council of Forestry Research and Education |
| 08.10.2014 | At Dehradun: National Defence Medical Laboratory Technical Staff Association; All India Association of Clerical Employees of Ordnance Factories; Employees Union Ordnance Factory, Dehradun; All India Association of Non-Gazetted Officers of Ordnance & Equipment Factories and Quality Assurance Organization; Staff Association, Rashtriya Indian Military College; All India DGQA Engineers Association; Wildlife Institute of India |
| 24.09.2014 | Indian Ex-servicemen Movement |
| 23.09.2014 | CRPF Officers |
| 22.09.2014 | BSF Officers; Forum of retired CAPF officers |
| 17.09.2014 | Aviation Research Centre |
| 16.09.2014 | RPF Group 'A' Officers, IIM Bangalore |
| 15.09.2014 | Disabled War Veterans (DISWAVE) Association, DG Bureau of Police Research and Development |
| 26.08.2014 | At Bangalore: IAS Officers' Association, IPS Officers' Association, IFS Officers' Association |
| 25.08.2014 | At Bangalore: IIM Bangalore, ISRO |
| 24.08.2014 | At Bangalore: Army Base Workshop (EME) Diploma Holders Association, Bangalore, Air Force Store Keepers Association, All India NCC Defence Civilian Employees Association, Confederation of Central Government Employees and Workers – Karnataka State, Atomic Energy Employees Federation, All India Central Excise Inspectors Association, The Indian Hospital Pharmacist Association, Indian Railway Loco Runningmen Organisation, South Western Railways Engineers Association, Railway Wheel Factory, South Western Railway Employees Sangh, All India DRDO Personal Staff Association, DoS Pensioners Forum, Central Government Pensioners Association, Indian Institute of Horticulture Research Employees' Association, NIMHANS, Veterans Association, All India Loco Running Staff Association |
| 21.08.2014 | Physiotherapy Forum; Indian Ordnance Factories Group'B' Gazetted Officers Association |
| 20.08.2014 | Commissioner, Kendriya Vidyalaya Sangathan; Commissioner, Navodaya Vidyalaya Sangathan |
| 24.07.2014 | Confederation of Central Government Gazetted Officers Association; National Ex-Servicemen Co-ordination Committee; Indian Ex-Services League |
| 23.07.2014 | Bharat Central Pensioners Federation; Bharat Pensioners Samaj; Group 'B' Indian Information Service Association; Indian Postal Service Officers Association; DANICS Officers Association; Group 'B' Indian Ordnance Gazetted Officers Association |
| 22.07.2014 | Police Commissioner, Delhi; DG Coast Guard; IOFS Officers Association |
| 21.07.2014 | Director, IB; Director, CBI; Director, RAW |
| 19.06.2014 | Indian Economic Service Officers Association; Indian Statistical Service Officers Association; IFS Officers Association; DGs of CAPFs (BSF+ITBP+Assam Rifles+Sashastra Seema Suraksha Bal); DGs of CAPFs (CISF+CRPF+NSC) |
| 18.06.2014 | IFS Officers Association; PFRDA; Officers of Department of Financial Services, MOF; Officers of Department of Pension & Pensioners Welfare; P&T Finance Accounts Gr.A Officers Association; IRAS Officers Association; Central Health Service Association |
| 17.06.2014 | IAS Officers' Association; Central Engineering Services Officers' Association (Water+Power+Architecture); Central Engineering Services Officers' Association (Civil+Electrical+Mechanical+Road Transport+Telecom); Income Tax Officers' Association; Custom Officers Association; Central Excise Officers Association |
| 16.06.2014 | IPS Officers' Association; Representative of Pay Commission cells of Army, Navy and Airforce; Indian Audit and Accounts Service Association; Cost Accounts Association; Civil Accounts Association; Federation of Railway Officers |
Source: 7th Pay Commission