NRIs can join NPS now – RBI gives approval
NPS for NRIs – RBI gives approval for permitting NRIs to subscribe in National Pension System – Move to Provide long term capital appriciation as well as retirement secruity in the form of pension to NRIs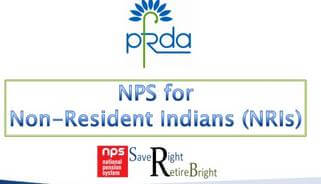 Pension Fund Regulatory Authority (PFRDA) has announced that the Non Resident Indians can start a Pension account with the participating banks of the scheme. Mr.Hemant Contractor, Chairman, PFRDA said today. Contractor said that NRIs could now invest in NPS and that the Reserve Bank of India had also recently clarified that NPS, like mutual funds and insurance, was also an eligible investment for NRIs.
"There was some ambiguity about whether to add NPS as eligible investment by NRI. So, we took up the matter with RBI and very recently they have given this clarification that NPS like insurance and mutual fund could also be eligible investment for NRIs," said Hemant Contractor, chairman of the Pension Fund Regulatory and Development Authority (PFRDA), adding that the government will shortly be coming out with clarification to that effect in the FEMA guidelines
However, it was made it clear that there were no plans to allow Persons of Indian Origin (PIOs) or those with Overseas Citizenship of India (OCI) card to invest in NPS.
At present there are about 10 million Indians mostly from Kerala, Tamilnadu, Uttar Pradesh and other States are working abroad.  PFRDAs this new initiative would bring more beneficial to the NRIs and they can save for their Retirement in India.
Around Rs.91000 crores is being maintained in the Indian Pension Corpus fund with the empanelled Annuity Service Providers.
PFRDA has released a presentation on the salient features of the NPS for NRIs, eligibility details, schemes available, leading Empanelled Annuity Service Providers, Procedure for withdrawal,  Tax benefit and implications etc.
Presentation on key details of NPS for NRIs