NPS – Choice to Government Employees
PFRDA Concept paper on Choice to the Government Employees in NPS – Various options are discussed for the benefit of Government employees
PFRDA has published a concept paper on choice to be given to Government Employees as far as their NPS fund concerned.  The Concept paper has been published for getting comments and suggestions from public and other stakeholders.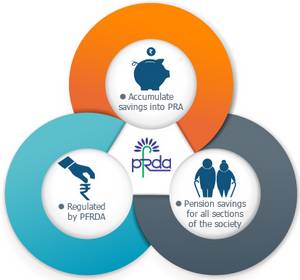 FOR PUBLIC AND STAKEHOLDERS COMMENTS
1. CHOICE TO THE GOVT EMPLOYEES
Reasoning: Key reasons to claim choice to the Govt. employee from are –
1. Shift in risk from employer to employee: It cannot be over emphasised that the movement from DB scheme to NPS marks a shift in onus of funding the old age income security from the employer to the individual employee, through his/her individual retirement accounts.
2. Mandate under PFRDA Act 2013: It is in this back ground that the PFRDA Act provides for opportunities to the subscriber to maximise his returns in the risk return paradigm. Section 20(2) of PFRDA Act, 2013, states that there shall be a choice of multiple pension funds and multiple schemes. Hence, post the notification of the PFRDA Act, there is need to align the investment framework for the Govt employees including Central Govt employees.
3. Parity with other subscribers: The subscribers under the private sector are already enjoying a choice in the selection of Pension Fund Manager(both public and private sector PF) as well as the choice to allocate funds amongst the three asset classes (Equity(E), Corporate Debt (C) and G ( Govt securities) with only ceiling of 50% on equity. On the other hand, the investment pattern for the Central Govt employees prescribes preponderance of fixed income securities, which can currently go upto 95% while the maximum exposure in equities is restricted to 15%, effectively limiting subscriber choice.4. Recommendations of the Bajpai Committee report (2015) : The recently released report of the Bajpai Committee has also recommended the opening of the choice of pension funds and allowing same investment pattern as permitted to the private sector employees
4. Recommendations of the Bajpai Committee report (2015) : The recently released report of the Bajpai Committee has also recommended the opening of the choice of pension funds and allowing same investment pattern as permitted to the private sector employees
Click to view PFRDA Concept Paper