New Promotional and Incentive Structure of PLI/ RPLI
Postal Life Insurance: New Promotional and Incentive Structure of PLI/ RPLI will be effective from 01.07.2020 – Department of Posts

F.No: 28-03/2019-LI
Government of India
Ministry of Communications
Department of Posts
Directorate of Postal Life Insurance
Chanakyapuri P.O. Complex, New Delhi-110021
Dated : 19.06.2020
To,
1. All Heads of Circles
2. Addl DG APS
3. Director, RAKNPA/GM, CEPT
4. All Regional PMsG
5. All Directors PTCs
Office Memorandum
Subject: New Promotional and Incentive Structure of PLI/ RPLI
The promotional (sales) structure and incentive structure of PLI/RPLI was last revised in August 2016 & April 2017 respectively. However, most of Circles had raised concerns in the implementation of the revised promotional structure.
2. In view of the concerns raised by Circles in implementing the promotional structure, low growth in procurement of new PLI/RPLI business and decreasing trend in net accretion of PLI/ RPLI premia, the existing sales structure of PLI/RPLI has been revamped based on the feedback received from the Circles.
3. The new promotional and incentive structure of PLI / RPLI was enclosed as Annexure -I to Annexure -VI.
4. The new promotional and incentive structure of PLI/RPLI will be effective from 01.07.2020.
(L.N. Sharma)
Chief General Manager (PLI)
Annexure-I
New Promotional (Sales) Structure of PLI/RPLI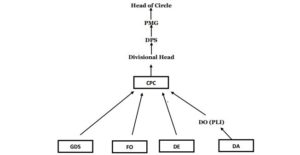 Salient features of new promotional structure:
1. The post of Group Leader has been rechristened as Development Officer.
2. Each Postal Division will have one Development Officer. The responsibility of these Development Officers will be to take the charge of their Postal Division for development of PLI/RPLI business. Their responsibilities include marketing of PLI/RPLI business, meeting prospective clients, training and nurturing of Direct Agents in the Division and procuring PLI/RPLI business through Direct Agents.
3. Sales force of PLI and RPLI comprise of Direct Agents, Gramin Dak Sevaks, Field Officers and Departmental Employees.
4. For procuring PLI/RPLI business, Departmental employees will also include Inspector of Posts (IP) and Assistant Superintendent of Post Offices (ASP).
5. Sales force of PLI/RPLI can procure business from anywhere in the Postal Division. However, in exceptional circumstances, the sales force can procure PLI/RPLI business from outside the Postal Division with the permission of concerned ADM/DDM (PLI) at Regional/Circle Office level. In such cases, the PLI/RPLI policy will be indexed at the CPC where the insurant resides.
Click here to read more about New Promotional and Incentive Structure of PLI/ RPLI