Dearness Relief payable to Bank Pensioners for the period February 2023 to July 2023: IBA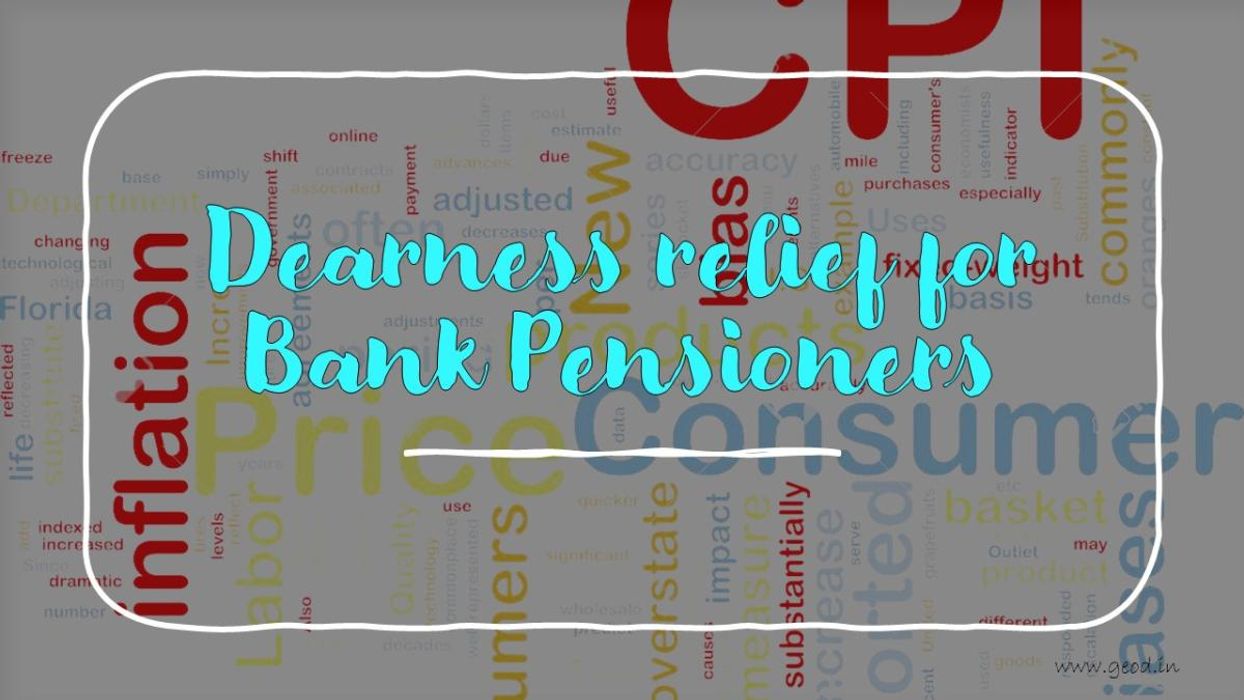 Dearness Relief payable to Bank Pensioners for the period February 2023 to July 2023: IBA
Indian Banks' Association
HR & INDUSTRIAL RELATIONS
No.CIR/HR&IR/D/G2/2023-24/11710
February 1, 2023
Designated Officers of all Member Banks
which are parties to the Bipartite Settlement on Pension
Dear Sir/Madam,
Dearness Relief payable to Pensioners for the period February 2023 to July 2023
The confirmed All India Average Consumer Price Index Numbers for Industrial Workers (Base 1960=100) for the quarter ended December 2022 are as follows:-
October 2022 8710.36
November 2022 8710.36
December 2022 8697.22
In terms of Regulation 37 of Bank Employees' Pension Regulations, 1995 Dearness Relief is payable to pensioners at rates specified in Appendix II to the Regulations.
Pending amendments to Pension Regulations, Banks may pay on ad hoc basis, the Dearness Relief payable to pensioners for the period February 2023 to July 2023 as per Annexure.
Yours faithfully,
Brajeshwar Sharma
Senior Advisor (HIR&IR)
Encl.
PART-I
Dearness Relief to pensioners who retired on or after 1st day of January, 1986, but before the 1st day of November, 1992/1st July, 1993
BASIC PENSION
Dearness relief for the months February 2023 to July 2023 Average Index
Slabs
2026
8705
(i)
Upto Rs.1250
1357. 42 per cent.
(ii)
Rs.1251 to Rs.2000
Rs. 16967.75 plus 114.30 percent of basic pension in excess of Rs.1250.00
(iii)
Rs.2001 to Rs.2130
Rs. 25325.00 plus 668.58 percent of basic pension in excess of Rs.2000.00
(iv)
Above Rs.2130
Rs. 26194.15 plus 344.42 percent of basic pension in excess of Rs.2130.00
PART-II
Dearness Relief to pensioners who retired on or after 1st day of November, 1992/1st July, 1993
BASIC PENSION
Dearness relief for the months February 2023 to July 2023 Average Index
Slabs
1889
8705
(i)
Upto Rs.2400
661.15 per cent.
(ii)
Rs.2401 to Rs.3850
Rs. 15867.60 plus 547.81 percent of basic pension in excess of Rs.2400.00
(iii)
Rs.3851 to Rs.4100
Rs. 15867.60 plus 547.81 percent of basic pension in excess of Rs.3850.00
(iv)
Above Rs.4100
Rs. 24613.66 plus 170.01 percent of basic pension in excess of Rs.4100.00
PART-III
Dearness Relief to pensioners who retired on or after 1st day of April, 1998.
BASIC PENSION
Dearness relief for the months February, 2023 to July 2023 Average Index
Slabs
1755
8705
(i)
Upto Rs.3550
421.2 per cent.
(ii)
Rs.3551 to Rs.5650
Rs. 14952.60 plus 351.00 percent of basic pension in excess of Rs.3550.00
(iii)
Rs.5651 to Rs.6010
Rs. 22323.60 plus 210.6 percent of basic pension in excess of Rs.5650.00
(iv)
Above Rs.6010
Rs. 23081.76 plus 105.3 percent of basic pension in excess of Rs.6010.00
PART-IV
Dearness Relief to pensioners who retired on or after 1st day of November, 2002.
Average Index (CPI) for quarter ended December 2022
8705
No. of Slabs
1604
Rate of dearness relief on pension for the months January 2023 to July 2023
288.72 % of basic pension
(ignore decimals from 3rd place onwards)
PART-V
Dearness Relief to pensioners who retired on or after 1st day of November, 2007.
Average Index (CPI) for quarter ended December 2022
8705
No. of Slabs
1467
Rate of dearness relief on pension for the months February 2023 to July 2023
220.05 % of basic pension
(ignore decimals from 3rd place onwards)
PART-VI
Dearness Relief to pensioners who retired on or after 1st day of November, 2012.
Average Index (CPI) for quarter ended December 2022
8705
No. of Slabs
1066
Rate of dearness relief on pension for the months February 2023 to July 2023
106.60% of basic pension
(ignore decimals from 3rd place onwards)
PART-VII
Dearness Relief to pensioners who retired on or after 1st day of November, 2017.
Average Index (CPI) for quarter ended December 2022
8705
No. of Slabs
588
Rate of dearness relief on pension for the months February 2023 to July 2023
41.16% of basic pension
(ignore decimals from 3rd place onwards)
Source: IBA