Creation of Sub-Divisions in view of sanction of new posts of Inspector Posts (IP) for providing banking facility within five Kilometers of all the villages in the country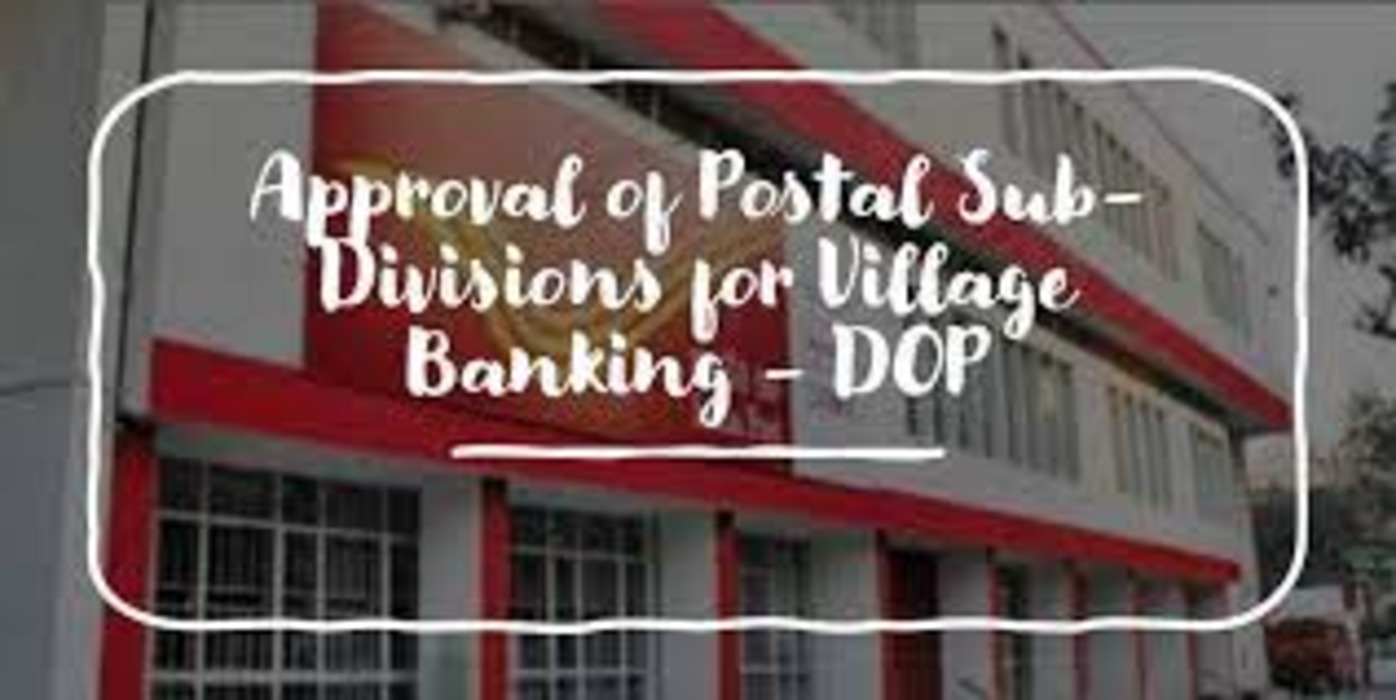 Creation of Sub-Divisions in view of sanction of new posts of Inspector Posts (IP) for providing banking facility within five Kilometers of all the villages in the country: Department of Posts Order dated 14.09.2023
No. 25-17/2016-PE-I
Government of India
Ministry of Communications
Department of Posts
(PE-I Section)
Dak Bhawan, Sansad Marg,
New Delhi — 110001
Dated: September 14, 2023
To,
The Chief Postmaster General,
Chhattisgarh Circle, Jharkhand Circle,
M. P. Circle, Maharashtra Circle, N. E. Circle,
Odisha Circle, Rajasthan Circle.
Subject: Creation of Sub-Divisions in view of sanction of new posts of Inspector Posts (IP) for providing banking facility within five Kilometers of all the villages in the country – reg.
Madam /Sir,
This is in continuation of RB Division's letter No.40-12/2022-Plg dated 24.03.2023 . Approval of the Competent Authority is hereby conveyed for creation of 60 (sixty ) postal sub-divisions in 07 Circles as mentioned below:
S. No.
Name of the Circle
Number of newly sanctioned posts of Inspector Posts
Number of newly sanctioned posts of Mail Overseer.
1.
Chhattisgarh Circle
2
4
2.
Jharkhand Circle
6
12
3.
M.P. Circle
18
36
4.
Maharashtra Circle
4
8
5.
N.E. Circle
16
32
6.
Odisha Circle
5
10
7.
Rajasthan Circle
9
18
Total
60
120
2. The new sub-divisions will supervise the work of Branch Post Offices (BOs)  under them. Details of the newly created sub-divisions is enclosed.
3. All the concerned Circles are requested to take urgent action to set up 60 Postal Sub-divisions. This Directorate may kindly be kept informed of the latest developments in the matter through a monthly status report.
Yours faithfully,
(Prabha Sharma)
Asstt. Director General (PE-I)
Encl: List of 60 new Sub-divisions
Chhattisgarh Circle
| | | | | | |
| --- | --- | --- | --- | --- | --- |
| S. No. | Name of the new Sub- Division | Station/ headquarters of the new Sub-Division | Name of the Division in which the new Sub- Division is created | No. of posts of 'Inspector Posts' created | No. of posts of 'Mail Overseer created |
| 1 | Kunkuri | Kunkuri | Raigarh | 1 | 2 |
| 2 | Manendragarh | Manendragarh | Surguja (HQ-Ambikapur | 1 | 2 |
Jharkhand Circle
| | | | | | |
| --- | --- | --- | --- | --- | --- |
| S. No. | Name of the new Sub- Division | Station/ headquarters of the new Sub-Division | Name of the Division in which the new Sub- Division is created | No. of posts of 'Inspector Posts' created | No. of posts of 'Mail Overseer created |
| 1 | Ramgarh (East) | Ramgarh | Hazaribagh | 1 | 2 |
| 2 | Barhi | Barhi | Hazaribagh | 1 | 2 |
| 3 | Khunti North | Torpa | Ranchi | 1 | 2 |
| 4 | Ghatshila | Jamshedpur | Singhbhum | 1 | 2 |
| 5 | Garhwa South | Garhwa | Palamau | 1 | 2 |
| 6 | Mahagama | Mahagama | Santhal Paragans | 1 | 2 |
Maharashtra Circle
| | | | | | |
| --- | --- | --- | --- | --- | --- |
| S. No. | Name of the new Sub- Division | Station/ headquarters of the new Sub-Division | Name of the Division in which the new Sub- Division is created | No. of posts of 'Inspector Posts' created | No. of posts of 'Mail Overseer created |
| 1 | Taloda | Taloda | Dhule | 1 | 2 |
| 2 | Dharmabad | Dharmabad | Nanded | 1 | 2 |
| 3 | Tuljapur | Tuljapur | Dharashiv | 1 | 2 |
| 4 | Jintur | Jintur | Parbhani | 1 | 2 |
Madhya Pradesh Circle
| | | | | | |
| --- | --- | --- | --- | --- | --- |
| S. No. | Name of the new Sub- Division | Station/ headquarters of the new Sub- Division | Name of the Division in which the new Sub- Division is created | No. of posts of 'Inspector Posts' created | No. of posts of 'Mail Overseer' created |
| 1 | Seoni Malwa | Seoni Malwa | Hoshangabad | 1 | 2 |
| 2 | Kareli | Kareli | Hoshangabad | 1 | 2 |
| 3 | Chanderi | Chanderi | Guna | 1 | 2 |
| 4 | Guna Central | Guna | Guna | 1 | 2 |
| 5 | Petlawad | Petlawad | Ratlam | 1 | 2 |
| 6 | Khargone west | Khargone | Khandwa | 1 | 2 |
| 7 | Kukshi | Kukshi | Indore Mfl. | 1 | 2 |
| 8 | Dhar South | Dhar | Indore Mfl. | 1 | 2 |
| 9 | Hatta | Hatta | Sagar | 1 | 2 |
| 10 | Sagar Central | Sagar | Sagar | 1 | 2 |
| 11 | Amarwara | Amarwara | Chhindwara | 1 | 2 |
| 12 | Parasia | Parasia | Chhindwara | 1 | 2 |
| 13 | Bhainsdehi | Bhainsdehi | Chhindwara | 1 | 2 |
| 14 | Sidhi-II | Sidhi | Rewa | 1 | 2 |
| 15 | Waidhan-II | Waidhan | Rewa | 1 | 2 |
| 16 | Pushprajgarh | Rajendragram | Shahdol | 1 | 2 |
| 17 | Bandhavgarh | Manpur | Shahdol | 1 | 2 |
| 18 | Sironj | Sironj | Vidisha | 1 | 2 |
North East Circle
| | | | | | |
| --- | --- | --- | --- | --- | --- |
| S. No. | Name of the new Sub-Division | Station/headquarters of the new Sub-Division | Name of the Division in which the new Sub- Division is created | No. of posts of 'Inspector Posts' created | No. of posts of 'Mail Overseer' created |
| 1 | Khonsa | Khonsa | Arunachal Pradesh | 1 | 2 |
| 2 | Namsai | Namsal | Arunachal Pradesh | 1 | 2 |
| 3 | Tezu | Tezu | Arunachal Pradesh | 1 | 2 |
| 4 | Dibang | Roing | Arunachal Pradesh | 1 | 2 |
| 5 | Aalo | Aalo | Arunachal Pradesh | 1 | 2 |
| 6 | Yingkiong | Yingkiong | Arunachal Pradesh | 1 | 2 |
| 7 | Ziro | Ziro | Arunachal Pradesh | 1 | 2 |
| 8 | Palin | Palin | Arunachal Pradesh | 1 | 2 |
| 9 | Seppa | Seppa | Arunachal Pradesh | 1 | 2 |
| 10 | Daporijo | Upper Subansiri | Arunachal Pradesh | 1 | 2 |
| 11 | Tamenglong | Tamenglong | Manipur | 1 | 2 |
| 12 | North Garo | Resublpara | Meghalaya | 1 | 2 |
| 13 | South Garo | Baghmara | Meghalaya | 1 | 2 |
| 14 | North West Garo | Fulbari | Meghalaya | 1 | 2 |
| 15 | Nangstoin | Nongstoin | Meghalaya | 1 | 2 |
| 16 | Ri Bhoi | Nongpoh | Meghalaya | 1 | 2 |
Odisha Circle
| | | | | | |
| --- | --- | --- | --- | --- | --- |
| S. No. | Name of the new Sub- Division | Station/headquarters of the new Sub-Division | Name of the Division in which the new Sub- Division is created | No. of posts of 'Inspector Posts' created | No. of posts of 'Mail Overseer created |
| 1 | Bissam Cuttack | Bissam Cuttack | Rayagada | 1 | 2 |
| 2 | Manamunda | Manamunda (Boudh) | Phulbani | 1 | 2 |
| 3 | Narla | Narla | Kalahandi | 1 | 2 |
| 4 | Dasapalla | Dasapalla | Nayagarh | 1 | 2 |
| 5 | Balimela | Balimela | Koraput | 1 | 2 |
Rajasthan Circle
| | | | | | |
| --- | --- | --- | --- | --- | --- |
| S. No. | Name of the new Sub- Division | Station/ headquarters of the new Sub-Division | Name of the Division in which the new Sub- Division is created. | No. of posts of 'Inspector Posts' created | No. of posts of 'Mail Overseer' created |
| 1 | Phalodi | Phalodi | Jaisalmer | 1 | 2 |
| 2 | Jaisalmer West | Jaisalmer | Jaisalmer | 1 | 2 |
| 3 | Shiv | Shiv | Barmer | 1 | 2 |
| 4 | Dhorimnna | Dhorimnna | Barmer | 1 | 2 |
| 5 | Anupgarh | Anupgarh | Sriganganagar | 1 | 2 |
| 6 | Rawatsar | Rawatsar | origanganagar | 1 | 2 |
| 7 | Sanchore | Sanchore | Sirohi | 1 | 2 |
| 8 | Sujangarh | Sujangarh | Churu | 1 | 2 |
| 9 | Kuchera | Kuchera | Nagaur | 1 | 2 |