One Rank One Pension Anomalies submitted before Judicial Commission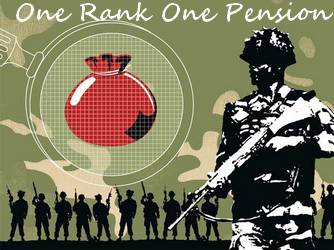 One Rank One Pension Anomalies submitted before Judicial Commission – Rajasthan Veterans' Blog reports on various OROP anomalies which are to be rectified by One man Commission appointed by Govt for this purpose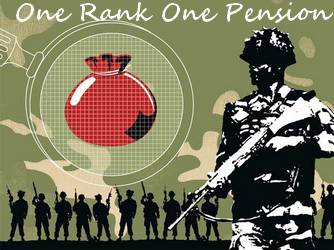 The following anomalies have been projected to the Judicial Commission formed to look into One Rank One Pension anomalies. During the month of December 2015, Govt has formed a judicial Committee headed by Shri.Narasimha Reddy, retired chief justice of the Patna High Court.
Honorary Nb Subedar in X Group and Completed 24 years service is to get the same pension as that of X Group Nb Subedar. However in the case of Y Group it is not so. There is an anomaly in pension between Honorary Nb Subedar in Y Group and Completed 24 years service and Y Group Nb Subedar
The Pension of Nb Subedar in X Group and Completed 24 years service has been increased by 10.12%. However, pension of Y Group Nb Subedar with 24 years of service has been increased only by 0.50%.
The difference in salary of serving Defence Personnel who are in X Group and who are in Y Group is only Rs. 1400. However, difference in basic pension between X group and Y Group in certain cases works out Rs. 1500. In fact as far as pension is concerned this difference should be only Rs. 700, as pension is half of emoluments that serving defence personnel receive.
It could be found that there are huge gaps in pension in same rank and same length of service. As the very aim of OROP is to provide same pension for same rank with same length of service, this anomaly is not all justifiable.
As far as certain bracket of services are concerned increase in pension is 0%. However, in respect of certain other bracket of services which are previous only by six months hike in pension has been given from 4% to 8%.
There is no change in disability pension of Soldiers invalidated out with up to five years. While Service element has been increased by 47% to 65%, disability element has been increased.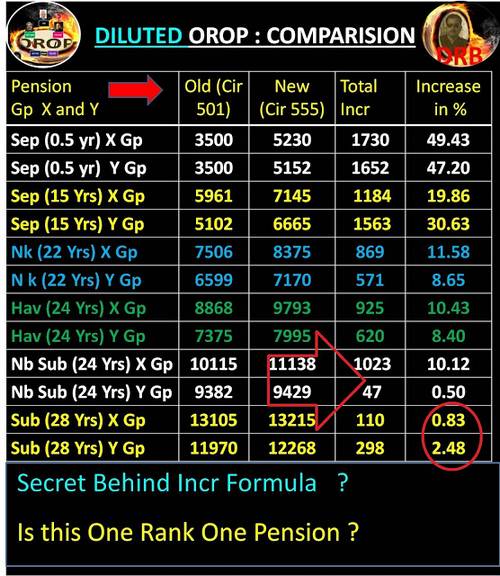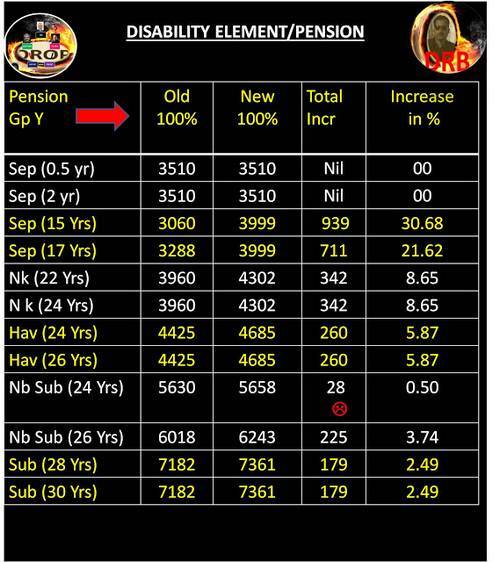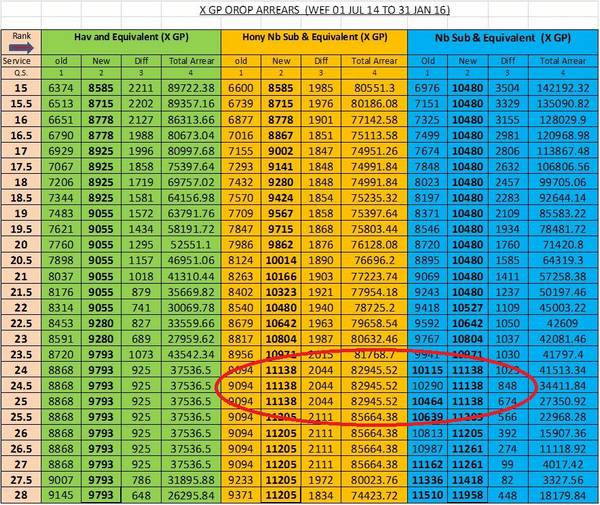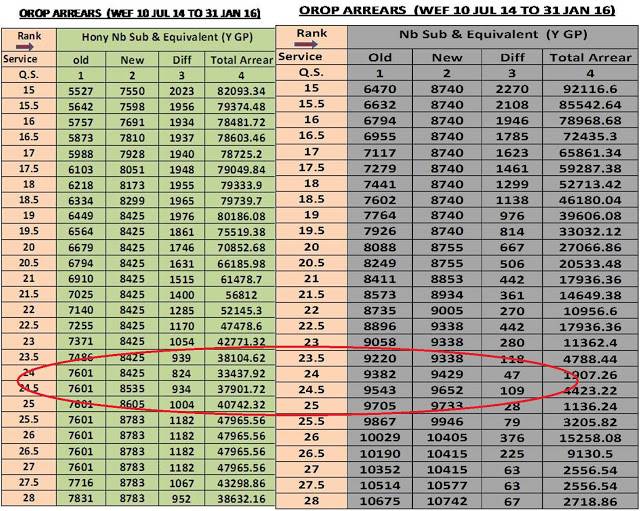 Source: Rajasthan Veterans Blog