7th Pay Commission Pay Matrix – Discrimination and arbitrariness in entry pay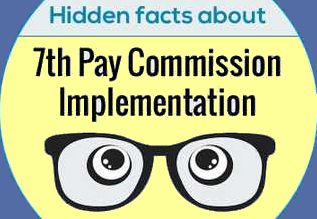 7th Pay Commission Pay Matrix – RSCWS observation in Discrimination and arbitrariness in entry pay of pay matrix at various levels
7th Pay Commission Pay Matrix – Railway Senior Citizens Welfare Society reports on Discrimination and Arbitrariness in entry pay of pay matrix at various levels of 7th cpc vis-a-vis minimum pay of 6th cpc for corresponding pre-revised 5th cpc scales
Discrimination and Arbitrariness in Entry Pay in Pay Matrix at various Levels of 7th CPC visa-Vis Minimum Pay of 6th CPC for Corresponding Pre-Revised 5th CPC Scales – Comparison of Entry Pay at various Levels as per Pay Matrix of 7th CPC with Minimum Pay of 6th CPC as per its fitment table (Refer Table 5 Pay Matrix – Page 75 of 7th CPC Report)
5th CPC

6th CPC

7th CPC

Mini- mum pay as per 6th CPC Fitment Tables

Pay Scales
After 5th CPC

Pay Bands as per
6th CPC

Revised Pay Structure
PB + GP (6th CPC)

Levels in
Pay Matrix
Table of
7th CPC
Entry Pay
(EP) As per
7th CPC Pay Matrix

1

2

3

4

5

6

S-4(2750-4400)

PB-1

5200-20200+1800

1

7000*
7000
S-5(3050-4590)

PB-1

5200-20200+1900

2

7730*
7780
S-6(3200-4900)

PB-1

5200-20200+2000

3

8460#
8060
S-7(4000-6000)

PB-1

5200-20200+2400

4

9910#
9840
S-8(4500-7000)

PB-1

5200-20200+2800

5

11360#
11170
S-9 (5000-8000)

PB-2

9300-34800+4200

6

13500*

13500
S-10 (5500-9000)

PB-2

9300-34800+4200
14430
S-11(6500-6900)

PB-2

9300-34800+4200
16290
S12((6500-10500)

PB-2

9300-34800+4200
16290
S-13 (7450-11500)

PB-2

9300-34800+4600

7

17140*
18460
S-14 (7500-12000)

PB-2

9300-34800+4800

8

18150*
18750
S-15 (8000-13500)

PB-2

9300-34800+5400

9

20280
20280

New scale- (Group A entry)
(8000-13500) (JS)

PB-3

15600-39100+5400

10

21000

21000

S-16,(9000)

PB-3

15600-39100+5400
22140
S-17(9000-9550)

PB-3

15600-39100+5400
22140
S-18(10325-10975)

PB-3

15600-39100+6600

11

25350*

25810
S-19 (10000-15200)SS

PB-3

15600-39100+6600
25200
S-20 10650-15850)

PB-3

15600-39100+6600
26410
S-21(12000-16500) (JAG)

PB-3

15600-39100+7600

12

29500*

29920
S-22 (12750-16500)

PB-3

15600-39100+7600
31320
S-23(12000-18000)

PB-3

15600-39100+7600
29920
S-24 (14300-18300) (SG)

PB-4

37400-67000+8700

13

46100

46100
S-25 (15100-18300)

PB-4

37400-67000+8700
48390
S-26 (16400-20000)

PB-4

37400-67000+8900

13 A

49100#

48590

S-27(16400-20900)

PB-4

37400-67000+8900
S-28 (14300-22400)

PB-4

37400-67000+10000

14

53000*

47400
S-29 (18400-22400) (SAG)

PB-4

37400-67000+10000
54700
S-30 (22400-24500) (PHOD)
HAG scale
67000-75000

15

67000
67000
S-31 (22400-26000)
HAG Scale
75500-80000

16

75500

75500
S-32 (24050-26000)
HAG+Scale
75500-80000
77765
S-33 (26000)(fixed)(Secy)

Apex

80000 (Fixed)

17

80000
80000
S-34 (30000)(Cab.Secy)
Cab. Sec.
90000 (Fixed)

18

90000
90000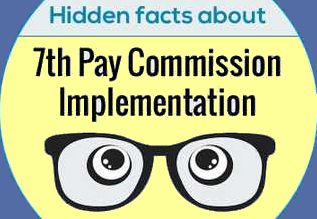 i) In the Table Figures with * mark in col. 5 indicate lower EP than minimum 6th CPC pay.
ii) Higher EP is shown in bold figures with # mark.
iii) All existing pay scales (S 30 to 34) and scales (S 4 to 29) grouped in 4 PBs are compressed into 18 Levels by 7th CPC. The Levels correspond to different GPs as prevalent after 6th CPC. Out of the 18 Levels, 14 Levels pertain to scales in 4 Pay Bands (PB) and Levels 15 to 18 correspond to pay scales S 30 to 34.
iv) Table shows that for Levels 15 to 18 (HAG & above), entry pay (EP) is the same as the minimum pay of the existing pay scale. Same principle should have been followed for all other Levels also.
v) EP in Levels 2, 6, 7, 8, 11, 12 and 14 is less than the minimum pay as per 6th CPC fitment table.
vi) Lower minimum pay at the base level (EP x Index) will exponentially affect the pension of those entitled for increments as per Option 1.
vii)There is a slight improvement in the EP over min pay in Levels 3, 4, 5 and 13 A.
viii) In the rest of 7 Levels, EP is as per min pay of 6th CPC or very close to it. ix) Discrimination & arbitrariness are evident in adopting EP at different Levels in pay matrix resulting in lower pay and pension at certain levels (especially for Levels 2, 6, 7, 8, 11, 12 and 14) proposed by 7th CPC.
‐ Compiled by N. P. MOHAN, CE WR (Retd) & President RSCWS (Dated: 19-7-2016)
Source : RSCWS