7th Pay Commission – Keep Your Fingers Crossed – Today May be the Day
7th Pay Commission – Keep Your Fingers Crossed – Today May be the Day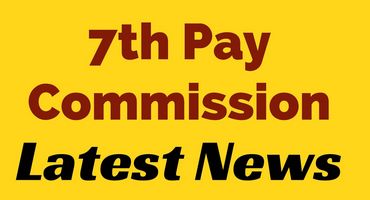 SAVE THIS POST ON YOUR BROWSER AND REFRESH FREQUENTLY TO GET THE LATEST DEVELOPMENTS
Tweets Frank Noronha (Principal Spokesperson, Government of India & Principal Director General of Press Information Bureau)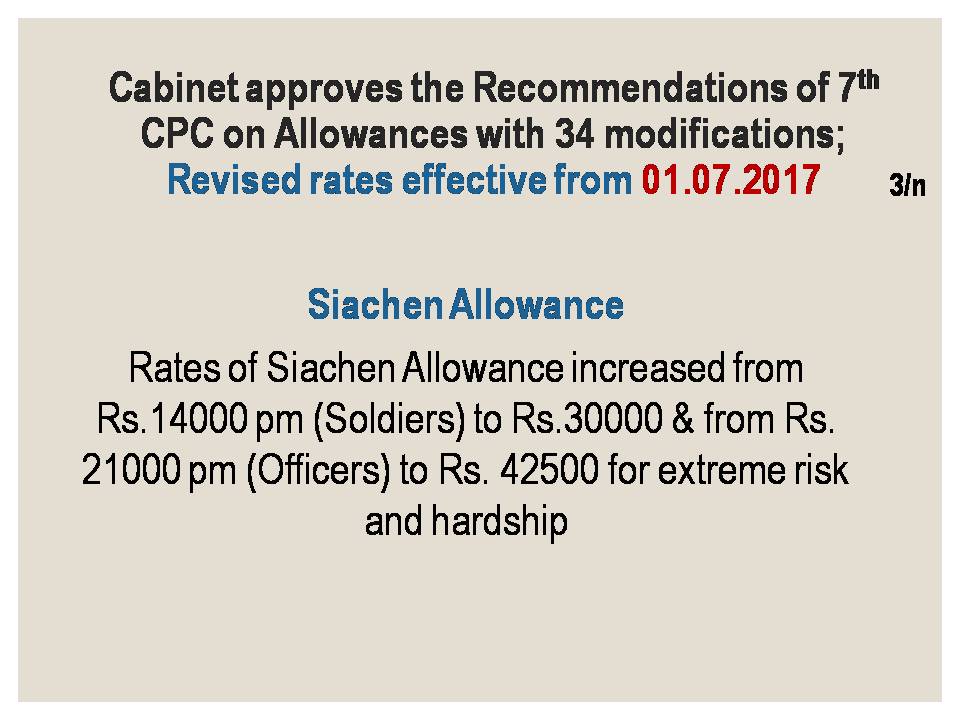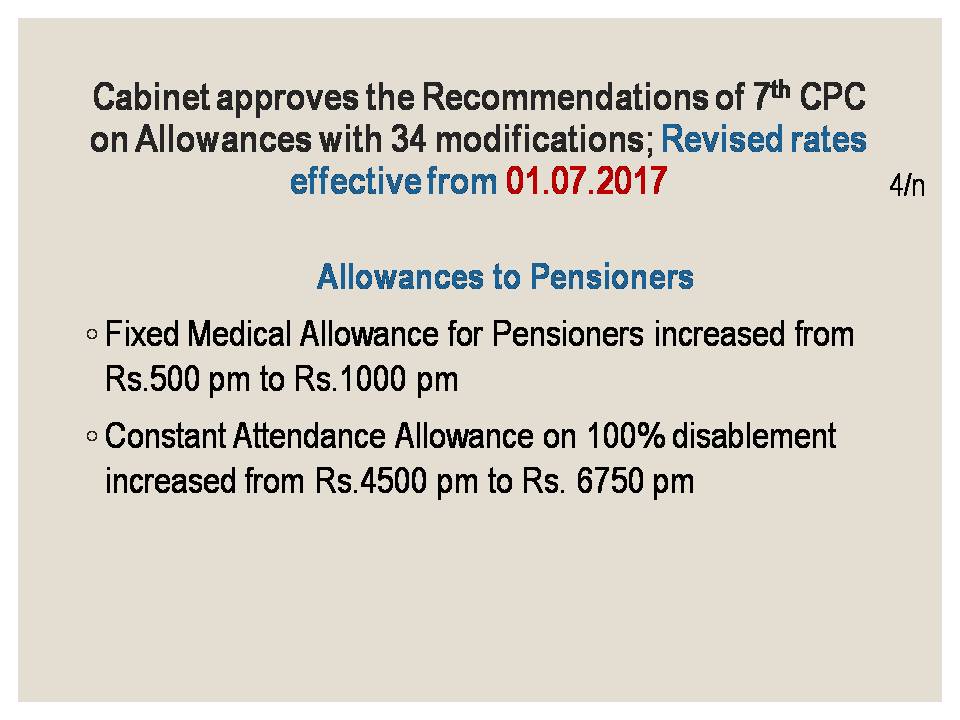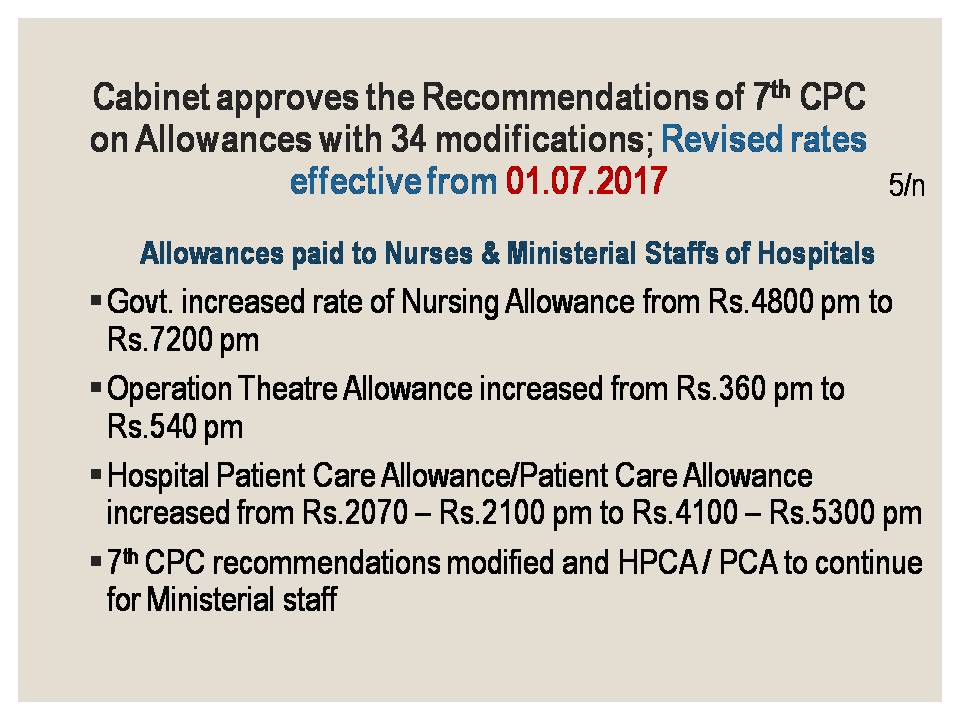 7th pay commission allowance news 2017 Live Updates – It's a big day today for nearly 47 lakh Central government employees as Prime Minister Narendra Modi on Wednesday returned home after concluding his three-nation tour of Portugal, the US and the Netherlands and reportedly a Cabinet meeting may take place to take up the proposal to hike in HRA and other allowances with respect to 7th Pay Commission.
According to various reliable reports, this is the last Cabinet meet of this month of the Narendra Modi led Central government. People who are directly or indirectly connected to 7th Pay Commission benefits are keeping a close eye on the meet to know what transpires in the Cabinet meet in terms of their HRA and allowances.
A central government employee working for Indian Railways, who spoke on condition of anonymity, rubbished the hype surrounding the 7th Pay Commission, as it was only being glorified while benefits were struck off conveniently.  The benefit of the 2 per cent DA increase does not even add up to Rs 2,500 in the case of a particular pay grade, under which this individual is employed.
"We have been waiting for the decision for months now and have no clue yet on what the verdict on HRA and DA will be. We (Railway employees) have heard that the cabinet will take up the issue and we are hoping for a positive verdict," the individual said.
With several allowances pending, today will be important for central government employees, who will have their eyes and ears on the likely Cabinet meet that will decide their fate. This will possibly be the last Cabinet meet of the month of June.
Here are all the 7th Pay Commission allowance news 2017 LIVE UPDATES and other developments:-
7:02 PM: – Cabinet approves Recommendations of 7th CPC on Allowances with 34 modifications; revised rates effective from 1 July 2017, confirms Finance Minister Arun Jaitley.
CONFIRMED –  Narendra Modi-led Cabinet has okayed the recommendations of the Seventh Pay Commission on revised allowance structure for nearly 50 lakh Central government employees.
6:55 PM – HAPPENING NOW – Arun Jaitley addresses media about HRA, allowances recommedations with respect to 7th Pay Commission.
6:02 PM: Union Cabinet approves recommendations of 7th Pay Commission on allowances, reports news agency ANI quoting sources. (Unconfirmed)
6:00 PM Over 47 lakh government employees may finally get to hear some good news on HRA and other allowances in the Cabinet briefing./
5:55 PM: Cabinet Briefing to take place on Wednesday evening at 6:15 PM tentatively, at PIB Conference Hall , Shastri Bhawan, New Delhi, tweets Frank Noronha (Principal Spokesperson, Government of India & Principal Director General of Press Information Bureau)
5:30 PM – All the Central government employees are still getting allowances as per the old structure.
5:11 PM – Reportedly, the HRA in cities with more than 5 million population is likely to be 27 per cent of the basic pay.
4:00 PM – The Union government could not fully implement the recommendations of 7th Pay Commission due to dissatisfaction raised over HRA and allowances. further details awaited.
3:22 PM –  As PM Modi was on foreign trip and returned home on Wednesday (Today) morning. The cabinet meeting along with PM is likely to continue in the evening around 5 PM,
3:15 PM – After the recommendations of 7th Pay Commission were implemented in June last year (with effect from Jan 1, 2016), there were objections raised by the employees over HRA and other allowances. (Excerpts from the meeting)
2:48 PM Central government employees are expecting that the long wait for the HRA and other allowances will end today as the Cabinet meeting may take a final decision on the long-pending recommendations submitted by Ashok Lavasa Committee.
2:35 PM – For the past several weeks, the decision on HRA and allowances could not take place due to some reason or the other. Now, it is expected that the approval by the Modi Cabinet may take place soon. (Meeting in progress)
2:04 PM – Procedure to be followed for approval – The allowance committee report (Lavasa) is examined by the Department of Expenditure. Once that is done, it gets placed before the Empowered Committee of Secretaries (E CoS) set up to screen the 7th pay commission recommendations and to firm up the proposal for approval of the Cabinet.
1:48 PM – It is important to know that while recommendations of the 7th CPC on pay and pension were implemented with the approval of the Cabinet, allowances continued to be paid at old rates.
1:15 PM – The 7th pay commission had recommended that the rate of HRA be revised to 27 per cent, 18 per cent and 9 per cent when DA crosses 50 per cent, and further revised to 30 per cent, 20 per cent and 10 per cent when DA crosses 100 per cent. With regard to allowances, employee unions have demanded HRA at the rate of 30 per cent, 20 per cent and 10 per cent.
1:00 PM – The 7th Pay Commission had recommended HRA too be fixed at 24%, 16% and 8% depending on the cities where employees are based. However, a number of employees were not happy with this hike and demanded 30%, 24% and 16% HRA bracket.
12:20 PM – Central government employees are seeking revised allowances including HRA.
11:55 AM –  Lavasa Committee had suggested modifications in some allowances applicable universally to all employees and also for those in specific categories, including railways and defence, after examining the Seventh Pay Commission recommendations.11:20 AM – The Lavasa Committee has suggested modifications in some allowances applicable universally to all employees.
The Finance Secretary Ashok Lavasa-led Committee on Allowances was constituted by the government to examine the 7th CPC recommendations on allowances.
11:05 AM –  The Union Cabinet may fix HRA rates between recommendations of AK Mathur panel and 6th CPC/existing, most likely at 27 per cent.
11:00 AM – The Union Finance Ministry in a statement had confirmed that modifications have been suggested in some allowances.
Keep in tune with gconnect.in for latest developments.