7th Pay Commission – Hectic Campaign by Central Government Employees Against Betrayal of NDA Govt Starts
7th Pay Commission – Hectic Campaign by Central Government Employees Against Betrayal of NDA Govt Starts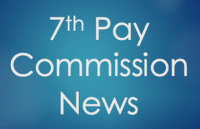 The central government employees have decided to review their agitation seeking revised allowances from July 2016 as per the 7th Pay Commission. A National Secretariat meeting of the Confederation of Central Govt Employees & Workers will be held at Income Tax Office (ITEF Office), BENGALURU on 9th August 2017 (09-08-2017 – Wednesday). The meeting will commence at 10.30 am.
The following is the agenda for the meeting:
7th Pay Commission related issues: Review of agitational programmes organised by Confederation and the present position of various demands raised in the Charter of Demands – Future course of action.
Non-implementation of revision of Pay & Pension of Autonomous Body Employees and Pensioners – Possibility of organizing a joint meeting of all Autonomous body employees organizations and Pensioners organizations for deciding future course of action.
Problems of the affiliated organizations of Confederation.
Financial review.
Hectic campaign against NDA government:
Meanwhile a hectic campaign against what has been called as a betrayal of the NDA government has been called for. Unions say, "go far a hectic campaign against the NDA Government's attitude towards the Government employees and All Affiliates are requested to popularize the stand taken by the Confederation and Federations of various sections of employees and built unity among the employees.
Also appeal to all affiliates to participate actively in the joint protest programme being organized by Confederation of Central Government Employees & Workers across the country, the note also states.
Source: OI