7th Pay Commission – AIIMS Nurses go on mass Casual Leave Today – Demanding better Wages
7th Pay Commission – AIIMS Nurses go on mass Casual Leave Today – Demanding better Wages.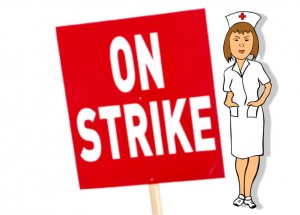 Emergency services remained non functional, while Operation Theatres are conducting only essential surgeries in the country's largest medical Institute — All India Institute of Medical Sciences (AIIMS) — where over 2,000 staff nurses have proceeded on mass casual leave on Friday demanding better wages. The nurses are protesting against the discrimination by the 7th Pay Commission.
Chaos and harassed patients who come here from across the country remained at the receiving end who were unaware of the strike call.
Though the hospital authorities claimed that they are "doing their best to ensure minimum discomfort to in-house patients and that all support services are functioning," they added that the nurses absences from work has hit patient care badly.
Harish Kumar Kajla, president, AIIMS nurses Union said: "Our demands aren't new. For over a year now we have been only assured that our demands for better pay will be looked into, however, the Institute has failed to take action on what it promised us. The Institute is responsible for the strike today. Also if our demands aren't addressed we will proceed on an indefinite strike from March 27."
"Much like the doctors, we too are working long hours in extremely hazardous conditions. We are hurt by the second class treatment given to us by the government and Institute," said a nurse, who is participating in the strike.
"We are protesting against the retrograde recommendations of the 7th Pay Commission. Our demand is that the entry pay grade for staff nurses should be enhanced to Rs 5,400 from the existing Rs 4,600 and the nursing allowance should be enhanced by Rs 7,800. Besides, risk allowance and night duty allowances should be given to all nurses as it is given to all other Government employees," said Mr. Kumar.
Meanwhile, patients claim that most were returned on Friday morning with doctors stating that only essential medical care is being offered at AIIMS.
"We were asked to go to Safdarjung Hospital when we reached the AIIMS emergency with my father who has been battling a failing kidney and is currently running high fever and is disoriented. We don't understand how the hospital as big and important as AIIMS can just shut out patients," said Sharda Massi from Andrews Ganj.
Source: The Hindu