Strength of Central Govt Pensioners as on 01.01.2014
7th CPC reports the Strength of Central Govt Pensioners as on 01.01.2014 is 51.96 lakhs
7th Pay commission reports category wise Central Government Pensioners.  The portion of the 7th CPC is reproduced below:
Strength of Pensioners as on 01.01.2014 :
Pensioners can be broadly categorised into Civil and Defence. Within civil pensioners there exist three broad categories: Central Civil, Railways and Post.
As on 01.01.2014, as per data reported to the Commission, the total number of pensioners were 51.96 lakh. The category wise break up is shown in the pie chart below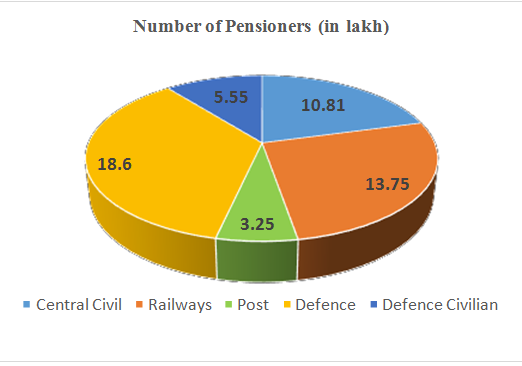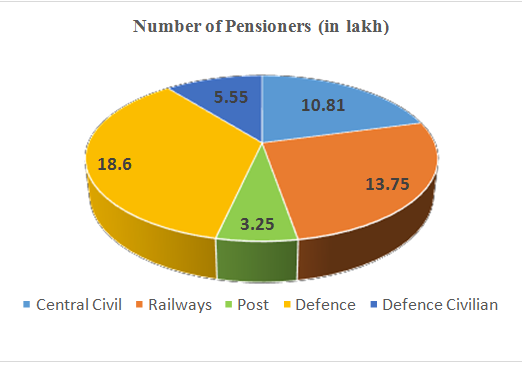 Pensioners and Family Pensioners
The break-up of the total 51.96 lakh pensioners as on 01.01.2014 between pensioners and family pensioners, category wise, is as under:
 (in lakh)
Central
Civil

Railways

Post

Defence

Defence
Civilian

Total

Pensioners

9.37

10.59

2.28

13.78

4.11

40.13

Family pensioners

1.44

3.16

0.97

4.82

1.44

11.83

Total number of pensioners

10.81

13.75

3.25

18.60

5.55

51.96
The table above brings out the following:
i. Of the total 51.96 lakh pensioners as on 01.01.2014, 11.83 lakh viz., 23 percent were family pensioners.
ii. Civilian pensioners consisting of Central Government Civil, Railways and Posts, as on 01.01.2014 number 27.81 lakh while defence pensioners (including defence civilians were 24.15 lakh. Defence pensioners (including defence family pensioners and defence civilians) constitute 47 percent of all pensioners.
Also checkout following for more topic wise details on 7th Pay Commission Report