Grant of OROP benefits – Status as on 12th November 2016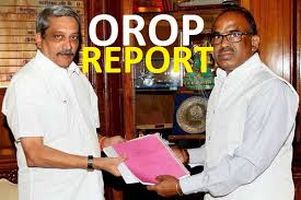 Defence Minister reply to Lok Sabha regarding number of Beneficiaries of OROP as on 12 November 2016
Defence Minister reply to Lok Sabha – Unstarred question No.1696
GOVERNMENT OF INDIA
MINISTRY OF DEFENCE
DEPARTMENT OF EX-SERVICEMEN WELFARE
LOK SABHA
UNSTARRED QUESTION NO.1696
TO BE ANSWERED ON THE 25TH NOVEMBER, 2016
ONE RANK ONE PENSION
1696. DR. SATYAPAL SINGH:
SHRI BHARTRUHARI MAHTAB:
SHRI DEEPENDER SINGH HOODA:
SHRI N.K. PREMACHANDRAN:
SHRI K.C. VENUGOPAL:
SHRI RAHUL SHEWALE:
SHRI SUNIL KUMAR SINGH:
SHRIMATI KAMLA DEVI PAATLE:
SHRI PR. SENTHIL NATHAN:
SHRI SANGANNA AMARAPPA:
Will the Minister of DEFENCE
be pleased to state:
(a) whether the Ex-Servicemen are being paid enhanced pension after the implementation of One Rank One Pension (OROP) scheme, if so, the details thereof along with the total number of Ex-Servicemen benefited under the scheme;
(b) the total allocation of funds made and utilised under the scheme during the financial years 2015-16 and 2016-17;
(c) whether the Government has received requests / suggestions / objections / grievances from Ex-Servicemen associations on certain shortcomings in the said scheme,if so, the details thereof and the action taken by the Government thereon;
(d) whether it has come to the notice of the Government that an Ex-Servicemen committed suicide due to the denial of the benefit of the scheme, if so, the details of enquiry conducted and its outcome thereof; and
(e) the other steps taken / being taken for effective implementation of the scheme?
A N S W E R
MINISTER OF DEFENCE (SHRI MANOHAR PARRIKAR)
(a) Yes, Madam. Details of the beneficiaries of OROP benefits, as on 12.11.2016 are as under:-
No. of cases paid (1st
installment and lump
sum payments)
Amount
disbursed
(Rs. in Crores)
No. of cases
paid 2nd
installment
Amount
disbursed
(Rs. in Crores)
19,43,606
3939.41
14,02,755
2081.56
(b) Details of the allocation and utilization of funds under OROP are as under:
Financial Year
Allocation under OROP
Utilization on account of
arrears of OROP
2015-16
No separate allocation
made under OROP
Rs.3000 crores (approx.)
2016-17
Rs.12456 crores
Rs.3020.97 crores
(as on 12.11.2016)
(c) Yes, Madam. Around 3200 representations for addressing the anomalies on OROP were received from individuals / Associations which were examined and issues referred to the Judicial Committee on OROP for its recommendations. The Committee has submitted its report on 26.10.2016.
(d) Ex-Subedar Ram Kishan Grewal had committed suicide at Delhi on 01.11.2016. On enquiry regarding payment of the benefits of OROP to him, the pension disbursing bank has informed that he was drawing pension @ Rs.22,608/- p.m. He was entitled for revised pension under OROP @ Rs.25,634/- p.m. The total amount of arrears of Rs.53,978/- on account of implementation of OROP has been credited to Bank Account of Late Ex Subedar Ram Kishan Grewal on 08.11.2016.
(e) Public Grievance Cell in the Department is receiving grievances of the pensioners / family pensioners and taking up the matter with the concerned offices e.g. Controller General of Defence Accounts, Principal Controller of Defence Accounts (Pension), etc for redressal of their grievances. Disposal of grievances is monitored at the highest level in the Government.
Source : Loksabha