Odisha State Government Holiday List 2017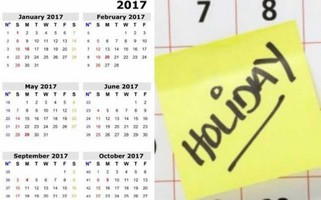 Government of Odisha Notification – Holiday List 2017
Odisha Govt has issued a Notification for Holiday List 2017
Odisha Holiday List 2017
GOVERNMENT OF ODISHA
REVENUE AND DISASTER MANAGEMENT DEPARTMENT
NOTIFICATION
RDM-Reg-Misc-0008-2016 – 33341/R& D.M.,
Dated 28.10.2016
The   Government   of   Odisha   have   been   pleased   to   declare   that   the   State Government  Offices  as  well  as  the  Revenue  and  Magisterial    Courts  (Executive)   will remain closed  on the festive/  Commemorative  occasion,  listed at Annexure-I  during the Calendar year 2017,  Saka-Era-  1938 and 1939.
In   addition   to  the   holidays   as  listed   at  Annexure-I,    the   State  Government Employees  will be allowed to avail of one holiday at their option on any one of the festive occasion /  Commemorative   days  listed at  Annexure-II   irrespective   of  their  religious affiliation/ denomination  with  written  permission   of the authority,   competent  to  sanction casual leave.
Since the festive / Commemorative   days as listed at Annexure-III  fall on Sundays those days have not been specifically  declared as  holidays.
By Order of the Governor
Joint Secretary to Government
ANNEXURE – "A"
LIST OF PUBLIC HOLIDAYS FOR THE BANKS & OTHER BANKING INSTITUTIONS IN ODISHA UNDER THE N.I. ACT FOR THE CALENDER YEAR, 2017 SAKA ERA – 1938- 1939.
SI. No.
NAME OF THE FESTIVALS
DATE

Date as per Saka
Era.

DAY of the week
No.  of days

1

2

3

4

5

6

1.

Subash  Bose Jayanti/  Vir Surendrasai   Javanti
23.01.2017

Magha-03

Monday

1

2.
Republic Day
26.01.2017
Magha-06
Thursday

1

3.
Basanta  Panchami/  Saraswati
Puja
01.02.2017
Magha-12
Wednesday

1

4.
Maha Shivaratri
24.02.2017
Phalquna-5
Friday

1

5.
Holi
13.03.2017
Phalquna-22
Monday

1

6.
Utkal  Divas
01.04.2017
Chaitra-11
Saturday

1

7.
Shree Ram Navami
04.04.2017
Chaitra-14
Tuesday

1

8.

Maha Visubha Sankranti  /Good Friday/Ambedkar    Javanti
14.04.2017

Chaitra-24

Friday

1

9.
Pahili Raja
14.06.2017
Jyestha-24
Wednesday

1

10.
Raja Sankranti
15.06.2017
Jyestha-25
Thursday

1

11.
ld-ul-Fitre
26.06.2017
Ashadha-5
Monday

1

12.
Jhulana  Purnima
07.08.2017
Shravana-16
Monday

1

13.
Janmasthami
14.08.2017
Shravana-23
Monday

1

14.
Independence  Day
15.08.2017
Shravana-24
Tuesday

1

15.
Ganesh  Puia
25.08.2017
Bhadra-03
Friday

1

16.
Nuakhai
26.08.2017
Bhadra-04
Saturday

1

17.
ld-ul-Zuha
02.09.2017
Bhadra-11
Saturday

1

18.
Mahalava
19.09.2017
Bhadra-28
Tuesday

1

19.
Maha Saptami
27.09.2017
Ashwina-05
Wednesday

1

20.
Maha Astami
28.09.2017
Ashwina-06
Thursday

1

21.
Maha Navami
29.09.2017
Ashwina-07
Friday

1

22.
Vijaya Dashami
30.09.2017
Ashwina-08
Saturday

1

23.
Gandhi  Jayanti
02.10.2017
Ashwina-10
Monday

1

24.
Kumar Purnima /Maha  Laxmi Puia
05.10.2017

Ashwina-13
Thursday

1

25.
Kali Puja/Diwali
19.10.2017
Ashwina  -27
Thursday

1

26.
Rahasa Purnima
04.11.2017
Kartika-13
Saturday

1

27.
Birth Day of Prophet Mohammad
02.12.2017
Margasira-11
Saturday

1

28.
X-Mass Dav
25.12.2017
Pausa-04
Monday

1

Total
28