Goa Govt Implements 7th pay Commission's Recommendations – Orders Issued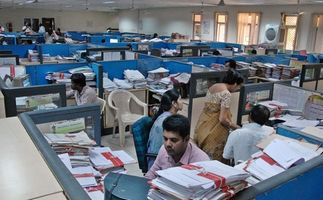 Goa Govt Implements 7th pay Commission's Recommendations – Orders Issued.
The Goa govt on Wednesday issued an order for the implementation of the 7th Pay Commission recommendations for its 55,000-plus employees. The cabinet had last week approved the proposal for the implementation of the new pay scales, which will also be applicable to 45,000 pensioners.
As per the notification issued by the Goa Govt state finance secretary, Daulat Hawaldar, the revised pay scale would be implemented for all government employees and employees of government-aided education institutions with effect from January 1. The actual payment through monthly salary will commence from January 2017.
"Only part 'A' of the schedule appended to the Central Civil Services (revised pay) rules, 2016, as adopted by the Goa
Govt, will be implemented," the order said. The revised pay structure will include dearness allowance (DA) of 12.5% sanctioned from January 1 in the pre-revised structure. DA should stand revised at 2% from July 1.
Arrears of pay in the revised pay structure with effect from 01-01-2016 to 31-12-2016, shall be claimed separately and these arrears would be credited to the respective GPF/special account in respect of employees covered under NPS (national pension scheme).
The existing system on interest-free advances for medical treatment, travelling allowance for family of deceased, travelling allowance on tour or transfer and leave travel allowance would continue.
The order will not cover judicial and non-judicial court officers or employees functioning in courts, whose pay is separately governed by order of the ministry of law. Similarly, the order will not be applicable to employees of corporations, autonomous bodies, societies, agencies and public sector units, Panchayati Raj institutions and urban local bodies, whether belonging to common cadre or otherwise.
In view of anomalies, a two-member work study-cum-anomaly committee comprising Shyamsundar Korgaonkar (ombudsman) and Nobert Moraes, retired accounts director will be set up.
Source: TOI