7th Pay Commission latest News – Doctors to indefinitely strike work from 1st June on NPA issue
7th Pay Commission latest News – Doctors to indefinitely strike work from 1st June on NPA issue – Doctors under Central Government Pay roll felt they are aggrieved by 7th Pay Commission recommendations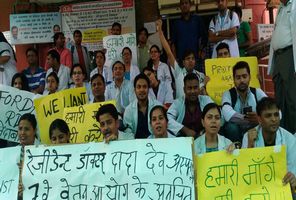 Around 20,000 resident doctors from central, Delhi government and corporation hospitals across the city have went for a strike on May 26 to protest against the Seventh Pay Commission recommendations.
One of the doctors was quoted as saying, "If the changes like reducing Non Practicing Allowance from 25 to 20 per cent are not reverted, doctors across the country may go on an indefinite strike from June 1".
The Federation of Resident Doctors Association (FORDA), an umbrella organisation of 15,000 resident doctors across 41 government hospitals in the national capital, has also written to Prime Minister Narendra Modi urging him to revise the recommendations of the 7th Pay Commission which they termed were "particularly discriminating to doctors".
The strike is expected to affect more than 50,000 Delhiites who depend on government hospitals for health care. "The Seventh Pay Commission is currently being reviewed by the committee and we usually get the notification by June. So we want to protest against some of the recommendations and ask the committee to listen to our pleas," said Dr Pankaj Solanki, president of the Federation of Resident Doctors' Association (FORDA), the body under which the resident doctors are protesting.
Even senior consulting doctors may support the resident doctors in their demands for a better pay structure by not working for the day, which would mean a shutdown of government hospitals on May 26.
"In our general body meeting, we will decide whether the emergency would be kept operational. We are, however, planning to run parallel OPDs, so that patients do not suffer," said Dr Solanki.
The main demands of the Doctors include increase in NPA (Non-Practising Allowance) from the present level of 25% of to 40%. However,as per 7th NPay Commission recommendations with regard to NPA is accepted as such by Govt, NPA would be reduced to 20% from the present level of 25% of Basic Pay.
The 7th Pay Commission has also recommended that NPA is not to be taken as pay for the purpose of calculating HRA. Hence, if 7th Pay Commission recommendations with regard to calculation of HRA for Doctors are accepted as such by Govt, then Doctors coming under the pay roll of Central Government will be getting reduced HRA in addition to reduction in NPA.
Click here to read in detail about 7th Pay Commission recommendations on NPA to Central Doctors
Calculate the expected 7th Pay Commission Pay and allowances along with arrears from January 2016
The doctors have demanded same pay for same work for ad hoc and permanent employees and allowances to cover telephone bills, extra duty allowance, night shift allowance, and hazard pay for diseases contracted by doctors on duty. The FORDA has demanded that doctors across hospitals be given this allowance.
The doctors made it clear that if their demands were not met they will go on a nation wide Strike from June. Doctors of AIIMS, did not participate in strike.
However, there is no response from Govt so far.  Due to this strike, the OPD Services in many of the hospitals in Delhi were interrupted.
The Chairman of FORDA, the organisation for Doctors, said their demands have been taken up by Health ministry to the Committee of Secretaries which is processing the 7th Pay Commission recommendations at Govt side. However, he said they were not heard by Govt so far. He also added that since Govt did not call them for talks they had to resort to strike.