7th Pay Commission Latest News – Increase in Basic Pay meagre but expected gains out of other compensation, a solace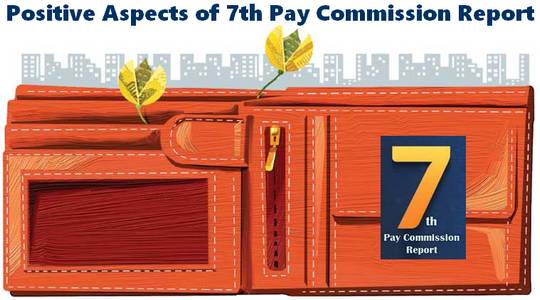 7th Pay Commission Latest News – Increase in Basic pay of 14.22% which is lowest increase out of any Pay Commission  – However, certain Positive Aspects of Recommendations made in the 7th CPC Report mainly in the areas of Central Government Employees Welfare measures and Retirement Schemes may be solace to Central Government Employees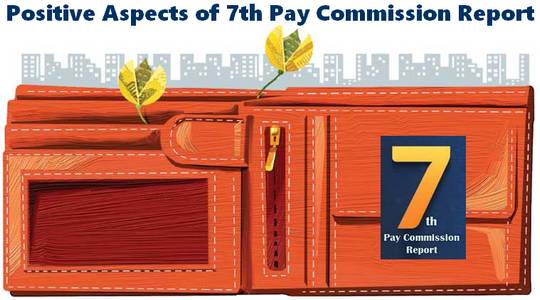 After a long wait of 10 years, Basic Pay of Central Government Employees has been proposed for an increase of 14.22%.  In any standards, this quantum of increase can not be justified to be adequate.  In fact this is the lowest increase out of any pay commission constituted in India so far.  Let's wait and see whether Empowered Committee formed by the Govt to process the present pay commission report make any positive changes to it.
Though 7th Pay Commission report failed to convince Central Government Employees in pay and allowances front, there are certain positive aspects in the recommendations which mainly relate to welfare measures, compensation and Retirement benefits. In the following paragraphs we would be discussing those which might surely improve overall Compensation package of central government employees in the long run.
7th Pay Commission's decision to retain CPI-IW with base Year 2001=100 for determining Dear Allowance rate:
As demanded by various Central Govenment Employees Federations 7th CPC has proposed for retaining All India Consumer Price Index (Industrial Workers) with base year 2001=100. This means the allowance offered by govt to compensate inflation would continue to be calculated in the same as it is done presently, after deducting the quantum of DA (@ 125% for 126%) that is to be merged with pre-revised pay.
Dearness Allowance with effect from 1st January 2016 =[ (Avg of AICPI for the period from January 2015 to December 2015 – 115.76)*100/115.76] – 125 (or) 126
Interestingly, the earlier Pay Commission (6CPC) had proposed for adopting to new series of index (CPI-IW with base year 2001=100) which was later accepted by Govt. This measure needed adjustment in the calculation formula in respect of dearness allowance with effect from 1st January 2006 in the form of linking factor of 4.63 between base year 1982=100 and 2001=100
Click here to get more details on calculation of Dearness Allowance based on CPI-IW
7th Pay Commission as well as Govt could justify in retaining CPI-IW with base year 2001=100 as new series of the index with base year 2015=100 is yet to be unveiled.
A new series of CPI-IW for DA Calculation means adjustments from old base year to new base year using linking factor and rounding-off which would surely put breaks on higher DA to Central Government Employees. So, 7th Pay Commission's recommendations on retaining the present series of CPI-IW for DA purpose is welcome one.
Click here to get Govt's proposal for creating new CPI-IW series with base year 2015=100
Enhanced Central Government Employees General Insurance Scheme Coverage up to Rs. 50 lakh:
7th Pay Commission Recommended Rates of CGEGIS
Level of Employee                 

Monthly Deduction
(Rs.)

Insurance Amount
(Rs.)

10 and above

5000

50,00,000

6 to 9

2500

25,00,000

1 to 5

1500

15,00,000
Click here to get more information on improved CGEGIS proposed by 7th CPC
Increase in Gratuity ceiling to Rs. 20 lakh with DA indexed Gratuity for the first time:
7th Pay Commission proposed that ceiling in respect of Gratuity will have to be increased from the existing ₹10 lakh to ₹20 lakh.
Moreover, for the first time DA indexed Gratuity viz., increase by 25 percent whenever DA rises by 50 percent has been introduced by the Commission. This measure would surely compensate the inflation factor as gratuity of Rs. 20 lakh received by a retiring employee in 2016 will never be equal to the same amount received by another in 2025.
Further, 7th Pay Commission has proposed that 20 times of monthly emoluments is to be paid as gratuity for employees who intend to retire after serving 10 year of service but before 20 years of service. Presently, 10 times of monthly emoluments is being paid for length of service between 10 years to 20 years.
Checkout this link for more details on Gratuity payable for retiring central government employees
Child Care Leave extended Single Male Central Government Employees also:
Child Care Leave (CCL) is granted to women employees presently for a maximum period of two years (i.e., 730 days) during their entire service for taking care of their minor children (up to eighteen years of age).
In addtion to women employees, 7th CPC has propsed that a male employee who is single, will also be entited to Child Care Leave.
Get more information on Child Care Leave recommended by 7th Pay Commission
House Building Advance (HBA) – Loan Ceiling increased to Rs. 25 lakh:
As far Housing loan extended by Govt to its employees is concerned the Commission proposes 34 times of Basic Pay or Rs.25 lakh OR anticipated price of house, whichever is least. This is more than three times higher than the present level.
Checkout this article that explains 7th Commission's recommendations on interest bearing advances applicable to Central Government Employees
Chidren Education Allowance and Hostel Subsidy increased by 1.5 times – whenever DA increases by 50%, these two reimbursements will be increased by 25%
CEA (₹ pm)
1500×1.5 = 2250
Whenever DA increases by 50%, CEA shall increase by 25%
Hostel Subsidy (₹ pm)
4500 x 1.5 = 6750 (ceiling)
Whenever DA increases by 50%, Hostel
Subsidy shall increase by 25%
Checkout this article for more details on revised Children Education Allowance recommended by 7th Pay Commission
7th Pay Commission recommends Higher Grade Pay for certain Posts in Central Government Service considering the service conditions:
On the basis of nature of work and anomalies, 7th Pay Commission has recommended higher grade pay for certain cadres.
Post wise higher grade pay recommended list is given below.
Sl.No
Ministry / Dept
Name of the Post
Present 6cpc Grade Pay (Rs.)
New Grade Pay recommended by 7th Pay Commission (Rs)
1.
Railways
Dietitians
4200
4600
2.
Railways
Senior Dietitians
4600
4800
3.
Railways
Assistant Dietetic Officer
4800
5400 (in PB-2)
4.
Andaman and Nicobar Administration
Junior Radiographer
2000
2800
5.
Railways
Perfusionists
2400
4200
6.
CGHS
Dental Hygienists
2400
4200
7.
Defence
Russian Officers Translators
4600
5400
8.
Defence
Russian Senior Officers Translators
5400
6600
9.
Defence
Russian Editors
6600
7600
10.
Central Sheep Breeding Farm
Sheep Shearer cum Supervisor
1800
2400
11
Indian 

Postal Service

Inspector
4200
4600
12.
Indian Postal Service
ASPOs
4800
5400
13.

National Archives of India

Assistant Archivists
4200
4600
14.
National Archives of India
Archivists
4600
4800
15.
National Archives of India
Scientific Officer
4600
4800, 5400(12 yrs)
16.
All Ministries
Officers in organised accounts cadres
4800
5400
17.
Dr. RML Hospital
Junior ECG Technician/Junior Cardiac Technician
2400
2800
18.
Andaman and Nicobar Administration
Junior Agriculture Assistant/Junior Soil    Conservation    Assistant
2400
2800
19.
Andaman and Nicobar Administration
Bus Conductors
1800
1900
20.
Mines
Senior Technical Assistants (STAs)
4200
4600
21.
JTA, Store Keeper,
2800
4200
22.
Assistant Store Keeper
1900
2400
23.
Electrical Supervisor
2800
4200
24
Laboratory Assistant
2400
2800
25
Machine Man, Junior Press Assistant
1800
1900
26
CBI
Sub Inspector
4200
4600
27
Inspector
4600
4800
28
Railways
Assistant Station Master (ASM)
2800
4200
29
Railways
Commercial Clerks + Enquiry Cum Reservation Clerks (ECRCs)+Ticket Checking staff (TTEs and TCs)= Commercial and Ticketing Staff
1900

2400

2000

2800

30
Railways
Accounts
4800
5400
31
Railways
Chemical  and  Metallurgical  Assistants
4600
5400
32
Shipping
Head Light Keeper
4200
4600
33
Shipping
Navigational Assistant Gr.II
2800
4200
34
Shipping
Navigational Assistant Gr.III
2400
2800
35
Shipping
Light House Attendant
1800
1900
36
Statistics
Director General, Central Statistics Office
HAG+
L17
37
Textiles
Technical Officers
4200
4600
38
Textiles
Assistant Director Gr. II (Technical)
4600
4800
39

Town and Country

Planning Organisation
Planning Assistants
4200
4600
40
Central Water Commission (CWC)
Senior Research Assistant
4200
4600
41
Central Water Commission (CWC)
Assistant Research Officer
4600
4800
42
Central Ground Water Board (CGWB)
Technical Operator (Drilling)
1800
1900
43
National Academies
heads of National Academies
Apex Scale Rs.80000
44

Intelligence Bureau (IB)

ACIO-II
4600
4800
45
Intelligence Bureau (IB)
ACIO-I
4200
4600
Check this link for more details on higher grade pay recommended to certain posts
Want to Calculate your 7th Pay Commission Pay and Allowances? Checkout GConnect 7th Pay Commission pay calculator