One Rank One Pension – Steps being taken to Rectify Anomalies – Says Minister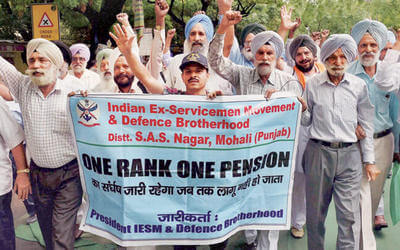 One Rank One Pension – Steps being taken to Rectify Anomalies – Says Minister.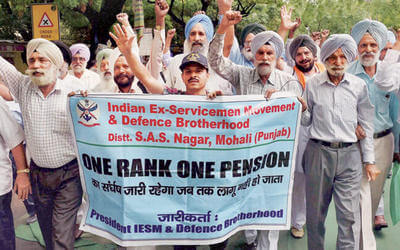 Seeking to reach out to retired soldiers, Union government on Saturday assured the ex-servicemen that it was taking all steps for "resolving the anomalies" in One Rank One Pension (OROP) and seventh pay commission.
Minister of State for Defence, Subhash Bhamre, also said Prime Minister Narendra Modi and Defence Minister Manohar Parrikar, who are "very sensitive" to the issues of ex-servicemen, are "personally looking into the effective implementation" of OROP (One Rank One Pension) scheme.
"The issue of OROP (One Rank One Pension) is the area of concern for the ex-servicemen. Number of representations were being received from ex-servicemen about OROP," he said, inaugurating the Kerala State conference of the 'Akhil Bharathiya Poorva Sainik Seva Parishad' here.
He said approximately one lakh defence pensioners/family pensioners were yet to get the benefits of OROP because of missing information such as non-update of records or unavailability of date of birth of family pensioners.
"Government is taking expeditious steps to get the payment released to left out pensioners on priority basis," he said.
The Minister also dismissed media reports about down-gradation of military ranks vis-a-vis civilian cadre.
Bhamre said a letter was issued by the Defence Ministry on October 18 regarding the equivalence of officers of a civilian cadre which is known as the Armed Forces Headquarters Civil Service (AFHQ CS).
"The letter reiterated the existing equivalence of joint director, director and principal director of AFHQ with Colonel, Brigadier and Major General equivalents respectively based on duties and functional responsibilities.
"This equivalences is not new and it has been clarified on several occasions in 1991, 1992, 2000, 2004 and 2005.Therefore, this alleged down gradation was a complete misinterpretation of facts," the Minister said.
The service ranks and designations and the channel of reporting continued as earlier, he said alleging that an attempt was being made by some quarters to project a negative image of the government.
However, Lt Col SANTOKH SINGH BHATIA Retd, had this to say, "Please come clean and do not misinform the masses. When all old letters mentioned by you on the functionality of Civilian and Armed Forces ranks have been annulled by the group of ministers recommendations (Mr Pranab Mukherjee was the head) then why a letter has been initiated giving the reference of superceded letters. JANTAR and ESM can be fooled occasionally and not all the time. The anomalies if permitted to linger on, would be doing irreversible damage to the Moral of Forces. It is never too late to accept the mistakes".