Strategy of Railways Engineers after 7th Pay Commission Recommendations
IRTSA Strategy adopted to pursue the demands of Rail Engineers (Technical Supervisors) during the last 4 months after the retrograde recommendations of 7th CPC report.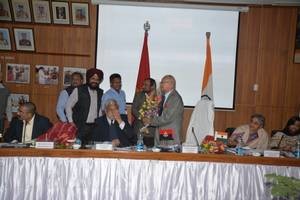 IRTSA
Indian Railways Technical Supervisors' Association
www.irtsa.net
From President's Desk
18.02.2016
STRATEGY ADOPTED TO PURSUE THE DEMANDS OF RAIL ENGINEERS (TECHNICAL SUPERVISORS) DURING THE LAST 4 MONTHS AFTER THE RETROGRADE RECOMMENDATION OF 7th CPC REPORT.
7TH CPC submitted its report on 23.11.2015.
On 25.11.2015 ICF & SR- Zones conducted a Mega Demonstration in front of GM's Office at ICF and a resolution was passed against unrealistic & unjustified recommendations of the 7th pay commission and was sent to Railway Board & Minister for Railways.
IRTSA opposed Finance Ministry's unilateral order to constitute an "Implementation Committee" straight away as if Government endorsed all recommendations of the above CPC report.
IRTSA further stressed to constitute a High level committee to analyze the report of 7th CPC and to suggest to Government about incorporating required changes on most unacceptable and unjustified recommendations.
IRTSA strongly pursued with JCM leaders to constitute such a high level committee and demanded to stall the functioning of the Implementation Committee without taking into account demands arising out of 7th CPC report.
The Government constituted a High Level Committee and "Empowered Committee of Secretaries" headed by Cabinet Secretary and CRB as one of its Members.
Now the Empower Committee has started reviewing the Pay Commissions report on the basis of collecting reactions from various Departmental Heads as well as from the various stake holders, Unions and Associations. It has paved way for the affected categories one more chance for echoing their voice in correcting certain most unjustified recommendations.
Er Harchandan Singh GS IRTSA one of the most experienced trade unionist assisted by Er. K.V. Ramesh Sr. JS GS/ IRTSA prepared strong memorandums and placed before Empowered Committee, Ministers for Finance & Railways and Railway Board. They were also assisting organized labour in shaping out their demands.
IRTSA team led by the Central President, met respected CRB, MS, MM, ML, Addl. MS, EDPC-I, EDPC- II and EDIR at their chambers during their camp at Delhi for more than a week. Many facts brought out by IRTSA were proved to be eye openers.
Entire Railway Board was reminded of its own decision of improving the pay scales of JE & SSE and classification of SSE as Group 'B' (Gaz) well before the constitution of 7th Pay Commission and negligence from the part of Railway Board for not conveying its earlier decision to 7th CPC.
Later the team met Honorable Minister for Railways, and raised the same issue and Honorable MR, directed his Administrative PS to verify the facts and then administrative PS forwarded the Memorandum to the respected FC for his commends.
Then the team met the respected FC explained to him about the issues mentioned above. FC directed the team to explain all details to EDPC – II and FC said that he will deal the matter directly after getting the report from EDPC – II and ED – Finance.
Finally the team met ED-IR and Addl. MS and informed them that IRTSA will stage a call attention Mass Dharna at Jantar Mantar on 08.02.2016 so that the Empower Committee will be posted about the issues for obtaining the positive response
On 25.01.2016, the team led by CP/ IRTSA met Shri. T.G. Venkatesh Babu, MP and Member of Standing Committee Finance. CP explained to him about the retrograde recommendations of the 7th CPC and sought his assistance to place it to the notice of the Honorable FM and Cabinet Secretary (Chairman Empower Committee). We are grateful to the respected MP who had made a strong recommendation in his covering letter and handed over the same to Honorable FM and forwarded it to the Cabinet Secretary
IRTSA organized a MASS DHARNA on 08.2.2016 at Jantar Mantar in which more than 500 Rail Engineers from all parts of the country participated with the agitated mind.
Dr. M. Ragaviah ji, the Chairman JCM & GS/ NFIR, along with Shri. Guman Singh – President NFIR participated in the Dharna and assured the members that they will fight tooth and nail to find solution to the issues raised in the Dharna.
Com. Shiv Gopal Mishra, Secretary JCM & GS/ AIRF attended the Dharna and strongly protested against the 7th CPC report and assured to the agitated members that JCM and AIRF will support our cause in strong voice in the Empower committee.
IRTSA team led by Er Harchandan Singh GS IRTSA submitted memorandum to Chairman Empowered Committee, CRB and Minister for Finance.
On 09.02.2016, CP/ IRTSA and 4 CEC members got an appointment with respected MS at his chamber and MS was kind enough to spare more than 30 minutes in hearing our explanations and many queries made by him were clarified by CP with crystal clear cut proofs. Respected MS assured the team that all possible steps will be taken to highlight to the Empower Committee for upgrading Pay Scale of JE s and SSEs.
IRTSA will keeps no stone unturned for realization of promises made by the authorities. IRTSA will proceed further in building further momentum in perusal effort with the Empowered Committee. Railway Board, Railways & Finance Ministers will be continuously highlighted of the issue by appropriate channels.
IRTSA the most Experienced, Diplomatic and Constructive organization does not believe in simple cheap adventurism of crying and street shouting. But IRTSA thinks properly, strongly lays out strategies and proceeds honestly until things are taking shape at the right place at the right time with appropriate authorities.
Changes do not happen simply, change can happen only through struggle.

If there is no struggle, there can be no progress
Long Live IRTSA
Yours' truly
M.SHANMUGAM
Central President