Media news on 15% hike in 7th Pay Commission Report – Why it is Unjustifiable?
Media news on 15% hike in 7th Pay Commission Report – If this newsflash is really true then it is not at all justifiable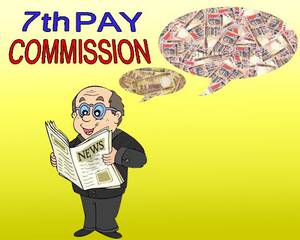 Probably Today will be the last day for all predictions, estimations and what not on Pay and allowances to be proposed by 7th Pay Commission as the same will be in black and white after 19.30 hrs today.
Checkout official announcement of 7th Pay Commission on release of its report today (19.11.2015)
The Commission's report will be zeroed in tonight by media, economists and of course by all Central Government Employees and Defence Personnel to get the portion of information in which they are interested in.
In the mean time, on possible salary hike recommended by 7th Pay Commission, wide Spread media reports say, 7CPC is going to recommend only 15% increase in pay.
It is unclear now, what this 15% pay hike is all about in real terms? Whether it is exclusive of increase in Grade Pay? In contrary, whether Grade Pay system would be totally withdrawn ? Let's keep our fingers crossed.
15% salary hike – Not justifiable when comparing Bank employees wage revision
If this expected 15% increase in Pay is calculated on pay in pay band and grade Pay (Basic Pay) afer merging DA as on 1st January 2016, it will be almost equivalent to 15% increase in salary granted to Bank Employees (after merging DA as on 2012) under 10th Bipartite Wage Settlement which was made effective from November 2012.
Click here to read official press release of IBA on 10th Birpartite Bank Wage Revision settlement
However, Bank Employees had their last wage revision in 2012 as they are due for wage revision every five years. But pay and allowances of CG Employees and Defence Personnel were revised in 2008 and the present 7th Pay Commission pay revision would be valid for 10 years.
6th Pay Commission proposed to increase 30% to 35% in Basic Pay alone
Also, take a look at the pay and allowances revision recommended by 6th Pay Commission which was accepted as such with slight modifications. A fitment benefit of 40% which was calculated on the highest pay of 5th CPC pay Scale was proposed by 6th Pay Commission in the form of Grade Pay.
This 40% fitment benefit on pre-revised pay worked out to around 30% to 35% increase in Basic Pay with DA merger as on 01.01.2006. We have given an illustration below for this calculation.
An employee who was drawing basic pay of Rs. 7500 in 5th CPC Pay Scale (S-14) Rs. 7500 – 250 – 12000 as on 31.12.2005, got a fitment benefit of Rs. 4800 (40% of highest pay of 12000 in pre-revised pay scale S-14) in the form of Grade pay on implementation of 6th Pay Commission.
This increase in basic pay alone works out to almost 35% of Rs. 13,950/- which is the sum of Basic Pay and DA drawn by the said employee as on 31.12.2005. In addition to this increase in Basic Pay, more than 50% increase was granted in allowances such as HRA, Transport Allowance etc.

In fine, considering wage revision allowed to peers and pay revision of policy of previous pay commissions, increase of 15% in pay if suggested by 7th Pay Commission it is really unjustifiable.
Let's hope for a well justified increase in pay of Central Government Employees and Defence Personnel which would make this 15% hike newsflash, a rumour.
Also Read: 
7th Pay Commission Rumours – Discarding Grade Pay system – Will it be beneficial ?
7th Pay Commission Pay Scales and 7th CPC Pay Calculator – Revisit
Readers can verify these 6th CPC pay hike calculations by using 6th Pay Commission Pay and Arrears Calculator given below which was released by GConnect in 2008.
Http iframes are not shown in https pages in many major browsers. Please read
this post
for details.