7th Pay Commission Latest News – Minimum wage and Fitment formula
7th Pay Commission Latest News – Confederation of Central Government Employees, Karnataka Branch analyses how 7th CPC minimum wage is fixed and why employees are on the losing side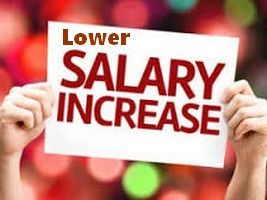 7th Pay Commission has adopted a formula for fixing the minimum wage and fitment formula in its recommendations.  As per this recommendations Basic Pay in Central Government Service has been fixed as Rs. 18000 while highest pay has been fixed as Rs. 2,50,000.  As far as existing employees are concerned, the a uniform multiplication factor of 2.57 has been arrived at which has to be multiplied with the existing basic pay of an employee to get the revised basic pay.  However, Confederation of  Central Government Employees reports that the prices for various essential commodities taken by the 7th Commission for arriving at minimum wage and fitment formula are on the lower side and consequently actual economic inflation in the past 10 years has not been factored in to the recommended 7th CPC pay and allowances.
The following is the analysis of Confederation of Central Government Employees and Workers, Karnataka Branch with regard to Minimum Wage and Fitment formula adopted by 7th Pay Commission.
Minimum wage and Fitment formula
Comrades,
The Staff side had demand of minimum wage of Rs 26000/- & fitment formula of 3.71. Against this the 7th CPC had recommended minimum wage of Rs 18000/- & fitment formula of 2.57. The 7th CPC recommendations has provided only at 14% wage hike at Group "C" level it is only ranging from Rs 2240/- to  Rs 3500/- increase per month, and at Group "B" level ranging from Rs 4000/- to   Rs 6500/- increase per month. After deductions & income tax the net increase will be just from Rs 500/- to Rs 3000/- only .
This increase is lowest by any pay commission, hence vast changes are required as the prices of essential commodities have gone up and also the inflation rate has gone up.
There are various reports on 7th Central Pay commission on the media reports on minimum wage of Rs 21000/- & fitment formula of 3.00, (which is at 34% wage hike against the 14% wage hike recommended by the 7thCPC).
The Empowered committee of Secretaries have not finalised any such minimum wage and fitment formula, the meeting is scheduled on 11th June 2016.
Please go through minimum wage as on 1/1/2016 using the prices as on 1/7/2015 of the Director of Economic & statics , Ministry of Agriculture and Farmers Welfare, Government of India, New Delhi.
Sources website : http://rpms.dacnet.nic.in/QueryReport.aspx
Minimum Wage as per Government  Prices  as on 1/7/2015

Item

Per Month 3 units in Kgs/ mt
Average

Rate

Amount
Rice  fine/Wheat
42.75
32.45
1387.2375
Dal / Pulses
7.2
112.96
813.20
Raw Vegetables
9
112.96
1016.64
Green Vegetables*
11.25
26.78
301.275
Other Vegetables*
6.75
50
337.5
Fruits
10.8
45
486
Milk Dairy
18
97.92
1762.56
Sugar
5
41.85
209.25
Edible Oil
3.6
142.42
512.712
Fish
2.5
231.67
579.175
Meat Mutton
5
401.95
2009.75
Egg
90
4.68
421.2
Detergents*
1
250
250
Clothes
5.5
279.34
1536.37
Total
10809.6695
Housing @ 7.5%
810.65
Miscellaneous @ 20%
2161.93
Total
13782.2495
Additional @ 25%
3445
17227.2495
Grand Total –
Minimum pay for unskilled worker in the erstwhile Group D
17227
Additional @ 25% for Group "C"
4306.75
Minimum pay for skilled worker in the erstwhile Group "C"
21533.75
 Rounded off to Rs 22000/-
Add 6%  for DA = 125%  difference
646
Actual Minimum wage as on 1/1/2016
22179.75
We should add 10% for difference between retail price and Government rates.  It is clear that we should get minimum wage of Rs 24500 and fitment formula is 24500/ 7000 is 3.40 that is 50% wage hike .
The 7th CPC had provided wrong prices for example
Rice/Wheat Rs 25.93 per kg Dal (Toor/Urad/Moong) Rs 97.84 per kg.
If correct prices were adopted by the 7th CPC and correct methodology is adopted we would have got better minimum wage and fitment formula,
Comrades it is the time to struggle, we should educate the members and prepare for struggle, so that we should get at least 50 % wage hike without allowances, as allowances are not taken into pension benefit.
Only struggle will get us benefit. Please don't believe on rumours. Now it is now or never.  Serve strike notice on 9th June 2016.
Comradely yours
(P.S.Prasad)
General Secretary
Source : http://karnatakacoc.blogspot.in/