7th Pay Commission is of the view to discard Pay Band – Grade Pay System
7th Pay Commission is of the view to discard Pay Band – Grade Pay System – Audit and Accounts Association reports in its brief about Oral evidence before 7th CPC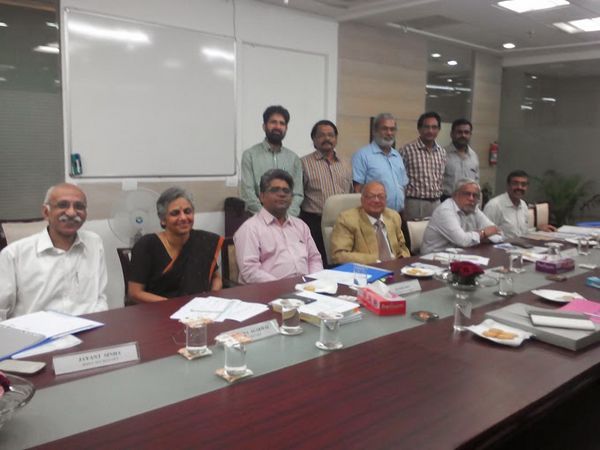 All India Audit & Acccounts Association
CSV Warrier Bhawan
Ghaziabad
Reference : AIA /Circular-10/2015
dated 28.03.2015
To
Unit Secretaries
Members & Spl Invitees NE & Members of Women's Committee
Dear Comrades,
Tendering of Oral Evidence before 7 CPC
The 7th CPC had invited the All India Audit & Accounts Association for tendering oral evidence on 27th March 2015 at this office at Qutab Institutional Area, New Delhi. In addition to the Secretary General, Coms M.Duraipandian, V.Nageswara Rao, KL Gautam and Anilkumar appeared before the Commission for the oral evidence. The Commission was present in full strength
The following demands were placed before the Commission:
1. Upgradation of LDC of GP 2400
2. Correcting the distortions in the implementation of 6 CPC recommendations with respect to IA & AD and organised Accounts Viz.
i) grant of GP 4200 to Auditor / Accountant
ii) grant of GP 4600 to SA, granting parity with Assistants of CSS
iii) grant of GP 5400 to AAO on completion of 4 years
3. Grant Promotion to SA to GP 4800 and higher starting pay of PB 2, 5400 to AAO and space for further career advancements for these orders
There was detailed discussion on each of our demands. It was pointed out by us that CAG of India has also recommended each of above demand and also grant of GP 6600 and 7600 to AOs and SAOs. The Chairman appreciated it. The Commission assured to take a positive look on our demands which are also supported by CAG.
The demands were explained in its historical background and also on functional basis. The recommendations of the past pay commissions were also brought to the notice of the CPC. The award by the Central Board of Arbitration in favour of the employees in respect of parity between SA and Assistants in CSS was particularly pointed out. Chairman expressed his unhappiness on the non implementation of the award by the employees and workers.
On our demand for career progression for SA and AAO, the Commission stated that though it is sympathetic it is not sure what could be done, given the hierarchical structure available in IA and AD.
We also raised the issue of re-introduction of Touring Special Pay and pointed out to the Award that was won by the All India Audit & Accounts Association from the Board of Arbitration and its rejection by the Parliament in 2002.
We further requested for introduction of 4 advance increments on passing of Departmental confirmatory examination, explaining the system prevailed before 3rd CPC, recommendation of 3rd CPC following which it was discontinued and its re introduction in 1981 an amount equivalent to 3 increments. We pointed out that the conversion of this qualification pay into deemed allowance after 5 CPC and requested for its re-introduction.
During the discussion the Chairman observed that the commission is of the view to discard teh PB-GP System.
Source: All India Audit & Accounts Association