FM is for OROP but rules out revision of Pension every year – PTI News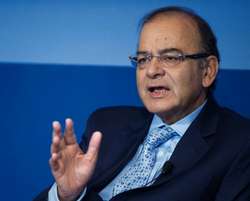 In an Interview at New Delhi, Mr. Jaitley categorically denied to accept the demand for making a change in OROP every year. He also reiterated that his Government would take in to consideration the demand of the EX-SERVICEMEN  who retired at lower age for higher rate of pension.
Mr. Jaitley further said, he and his Government is ready for  implementation of OROP, but  "arithmetical translation" process of One Rank One Pension is getting it delayed. The FM further said " EX-SERVICEMEN  are on dharna for the past 78 days demanding for yearly changes. But my views  are different, what is OROP?   You cannot demand a revaluation every one month or one year.   More over in a few more days the 7th pay commission is due".
He further said, I have been very vigilant about fiscal prudence and therefore my job is really that of a housewife in the sense that you must measure every rupee that the house spends so that you don't overspend and then borrow. If you start borrowing and beyond a point we would end up indulging in fiscal indiscipline.
The Finance Minister further added  that , he and his Government respects the demand of OROP and are committed to it. He also cautioned not to create an atmosphere where others too start making such demands.
As far as Ex-servicemen who retire at very younger age are concerned, the FM said "we would like to safeguard the interest of those soldiers who retire at age of 35 or 38 years and the society must protect them… and therefore some higher pension on a special formulation is understandable but then it can't be revised every year."
Mr.Jaitley further asked, "what if BSF or CRPF make such demands?  It's very clear the young generation would feel cheated.  You cannot take steps or take your own decisions which would harm the future generation.  We would want to implement OROP, but on amicable terms"
Source: punjabkesari.in