Clarification on Compassionate appointment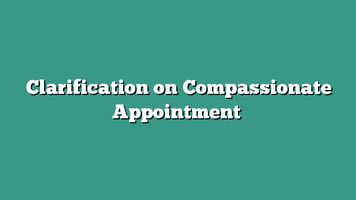 Ministry of Defence Clarification regarding Compassionate Appointment – Issued by ORDNANCE FACTORY BOARD (OFB)
Ordnance Factory Board Circular on Compassionate Grounds.
ORDNANCE FACTORY BOARD
MINISTRY OF DEFENCE
AYUDH BHAVAN
10A, Shaheed Khudiram Bose Road
Kolkata – 700 001.
Instruction No.039(6)/Per/Policy
Dated 27.06.2016
Sub : Clarification regarding Compassionate Appointment.
Ref : i) MOD,D(Lab) I.D. No.19(3)/2015/D(Lab) dated 23/06/2015. (copy enclosed).
ii) OFB instruction No. 152.2015/per/policy dated 16/09/2015. (available in OFB COMNET).
iii) OFB Instruction No. 75/2010/PCC dated 11/08/2010 (available in OFB COMNET).
It has been observed from the correspondences received from various Factories/ Units that while preparing the relative merit point, after lifting the ban on 3 years time limit on compassionate appointment, some factories /units have awarded more marks as per the new slab rates in comparison with the old slab rates (viz, Family Pension (excluding DA), Terminal Benefits & movable/Immovable property ) while against some others, less marks have been awarded (viz. monthly income of earning member of the family & No. of unmarried daughters) although the net outcome more or less is the same. The same is creating confusion while processing the case of compassionate appointment.
2. In this connection, attention is invited to the MOD communication dated 22/01/2010 and dated 14/05/2010 circulated vide above reference, wherein it has been clearly mentioned that after implementation of the 6th CPC recommendations, the point allotted to various aspects i.e., family pension and terminal benefits etc. have become redundant and that the revised point based on a 100 point scale will be adopted in place of 100 point scale circulated vide I.D. Note dated 09/03/2001. Further, it is indicated that after every pay commission, family pensions are revised and accordingly, revised family pension has to be taken into consideration. In the case of movable/immovable property, the present value of these properties is required to be taken into account while awarding weight age point as per MOD guidelines.
3. In view of the above, all factories/units are requested to deal each and every case as per above MOD guidelines dated 22/01/2010, 14/05/2010 and 23/06/2015 after ascertaining the current financial and other status of each component.
[DR.(Smt.) VANI A. SINGH]
for DIRECTOR GENERAL, ORDNANCE FACTORIES,
Source : http://indwf.blogspot.in/