7th Pay Commission for Defence Personnel – Brochure published by Ministry of Defence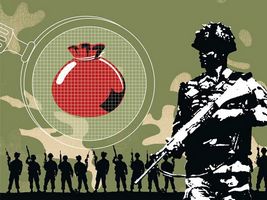 7th Pay Commission for Defence Personnel – Brochure published by Ministry of Defence – 7th pay commission brochure for Military personnel
7th Pay Commission for Defence Personnel – Brochure published by Ministry of Defence
MESSAGE
1. 7th Central Pay Commission award, in many ways, has been a revolutionary due to the active involvement of the environment. This was for the first time when we have transited from Pay Bands to a Pay Matrix system. The method of awarding increments has been modified to a pre calculated stage system in the Defence Pay Matrix, thereby ensuring uniformity. Several old allowances have been merged, some allowances abolished and new ones have been granted.
2. Aim is to provide a ready reckoner to ensure that full benefits of Pay Commission Award are exploited by the environment. It will serve as a guideline for the men and women in uniform to make themselves aware of the 7th CPC benefits and entitlements.
3. I compliment DG (MP&PS), PS Dte and the 7th Army Pay Commission Cell (APCC) team for their endeavour in bringing out this Information Brochure and hope that it will meet the desired objective.
Place : New Delhi
Date : 11 Oct 2017
(Ashwani Kumar)
Lt Gen
Adjutant General
S.No.

Subject Covered

1.
Introduction, Aim and Preview

Part – I : Pay

Officers

2.
Level of Ranks : Officers (Except MNS)
3.
4.
Level of Ranks : (MNS) Officers
5.
Pay Matrix : MNS Officers
6.
Fixation of Pay in the Revised Pay Structure
7.
Increment in Revised Pay Structure
8.
Pay Fixation on Promotion After 1st Day of Jan 2016
9.
Stipend of Gentlemen or Lady Cadets Under Training
10.
Military Service Pay
11.
Pay of Junior Commissioned Officers (JCOs) / Other Ranks (OR) Undergoing Pre- Commissioning Training in Service Training Institutions
12.
Pay Fixation of Re-Employed Officers
JCOs /OR
13.
Level of Ranks : JCOs/OR
14.
Pay Matrix JCOs/OR
15.
Military Service Pay
16.
Initial Pay Fixation
17.
Pay Fixation Honorary Lieutenants and Captains
18.
Annual Increment
19.
Annual Increment in Revised Pay Structure
20.
Modified Assured Career Progression (MACP)

Part – II : Allowances

21.
Yardstick for Allowances

Education Related

22.
Children Education Allowance (CEA)
23.
Education Concessions to Children of Personnel Missing/Disabled/ Killed In Action
24.
Language Allowance
25.
Language Award
26.
Qualification Allowance
27.
Higher Qualification Incentive (HQI)

Uniform Related

28.
Dress Allowance

Transport Related

29.
Transport Allowance
30.
Conveyance Allowance

Risk and Hardship Related

31.
Risk and Hardship Matrix & Rates of Major Allowances
32.
Concurrent Admissibility of Allowances

Accommodation Related

33.
House Rent Allowance & Rates of House Rent Allowance

TA/DA Entitlements

34.
Travel Entitlement within the Country
35.
International Travel Entitlement by Air
36.
Entitlement for Journeys by Sea or by River Steamer
37.
Entitlement for Travel Between the Mainland and the Andaman & Nicobar and Lakshadweep Groups of Islands by Ships Operated by the Shipping Corporation of India Limited
38.
Mileage Allowance for journeys by road at places where no specific rates have been prescribed either by the Director of Transport of the concerned state or of the neighbouring states
39.
Mileage Allowance for journeys by road at places where specific rates have been prescribed
40.
Daily Allowances on Tour
41.
Timing Restrictions for Food Bills
42.
Entitlement for Journeys on Permanent Duty
43.
TA Entitlements of Retiring Def Pers

Misc Allowances

44.
Diving Allowance
45.
Dip Money
46.
Diving Attendant Allowance
47.
Hard Area Allowance
48.
Island Special Duty Allowance
49.
Funeral Expense
50.
Tough Location Allowance
51.
Specialist Allowance
52.
Deputation (Duty) Allce
53.
Test Pilot and Flt Test Engineer Allowance (For Officers Only)
54.
Extra Work Allowance
55.
Composite Personal Maintenance Allowance (CPMA) (For JCOs/OR Only)
56.
Rum Allowance (for JCOs/OR only)
57.
Additional Post Allowance
58.
Classification Allowance
59.
Good Service/Good Conduct/Badge Allowance
60.
Gallantry Awards
61.
Training Allowance
62.
Other Allowances

Part III : Pension and Related Benefits

63.
Reckonable Emoluments
64.
Pension Fixation

Gratuity

65.
Gratuity : All Types
66.
Retiring/Service Pension
67.
Minimum Pension
68.
Commutation of Pension

Family Pension

69.
Category of Dependents
70.
Enhanced Family Pension
Disability Pension
Disability Element of Disability Pension
War Injury Element of War Injury Pension
Constant Attendance Allowance
Ex-Gratia Lump Sum Compensation to Next of Kin of the Deceased Defence Forces Personnel
Ex-Gratia Lump Sum Compensation in Cases of Invalidment
Broad-Banding of Percentage of Disability / War Injury on Discharge
Ex-Gratia Award to Cadet (Direct)
Pensionary Benefits : Death in Attributable/ Aggravated Cases
71.
Special Family Pension (SFP)
72.
Liberalised Family Pension (LFP)
73.
Pension Protection
Ceiling in Case of Two Pensions
Old Age Pension
Procedure for Sanction of Revised Pension to those who have already Retired Misc Instructions
For Pre 01.01.2016 Pensioners
For Post 01.01.2016 Pensioners

Part IV : Terms & Conditions of Service

74.
House Building Advance
75.
Personal Computer Advance
76.
Qualifying Service – Colonel
77.
Maternity Leave
78.
Paternity Leave
79.
Hospitalisation/Sick Leave in Case of Officers

Summary of Allowances

80.
Summary of Allowances
Download / Road 7th Pay Commission for Defence Personnel – Brochure published by Ministry of Defence