New pay matrix under 7th CPC for basic pay scale of Rs. 18k to below Rs. 21k
New pay matrix under 7th CPC for those who fall under pay band of level 1 which has a grade pay of 18000 and earn basic pay between Rs 18k to below Rs 21k
7th pay commission calculator: Since the time government approved the recommendations under 7th CPC, the government salary space has stolen the limelight. Pay hike rumours have been flying thick and fast and government employees have been hard-pressed to keep pace. On top of that, they face the problem of calculation. Each day there is some buzz over 7th CPC or the other – either good or bad. Under 7th CPC, government hiked salaries and allowances for over 1 crore employees and pensioners under its ambit. It was the most awaited development, which improved the lifestyle of government employees significantly. However, not everyone was happy over the recommendations made under 7th CPC. There are some 48 lakh central government employees who are now demanding hike in their pay scale and fitment factor from current levels. While these central government employees still wait for any news over their demands on pay scale, let us understand how much exactly they receive under 7th CPC aegis.
A new 7th pay commission pay matrix was approved under 7th CPC, which is very simple and easily comprehensible and also quite transparent. While the pay scale for current serving employees saw a maximum increase of 16% in their salaries, interestingly, it is pensioners that gained the most as their income was hiked by 23.63%.
Biggest rise in 7th CPC are the allowances, which have been increased massively by 63%.
Minimum pay under 7th CPC is recommended at Rs 18,000 per month, whereas maximum pay stands at Rs 2.25 lakh per month. The Rs 2.25 lakh pay scale is given to Cabinet Secretary and others presently at the same pay level.
A 7th pay commission fitment factor has been levied at 2.57 times uniformly for all government employees. Further, the rate of annual increment is kept at 3%.
House rent allowance (HRA) has been fixed at 24%, 16% and 8% for X, Y, Z cities respectively. HRA not to be less than Rs 5400, Rs 3600 and Rs 1800 for X, Y, Z cities. Earlier it was at 30%, 20% and 10% of minimum pay of Rs 18,000.
Moreover, 7th CPC recommended revision of HRA when Dearness Allowance reaches 50% and 100%, the government has decided to revise rates when DA crosses 25% and 50% respectively.
There was also enhancement made in the ceiling of gratuity from the existing Rs 10 lakh to Rs 20 lakh. The ceiling on gratuity may be raised by 25% whenever DA rises by 50%.'
Dearness Allowances (DA) has also been raised by 2% this year. Now it stands at 9% from previous 7% and is in effect from July 2018.
Meanwhile, travelling allowances are of two types namely A/A1 cities and other cities.

In the midst of it all, it is very important to understand how 7th CPC salary is calculated. Those who fall under pay band of level 1 which has a grade pay of 18000 and earn basic pay between Rs 18,000 to below Rs 21,000, then this is how much your 7th Pay salary should come around. Remember HRA is calculated as per the population in a city.
If basic pay is at Rs 18,000 and reside in Mumbai, then your HRA would come in at 24%. This would mean including your basic pay of Rs 18,000, along with HRA of Rs 5400, Rs 1620 DA and Rs 981 TA, then your 7th Pay salary comes at Rs 26,001.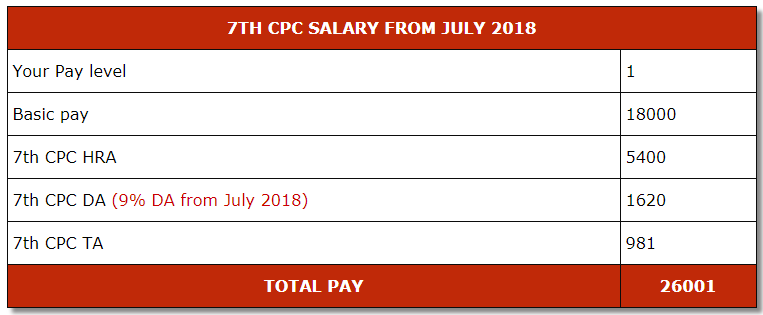 If basic pay is at Rs 18,500, then your HRA comes at Rs 5400, DA at Rs 1665 and TA of Rs 981 , this leads to an overall 7th Pay salary of Rs 26,546.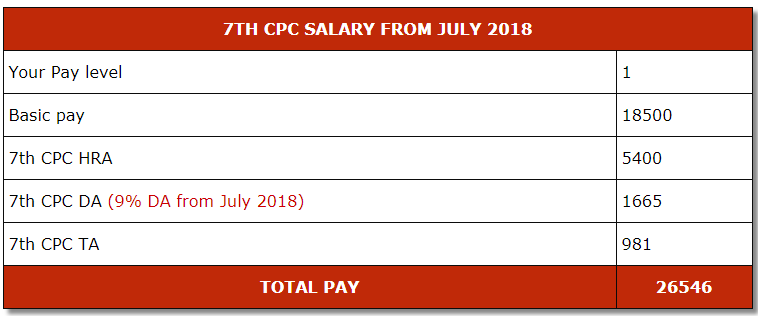 If basic pay is at Rs 19,100, then your HRA comes at Rs 5,400, DA at Rs 1,719 and TA at Rs 981. Your 7th Pay salary stands at Rs 27,200.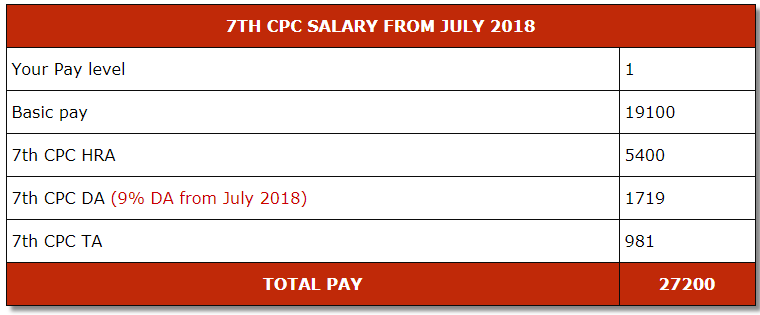 If basic pay is at Rs 19,700, then your HRA comes at Rs 5400, DA at Rs 1773 and TA of Rs 981. Hence, your 7th Pay salary stands at Rs 27,854.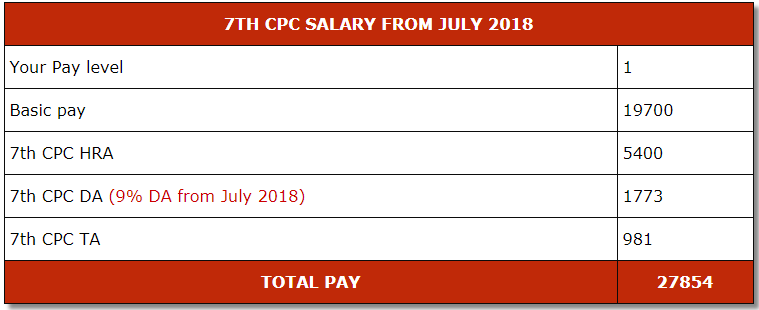 If basic pay is at Rs 20,300, then HRA as it is Rs 5,400, slightly higher DA of Rs 1,827 and TA at Rs 981, makes your 7th Pay salary at Rs 28,508.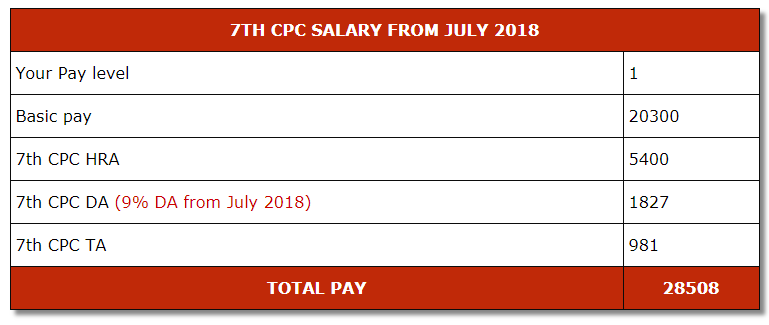 If basic pay stands at Rs 20,900, then HRA and TA of Rs 5,400 and Rs 981, along with slightly higher DA of Rs 1,881 will be the result. Hence, your 7th Pay salary comes at Rs 29,162.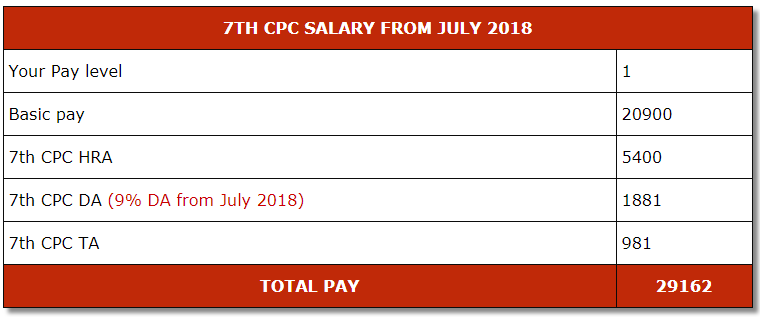 The above mentioned basic pay is decided by government matrix to calculate 7th Pay Salary for level 1 employees.
Hence, if you are a government employee and earn between Rs 5,200 to Rs 20,200, then your 7th CPC salary would range from Rs 25,000 to Rs 83,000.
Source: zeebiz