GConnect Online Income Tax Software for the year 2009-10
Update (01-12-2009:
Apart from the Login version of Income tax calculation tool detailed below, a new version of Income tax calculation tool that requires no registration or login has been launched now.  Check this link to try the same
Try Instant Income Tax 2009-10 (A.year 2010-11) Calculator (No Login required)
(end of update: 01-12-09)
---
You must have just taken a long breath two months back after filing your IT Returns for the last financial year.  Yet you got to be ready for tax planning this year as you might have already received a call from your AO for filing statement of your tentative income tax liability for this year It's regular as clockwork.
This year GConnect has come up with Online Income Tax software that is truly personalized.  It's a complete database application.  You got to register to use this application.  This is purely meant to personalize your experience as your information helps us to better respond to your individual needs.
Get a user name and password using the Register Page.  After you login, enter your income and deduction data in the entry sheet and use "Create Work Sheet" Button to create Income Tax Work Sheet.
Entry Sheet: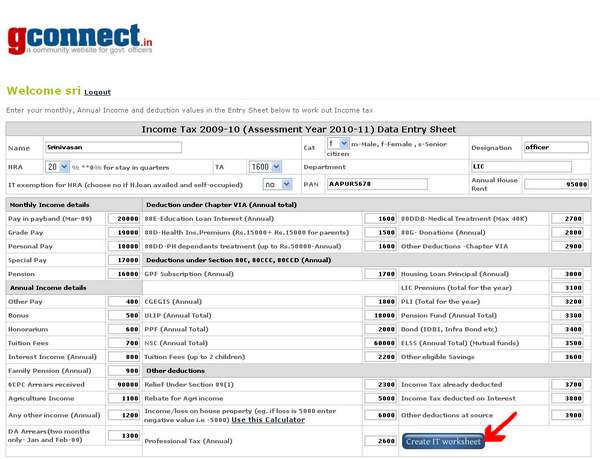 Income Tax Work Sheet:
This is the Income tax work sheet created after you click the create worksheet button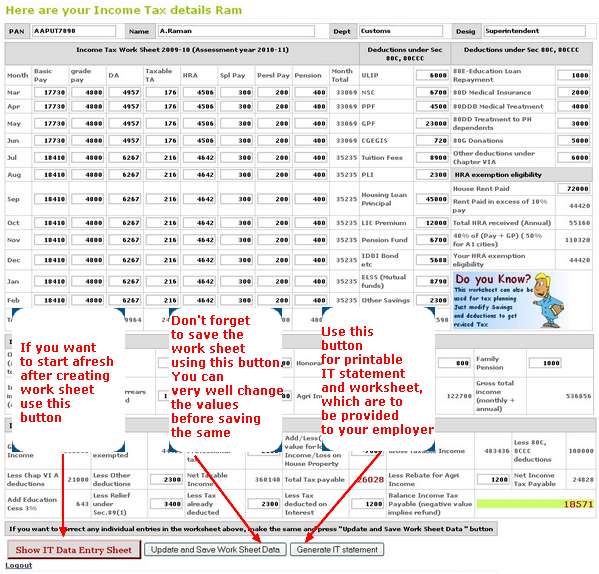 If you find the worksheet contains your all your correct income and deduction values save the same using update and save work sheet data button.  You can also change the values in the work sheet if your income or deductions change in the middle of the year due to transfer, promotion, ACP etc.  After changing the values do not forget to use the update and save the worksheet data button again.  Now, the Income Tax Statement for the year 2009-10 (Assessment year 2010-11) is ready to be generated.  Click Generate IT statement button to have the IT statement 2009-10 which has to be submitted to your employer for determining TDS.  You can also have a full-fledged work sheet to check your month wise income details.  Income Tax Work Sheet and Statement can be printed using the print button given
Print format of Income Tax Work Sheet: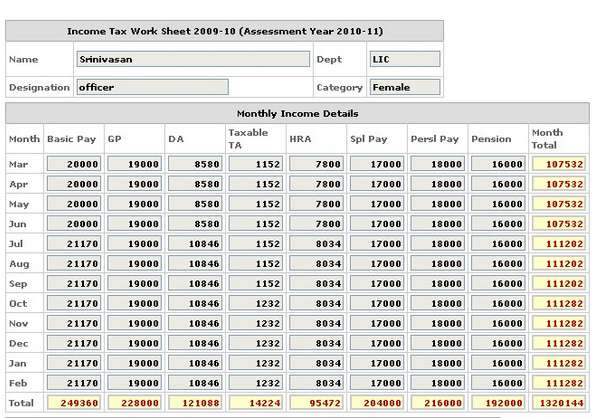 Print Format of Income Tax Statement 2009-10: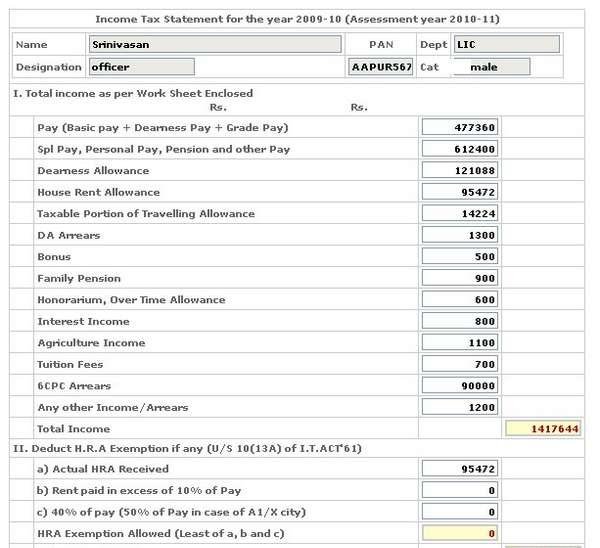 Please don't forget to save your work sheet before generating Income Tax Statement.  Even if you have only part of your tax data in hand now it's no issue.  Enter the details whatever you have now, save and logout.  Whenever, you login again the data entered by you would be available to you.
Of course, any new stuff will have its own teething problems.  Please feel free to write about the same as comments to this article.  Or you can mail us to [email protected]
We would be grateful if you could use this software and give us your feedback, so that we could make your tax planning easier.
Click here for your experience with GConncet Online Income Tax Software