7th Pay Commission Latest News – Railway Budget provides for implementation of 7th CPC
7th Pay Commission Latest News – Railway Budget provides for implementation of 7th Pay Commission – Analysts predicts all recommendations of 7th Pay Commission would be accepted with provision for implementation on a later date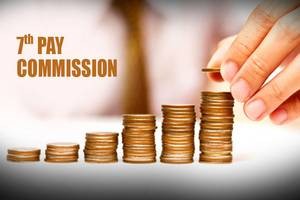 Railway Minister Suresh Prabhu's decision to accept the recommendations of the Seventh Central Pay Commission may leave little space for Finance Minister Arun Jaitley to delay or stagger the implementation of the recommendations of the commission in the Union Budget on February 29. Analysts and policy watchers say the defence ministry has also announced its expected pension outlay for FY17, making Jaitley's job to use this option to meet the fiscal deficit target of 3.5 per cent of the gross domestic product even more difficult.
In his 2016-17 Rail Budget speech on Thursday, Prabhu budgeted the pension outgo for the country's largest employer at Rs 45,500 crore and said that the Budget provides for the implementation of the Seventh CPC.
The explanatory memorandum of the Rail Budget showed a year-on-year increase of Rs 15,950 crore in staff costs, pension charges of Rs 12,638.05 crore and increase in salaries, dearness allowance and other staff cost of Rs 12,090.74 crore, Rs 1759.59 crore and Rs 2099.89 crore, respectively.
"Salaries and pensions for railways and defence are two of the biggest components of the Centre's wage bill. If those two have been committed, the degree of freedom for the government to delay any of the recommendations of the 7th CPC is limited," said N R Bhanumurthy of the National Institute of Public Finance & Policy.
"It seems a foregone conclusion that all recommendations will be accepted. The finance minister may stagger some of the recommendations, but you have to accept the budgetary burden," said Madan Sabnavis, chief economist with CARE Ratings.
"There are economic and political compulsions, in that putting more money into the hands of central government employees will boost consumption," he said.
Both Sabnavis and Bhanumurthy agreed that Jaitley could delay the medium-term fiscal consolidation road map as markets and investors were aware of the additional burden that he faced due to the 7th CPC, One Rank One Pension (OROP), maintaining capital spending and boosting allocation to rural and agriculture schemes like Krishi Vikas Yojana and NREGA after two consecutive years of poor rainfall.
The defence ministry said in early February that the defence pension budget is likely to be around Rs 65,000 crore for 2016-17, up 20 per cent from the 2015-16 Budget estimate of Rs 54,000 crore. It said the annual recurring financial implication on account of OROP would be around Rs 7,500 crore.
The 7th CPC's recommendation of a 23.55 per cent increase in the pay and allowances of government employees from January 1, 2016, will need an estimated Rs 1.02 lakh crore extra expenditure. Of this, around Rs 74,000 crore burden will be borne by the Union Budget and the rest has been borne by the Rail Budget.
Jaitley has said that he will provide Rs 1.1 lakh crore for 7th CPC and OROP combined in the Union Budget.
Source: Business Standard