7th Pay Commission – Is it a hike or farce? – IRTSA
Voice of Rail Engineers projects only 5% actual increase in 7th CPC recommendation and take home pay works out to negative.
The "Voice of Rail Engineers" magazine for the period Sep-Dec 2015 analysis the impact of the 7th CPC recommendations and expresses dissatisfaction with workings.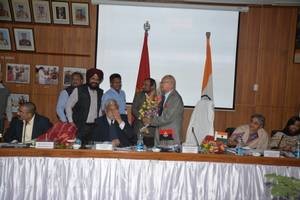 Voice of Rail Engineers – Page – 2  – Sep-Dec,2015

Editorial

7th CPC PAY HIKE – IS IT A HIKE OR A FARCE ?

THE CAUSE IS HIDDEN

THE EFFECT IS VISIBLE TO ALL

7th CPC has submitted its report to the Government and the additional expenditure projected by the PAY Commission is of 1.02 lakh rupees. As outsiders many of the country men started crying hoarse that the Govt. employees are taking away lions' share of its income.

Out of the projected 1.02 lakh hike, just above 1/4th is going to be borne by Indian Railways within its own budget; centre has to bear 1/4th towards pension, 1/4th towards allowances and only 1/4th towards Pay. Govt. need to borne only Rs.27,750 crores towards increase in pay. Allowances need not be taken as higher expenditure since they are part of compensation towards inflation and expenditure incurred in discharge of official duties.

7th CPC itself observed that financial impact on account of increase in pay, allowances & pension will be 23.55%. Increase on account of Pay & DA (excluding other allowances) will be to the tune of 16%. At present, without implementing 7th CPC Report, Year on year increase in the expenditure in both pay and pension has averaged about 11% of the Central Expenditure. Thus real increase on account of increase in pay, all allowances & pension will be only 12.55% (23.55% – 11% = 12.55%). Real increase on account of Pay & DA will be only 5% (16% – 11% = 5%).

IS THERE A REAL INCREASE IN TAKE HOME PAY?

Real increase in minimum wage between 6th CPC & recommended 7th CPC scales will be Rs.2250. Employees' contribution to National Pension scheme will increase from Rs.700 to Rs.1800 and for CGEGIS it will increase from present Rs.30 to Rs.1500. Therefore increase in real wage (take home pay) of Rs.2250 will be eaten away by Rs.900 increased contribution for NPS plus Rs.1500 for CGEGIS.  Net take home pay will have a negative growth of Rs.320 (Rs.1100 + Rs.1470 – Rs.2250 = Rs. – 320) as illustrated in the table below:

DECREASE IN TAKE HOME PAY IN MINIMUM SALARY FROM
6TH TO 7TH CPC

1

6thCPC Minimum Basic Pay
Rs. 7000

2

DA @ 125%
Rs. 8750

3

Pay + DA
Rs. 15750

4

Recommended 7th CPC Minimum Basic Pay
Rs. 18000

5

Increase in real wage (4 – 3)
Rs. 2250

6

Higher deduction for CGEGIS (as recommended by 7th CPC) & NPS
Rs. 2570

7

Difference in take home pay
Rs. -320

WILL THERE BE ANY ADDITIONAL EXPENDITURE DUE TO PAY HIKE RECOMMENDED BY 7TH CPC?

Government will take back into its treasury Rs. 6500 crores from increased monthly contribution towards CGEGIS and another Rs.2500 crores towards employees' contribution for NPS from 11 lakh employees appointed after 1.1.2004. After reducing Rs.9000 crore from Rs.27,750 crore (projected increase in pay), net additional expense towards Pay will be around Rs.18,750 crores only. Even this additional expenditure is not true. Total Expenditure on Pay & Allowance in FY 2012-13 was Rs.1,29,599 crore. If it is indexed by 11% increase year on year, in the FY 2015-16 even without implementing-7th CPC recommendations increase on account of Pay & Allowances will be around Rs.19,500 crore. Therefore Government is not going to have any additional expenditure on account of Pay increase after the implementation of 7th CPC Report as per its recommendations.

For 2012-13, revenues foregone through various concessions to various sections are estimated at a total of Rs.5,73,627 crore which was 10 per cent higher than the total fiscal deficit of the Central Government, financial experts say, concessions must be given to have accelerated economic growth. Government employees are exposed to negative growth in their real wage – but who cares?

TECHNICAL SUPERVISORS WORKING ON RAILWAYS BETRAYED

Need for higher Pay scales for Technical Supervisors in Indian Railways has been grossly ignored by
7th CPC. Higher Recruitment Qualifications, Training, Job Requirements, onerous Nature of Duties, and increase in their Responsibilities due to modernization and introduction of high speed trains, relativity against other non-technical cadres like Accounts etc. has not been considered at all.

Railways had agreed for higher Grade Pay for Technical Supervisors (JE & SSE) as recorded in item-3 of Minutes of the Departmental Anomalies Committee (Railways) held on 01.06.2010. "It was brought out in the discussion that Technical Supervisors have superior recruitment conditions, duties and multifarious responsibilities to ensure out-turn targets, optimum productivity, quality control, safety, material management, optimum utilization of man-power machinery, equipment, rolling stock and other resources for efficient train operations. They are also given induction training after recruitment for 18 months period which is very much longer compared to other categories…."

Railway Board had long back agreed with the two Federations to upgrade the posts in the Grade Pay of Rs.4600 to Group-B Gazetted and held several meetings for implementing the decision. Railway Board had agreed with the fact that "The percentage of Group 'B'  officers vis-à-vis total workforce is merely 0.5% in Railways which is 5.6% for All India Central Government Employees
and the same needed to be rationalized".

In all the departments, except the Railways, similarly placed posts in the pre-revised Grade Pay of Rs.4600 have been classified as Group 'B' Gazetted.

Financial Commissioner Railway Board had already given concurrence for the proposal of other Board Members to upgrade the posts of Senior Supervisors from Group 'C' to Group 'B' keeping in view the Financial advantage to Indian Railways by increasing Junior level Management Cadre as agreed to by Railway Board.

Commitment given by CRB to the two Federations in Departmental Council has not been implemented. In the meeting with both the Federations held on 07.04.2014, official side headed by CRB agreed for upgradation of posts from Group 'C' to Group 'B' and it was recorded that the matter has already been referred to MOF / DoPT, MS and FC will pursue Secretary, MOF &DoPT to resolve the matter urgently even though there was no need for such reference.

Railway Board hasn't disclosed the commitment given to Staff Side on higher pay for Technical Supervisors & classification of posts to 7th CPC. Infact the Board has, not only completely ignored the category, even more than that, ignored the interest of Indian Railways.
Click to view the Rail Engineers magazine page