Wisestamp-Make your Email Cool and Professional
Have you ever thought of sending a mail that contain a cool and colorful signature with full of your personal profile? Then Wisestamp add-in could make your job easier.
WiseStamp is an extension for Firefox, Chrome, Thunderbird and Flock browsers that allows you to automatically insert signatures when you compose an email message. The add-in is free and requires one of the browsers such as Firefox, Chrome, Thunderbird, Flock etc. Presently it does not support Internet Explorer. It works with the E-mail providers such as Yahoo!, Gmail, Hotmail, AOL Mail etc.
While E-mail providers such as Gmail, Yahoo etc., do have a way to automatically insert signatures into emails when you compose or respond to a message, the options and configuration are very limited. These signatures are only text-based. But Gmail can handle full HTML signatures complete with font formatting, images, and links.
The Wisestamp extension remedies this problem by providing a fully editable HTML signature that can be automatically inserted into Gmail, Yahoo!, Gmail, Hotmail, and AOL Mail. For this need you got to open your email web page using supported browsers viz., Firefox, Chrome, thunderbird and flock.
This extension adds a dose of professionalism to your emails and allows you to better inform yourself.
There are many options ranging from including small icons that link to your social media profiles like facebook, twitter, linkedin, to having different signatures depending on whether the email is personal, for business, or other. Your photos can also be shown by storing those in a web server such as page.google.com, blogspot etc
Installation and customization guide:
You can download and merge the add-in with your browser using the following links
Use this link if you use Firefox, Thunderbird or Flock browsers

Use this link if you use Google Chrome browser

The following help video will explain you the steps to install Wisestamp and configure to your needs
Following are snapshots for customizing Email signature
Step:1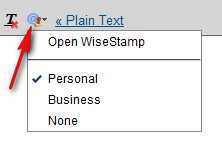 You could find an icon such as the one in the above image in your browser toolbar in the case of google chrome or at the right bottom (browser task bar) in the case of firefox browser. The compose mail page of your gmail or yahoo mail will also contain this icon in the text editing toolbar. Click the same to open customization window.
Step: 2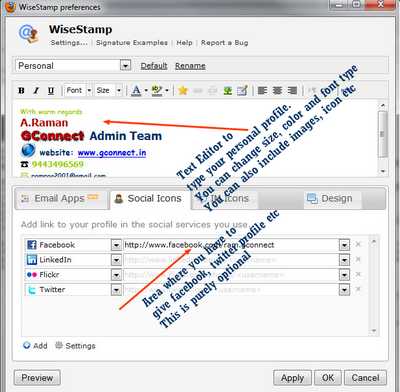 In the wisestamp preferences window that opens once you click the wise stamp icon, you can see a text editor to type your personal profile. You can change size, color, font type and what not. You can also include images, icon etc.
In the same window you can also find tabs to configure signature to fetch out your facebook, twitter pages etc by the recipient of your mail right from the mail sent by you. This would give a professional look to your mail. It's very simple. Just provide your address of facebook , twitter id etc in the relevant fields.
Step-3:
Once your email signature is customized, you are ready to use the same in you outgoing mails. When you open compose mail in your mail account you can find that the customized email signature will appear in the left bottom of your mail that you are composing. See the snapshot below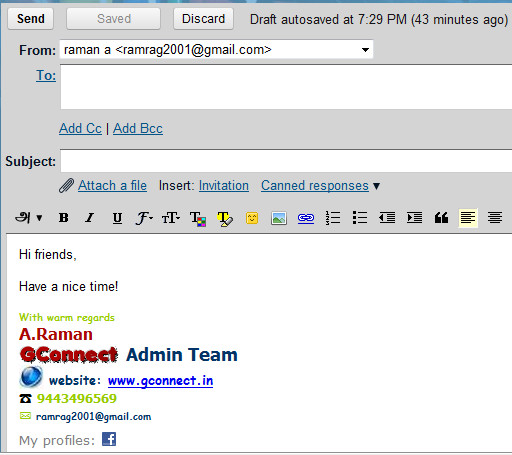 For more details go to this Software developer's website. Go to wisestamp.com