Tools that help you to spend quality time with family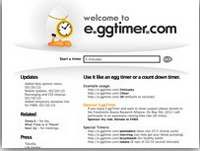 Are you a mad lover of Internet browsing?  Then you must be glued to your computer always without spending valuable time with your family.  Before your family members started giving bit of their mind on this inseperable bond, be prudent to use computer itself to find a solution.
This is a simple tailor-made online count-down timer.  It's just like an egg timer that we use in the kitchen to boil eggs.  Choose a time after a lapse of which you need an user defined alarm.  This alert will be useful in various way.  Either you can stop the job you are currently doing or you can find out the time taken so far for the job in hand. (Go to  e.ggtimer.com:)
If you still feel that scheduled alarm won't help from separating yourself from the system, you can use Automatic PC shutdown software such as SmartPower which automatically suspend, hibernate, or shutdown your computer based on a schedule.  The system re-start can also be scheduled in this tool.  The schedule can be made for all days with a special schedule for weekends. Go to SmartPower
Happy resting!