Poor Have to Pay, Rich Bank Defaulters Run Away with Big Money – How? – SC Pulls Up RBI
Rich Bank Defaulters Run Away with Big Money – RBI was asked to explain the huge amount of loans written off by public sector banks.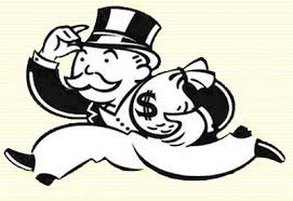 Questioning the Reserve Bank of India (RBI) over what it called a "mind-boggling" amount of bad outstanding loans given by state-owned banks, the Supreme Court Tuesday rued that farmers are forced to sell their land for failing to repay agricultural loans of some thousands of rupees, while those defaulting in repayment of thousands of crores manage to run away.
A bench led by Chief Justice T S Thakur told the RBI that the amount of bad loans disclosed in the regulator's affidavit makes it clear that the "outstanding is very large" and that the court would need to know about the steps being taken to retrieve the money.
RBI was asked to explain the huge amount of loans written off by public sector banks (PSBs) in the last five years after the bench took suo motu cognizance of The Indian Express report dated February 8 that Rs 1.14 lakh crore had been written off as Non-Performing Assets (NPAs) by 29 state-owned banks in the last three years.
"Are you not supposed to keep vigil? Is RBI not supposed to maintain information and act on how public sector banks are advancing loans? These banks are supposed to act prudentially but if they have been doing it by flouting norms and without ensuring adequate assets as securities, are you not supposed to take actions against them? RBI is the regulator… you must act as a watchdog," the bench told RBI's counsel Jaideep Gupta.
Underlining that the top court has now enlarged the scope of the matter and that it would examine all aspects of bad loans and their write-offs, the bench added: "What is this happening? There are people who take thousands of crores in loans and they manage to run away. Banks are left to waive the loans or restructure them. On the other hand, farmers getting some thousands in loans are compelled to even sell their lands if they cannot repay."
The court also perused the details of defaulters of loans of Rs 500 crore and more, submitted by the RBI in a sealed cover envelope to maintain "confidentiality", and said that "the information does make out a case for us to examine the matter".
The bench also issued notices to the Union Finance Ministry and the Indian Banks' Association, after making them parties in the case. "We have enlarged the scope of this matter and we will decide it. It is quite a substantial amount which is involved. We need to be satisfied what requires to be done," it observed.
While the RBI pressed for keeping the names of the biggest defaulters secret, the court replied that while the names could remain under wraps for now, the amount involved could be disclosed. At this point, RBI's counsel said: "Disclosing aggregate figure can also have an impact on the economy." He added that "a lot of decentralisation" has also happened and the banks have been given discretion to give loans. "RBI does not look into their day-to-day restructuring of loans or NPAs," said Gupta as he favoured making the Indian Bank's Association, a registered body representing various PSBs, a party to the case to defend their actions on their own.
RBI counsel Jaideep Gupta told the court on Tuesday that banking laws, including the RBI Act and the Credit Information Companies (Regulation) Act of 2005, mandate secrecy with regard to outstanding amounts. It was possible in some instances to reveal details under the Right to Information (RTI) Act, but blanket disclosure was not permissible, he said. The bad debt total runs into lakhs of crores of rupees as per conservative estimates.
"Aggregate figure will have impact on the economy," Gupta said, explaining why making revealing it would be detrimental to public confidence.
He also said the banking system had been decentralised from time to time and lenders were free to decide on restructuring loans, merely "reporting" these to the central bank. "RBI does not involve itself in dayto-day functioning of banks," he said, adding that the Indian Banks' Association lobby group be asked to speak for lenders.
Thakur said big borrowers were being spared while smaller ones suffered. "People are taking crores, running businesses and declaring them sick but properties of small borrowers are attached," he said. "Some are even leaving (the country)," Gupta said, without elaborating.
In this context, Bhushan referred to 500 farmers whose land was sold by banks to recover amounts as low as Rs 20,000-Rs 25,000 in Madhya Pradesh.
Thakur explained his decision to enlarge the scope of the court's jurisdiction to deal with such bad loans. "You are meant to be a watchdog. What are you doing? The information (given to us) involves a substantial amount. We need to be satisfied that all that is required to be done is being done," he said.
He issued notices to the Indian Banks' Association and the finance secretary seeking their views on bad debts. He also asked Bhushan to formulate legal issues to facilitate a more focused debate on the issue.
Source: ET