Survey Finds Rajan Getting an Extension at RBI
Rajan Getting an Extension at RBI –
That's the view of most economists in a Bloomberg survey on Thursday

.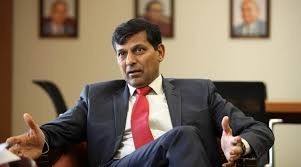 Forget the headlines about tensions with India's government: Raghuram Rajan is likely to stay on as India's central bank (RBI) governor after his term ends in September.
That's the view of most economists in a Bloomberg survey on Thursday following criticism from several government officials over Rajan's characterisation of India's economic growth in a recent media interview. Thirteen of 15 economists said he'd get an extension, one said it's unlikely and another said it could go either way. "At this juncture he is steering both the monetary policy framework and the banking system towards greater transparency, credibility, efficiency and stability," Sujan Hajra, a Mumbai-based economist at Anand Rathi Financial Services Ltd, said of Rajan.
"Given this unfinished agenda and also the fact that all of the last four governors served five-year terms, we expect Governor Rajan to get a two-year extension." Rajan's future is becoming a key point of speculation in India, which recently overtook a slowing China as the world's fastest-growing major economy. Since taking charge of the central bank in 2013, the former International Monetary Fund chief economist has led the push for an inflation target, a monetary policy committee and moves to clean up the balance sheets of state-run banks.
While Prime Minister Narendra Modi's government has largely endorsed Rajan's moves, tensions have sprung up on occasion. Rajan's speech last year on the need for tolerance in multicultural India drew a rebuke from a leading member of Modi's ruling Bharatiya Janata Party.
Last week Rajan also caused a stir when he used a proverb to characterise India's fast growth in a slowing world economy, saying: "In the land of the blind, the one-eyed man is king." That was countered by Junior Finance Minister Jayant Sinha and Commerce Minister Nirmala Sitharaman, who said Rajan should have chosen his words more carefully.
Rajan this week said he wasn't denigrating India's success with the comment and called for an improved public dialogue in which remarks are kept in context. He added that while the country's growth rate reflects the government's hard work, policy makers "have to repeat this performance for the next 20 years before we can give every Indian a decent livelihood."
Finance Minister Arun Jaitley has repeatedly declined to comment on the future of Rajan, who has also dodged questions on the topic. Modi's government has the authority to extend Rajan's term as RBI Governor.
D S Malik, a spokesman at the finance ministry, said on Thursday that it's too early to say anything on Rajan's extension. Nonetheless, stock brokerage Ambit Capital Pvt cited the controversy in a note on Thursday, saying that speculation is growing in the capital New Delhi that Rajan would leave at the end of his term. Authors Ritika Mankar Mukherjee and Sumit Shekhar listed four possible replacements: Urjit Patel, Rajan's deputy at the Reserve Bank of India; Arundhati Bhattacharya, chairman of the State Bank of India; Shaktikanta Das, economic affairs secretary in the Finance Ministry; U K Sinha, chairman of the Securities & Exchange Board of India.
"Whilst some of these contenders bring to the table superior banking-related experience than Rajan, our main worry emanates from the fact that a non-economist RBI Governor may not possess the intellectual bandwidth required to manage the currency at a time when the US is considering rate hikes," the Ambit note said. "This may expose the Indian rupee to the risk of extreme volatility as was the case in the months leading to Raghuram Rajan's appointment as RBI Governor."
Rajan told Bloomberg TV India on April 6 when asked about a term extension. "That's a hypothetical question, I can't answer it."
Soumya Kanti Ghosh, SBI's chief economist, said it was unclear if Rajan would get an extension. Even so, all others thought Rajan would probably remain governor. Deputy Governor Patel's extension in January and the formation of a new monetary policy committee indicate that Rajan will stay in the job, according to Indranil Pan, chief economist with IDFC Ltd. "The government would be keen to see the implementation of the MPC to also happen under Dr. Rajan," Pan said.
Source: BS