Railways Passengers can now access paid Entertainment in Trains
Railways Passengers can now access paid Entertainment in Trains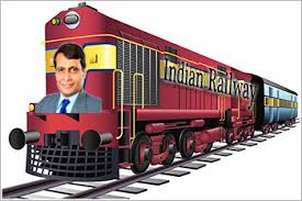 The railways will put up ATMs on platforms in stations, offer music and movies in trains and 'brand' trains to boost advertising revenue, opening up new revenue streams.
These and other initiatives on revenues for Indian Railways from non-fare sources were announced by Railway Minister Suresh Prabhu on Tuesday. The Minister unveiled the Railways' first non-fare revenue policy, out-of-home advertising policy, train branding policy, content-on-demand and rail radio policy along with an ATM policy.
The ATMs are likely to be located at the end of platforms or at a prominent place in the circulating area of stations.
"ATMs require round-the-clock security so setting up such facilities at rail platforms will reduce the security cost," Mr. Prabhu said at a press conference here.
"The Railway has captivity and we can use it in multiple ways. For instance, one can watch videos of one's choice in trains or listen to radio for entertainment," he said.
Railways will soon provide entertainment services through audio and video systems bringing movies, shows and educational programmes to passengers on their personal electronic devices inside trains and on platforms. Some of these services will be chargeable to passengers and Indian Railways hopes to mop up more than Rs.6,000 crore by the end of a 10-year contract period.
Under the train branding policy, advertising in the form of vinyl wrapping of train exteriors (including windows of AC coaches) and inside the coaches would be allowed on contract basis for a 10-year period. Each train offers an average 25,000 sq. ft., of space for advertising and can potentially generate revenue worth Rs.5 crore, Mr. Prabhu said.
Along with existing identified sites, the Railways will allow advertising along tracks, Road Over Bridges and level crossing gates.
The advertising rights are to be awarded for 10 years and are expected to generate Rs.6,000 crore during the contract term.
Mr. Prabhu had said in his Railway Budget 2016-17 speech that Railways earned less than five per cent of revenues from non-tariff sources. "In Japan, 25-30 per cent of revenue comes from non-fare sources. We aim to reach that level in seven to eight years and it will be a new revenue stream for the Railways," he said.
Source: The Hindu