How create all official size photos at home?
"I have a good Camera, yet to take photos of official sizes such as passport size, PAN Card size, VISA Size, Stamp size etc, I need to go to a studio as I do not know the standard official sizes and method to crop a photo to official sizes"
If the above statement is true for you then the free online service of IDPhoto4You.com would come in handy for you. Do you need a passport size photo? Right.
To illustrate, you need a passport size photo now.  Right ?  Just take a snap in good light with a single lighter background (preferably white or light grey). Save this photo in your computer and using the online service of IDPhoto4You.com You can convert this photo to a good passport size photo, by uploading the photo file and selecting the country as India and size as passport size.
You can convert any photo (even a group photo) to a photo that is cropped nicely to an official size (say passport size) by following simple steps given in this free online service.
One of the best features of this online tool is you can choose various standard official sizes of 70 Countries (including India).
How to create official size photos at home?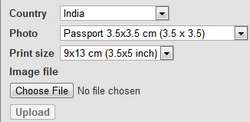 1. Select the country, the photo type and the print size, and then upload a photo.
2. Once the photo is uploaded, the Crop page opens.
3. On the Crop page, you can cut the image using the crop frame. If face detection is successful, the crop frame is adjusted to the detected face.
4. In the crop page the contour shape inside rectangular size (equal to the official size chosen by you) would automatically adjust to the face in the photo. This contour exactly sets the gap between the head and the top end of photo and also the eye position in the photo. A good official size photo will have tolerated space on the top of head and correct eye position in the photo as per bio-metric image capturing techniques. You can check these parameters easily in this tool by using bio-metric/adjuster mask on the photo which you have cropped in this tool.
| | |
| --- | --- |
| Contour shape adjustment | Photo with Bio-metric mask |
5. When you have set the cropping, click on the Make Photo button.
6. Download the printable image from the Download page.
7. Print the downloaded image using a photo printer or forward the image to a digital photo lab.
Go to IDPhoto4You.com