New Rupee Symbol in Word 2007 and Excel 2007
You are all aware, Mr.N.Masilamani of Bangalore provided us very handy scripts for including New Rupee symbol as a button in MS Word and Excel.
See the following articles if you have missed those earlier.
How to Add New Rupee Button in MS Word
MS Excel Add-in to include New Rupee symbol as button in Excel Worksheet.
These scripts work fine for Word and Excel 2003 and XP versions. In MS word 2007 and MS Excel 2007, those scripts You might need to do some extra tweaking to have the rupee symbol on the top of ribbon menu.
The following is a small customization which has to be done after you install the scripts that could be downloaded in the above links. (the download link is also available in the tutorial below)
We would provide here the tutorial on how to include New Rupee symbol in the quick tool bar on the top of ribbon menu in MS word 2007 which will be available in the Symbols tool bar inside Insert Menu in the top ribbon, once the RUPEE.vbs script is installed in your computer. The procedure is same for MS Excel 2007 also.
Install the script provided for MS Word 2007 (Download from here)
Open Word 2007
Go to Ribbon on the top and press window round icon on the left top.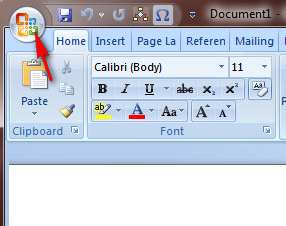 In the window that opens choose Word option button found in the bottom.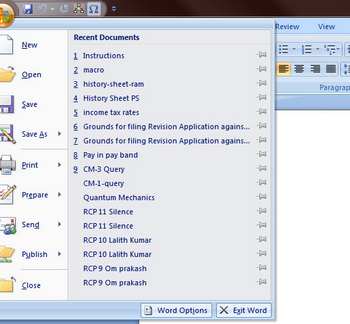 Select Customize Menu on the left.
This would bring the procedure to Customize the quick access toolbar.
In the left drop down menu (named as choose commands from) select Insert Tab and then select "Insert Symbol" in the box that appears in the bottom of the drop down menu.
Once insert tab is selected click Add button on the right.
This action will add symbols on the box available in the right side. Then click OK button to close the word options window.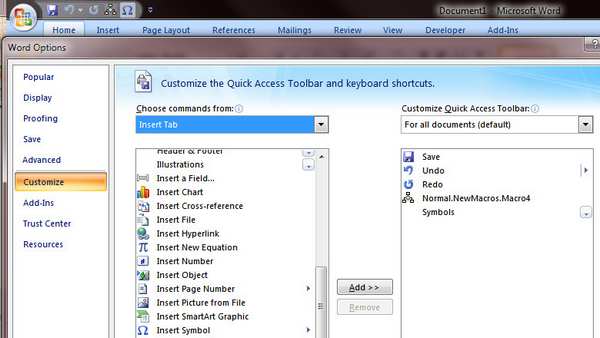 Now Quick toolbar is ready with symbols at the top of ribbon menu. Click the symbols icon now from the quick toolbar, which will open a new window that consists of symbols of all font types installed in the system.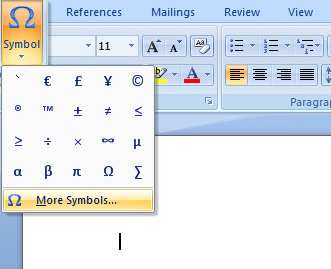 In the left top of the said window select the Rupee Foradian Font type. Once this font type is selected you can have the New Rupee symbol among others in the container that shows all the symbols. Select the Rupee symbol to insert the same in the document.
Once, this customization is completed, you can have the rupee symbol once you click the symbol icon in the quick toolbar.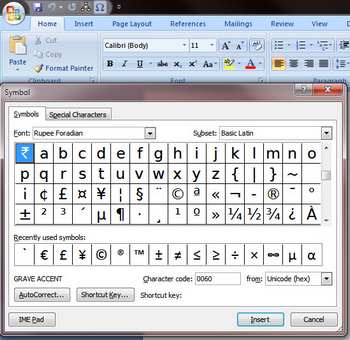 The following video tutorial will explain this customization procedure.