New Minimum Wage Rejected – unions firm on Strike Plan
New Minimum Wage Rejected – unions firm on Strike Plan – The unions have since September last year been pushing for 12 major demands include raising the minimum wage.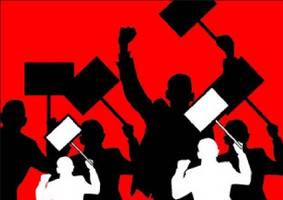 Trade unions have refused to call off a huge strike on Friday despite the government agreeing to some of their demands including raising the minimum wage of a large swathe of labour.
Finance Minister Arun Jaitley yesterday afternoon said the minimum wage for semi-skilled non-agricultural workers will be increased from Rs. 246 to Rs. 350. States can choose to improve that, but cannot offer less.
However, union leaders said states like Delhi and Karnataka already offer more than that. "The announcement on daily wages means only status quo," said Tapan Sen of CITU or the Centre of Indian Trade Unions. "No major demand has been accepted, there is no question of calling off the strike," he said.
Mr Jaitley said that two years' worth of bonuses due to central employees will be released now. However, he said the government will not consider its new rules on foreign investment.
Yesterday, Prime Minister Narendra Modi called an emergency meet of Mr Jaitley, Labour Minister Bandaru Dattatreya and Power Minister Piyush Goyal to strategise about what could be offered to unions to persuade them to cancel Friday's shutdown, which is meant to close banks, government offices and factories across the country. Several state unions have said they back the strike, which means public transport could be affected.
The unions have since September last year been pushing for 12 major demands include raising the minimum wage. They are also opposed to the government's recent loosening of rules for foreign investment particularly in sectors like insurance and defence, where, they say, national security could be compromised.
The government measures meant to allay trade unions and make them drop their proposed strike on Friday include an advisory to States to register unions within 45 days.
"There is no concrete proposal to address our demands. The minimum wage for unskilled worker comes out to be near Rs. 9,100 per month which is nowhere near our demand of Rs. 18,000 a month," AITUC national secretary D.L. Sachdev said. "We have been hearing about the government's intention to cover unorganised workers under ESIC since the last two years but it has failed to act."
The RSS-affiliated Bharatiya Mazdoor Sangh saw it as a "historic victory for workers" and decided not to participate in the strike, while the others were dissatisfied and refused to drop the strike plan.
Terming the BMS' move not to participate in the strike as "unfortunate", he said there is no question of going back on the strike call. The BMS had similarly opted out of a strike observed by central trade unions last September. In a press statement on Tuesday, the BMS asked its State units to organise victory marches and publicise the proposals announced by the government.
The Centre, however, continued to press for amending the labour laws. "We want to create a conducive environment in industry so that employment is generated. For that, labour law reforms are necessary but in a positive and pro-worker direction," Labour and Employment Minister Bandaru Dattatreya said.
The labour unions have been opposing several proposed amendments to the labour laws.
The strike and accusations of not protecting workers' interests come at a time when the government is delivering major reforms to re-energise the economy, and trying to fight the perception of it aligning with the interests of big business.
The Bhartiya Mazdoor Sangh (BMS), a major union linked to the ruling BJP's ideological mentor, the Rashtriya Swayamsevak Sangh or RSS, has said it will skip Friday's strike, with leaders saying that the government has accepted several of its major demands.
Source:The Hindu