Movia Metro Train for Delhi
Transportation and aviation major Bombardier Inc.'s Indian unit will roll out the first metro car from Savli, a small town in Vadodara district. The metro car (coach) has been built for the Delhi Metro Rail Corporation (DMRC). This will be the first train made by a private company in India.
If all goes well, the metro rail built in Gujarat will be commissioned in Delhi in a couple of months. Bombardier is building a dedicated broad-gauge rail line at Savli unit so that the metro cars being built here can be transported via broad-gauge. The first metro is likely to be transported to Delhi by road as the broad gauge is still under construction at the Bombardier unit.
Bombardier has been able to set up the unit and deliver the first metro car in a record time.
Chief Minister Narendra Modi had inaugurated the state-of-the-art railway vehicle manufacturing facility at Savli in November 2008.
Bombardier has 1.4 lakh square feet land at Savli. The company plans to manufacture railway vehicles for south Asian markets from its unit in Savli.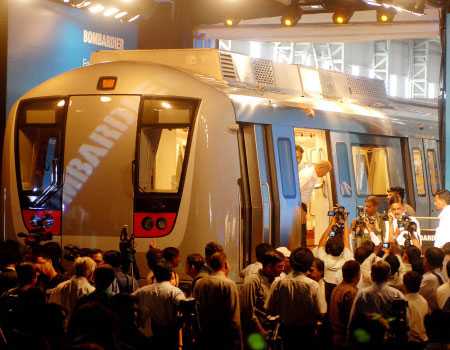 Dr Sreedharan, MD, Delhi Metro Rail Corp Coming out of Movia, The first Indian Metro Rail, which is being rolled out at Savli, Vadodara in Gujarat .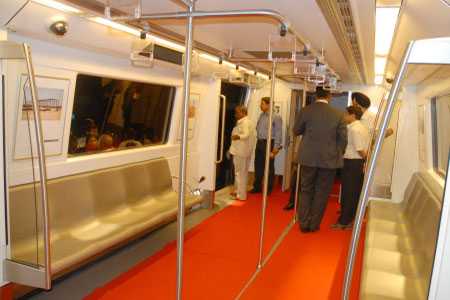 The trains promise a more comfortable ride for Delhiites as they have been made after analyzing the problems with the existing coaches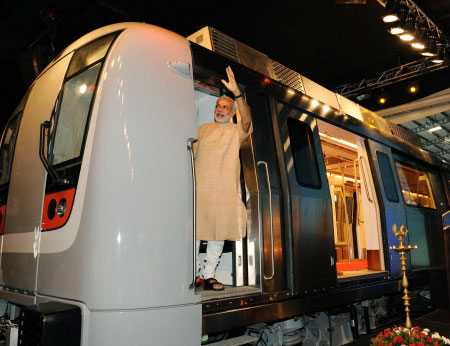 Chief Minister of Gujarat Narendra Modi waves to a huge gathering while launching Movia at Savli near Vadodara.  The four-coach train is the first metro train manufactured as part of the 424-cars order from the Delhi Metro Rail Corporation.
Driver's cabin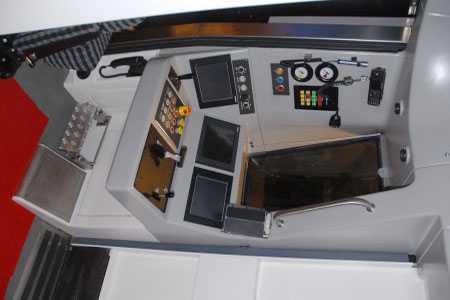 The trains are energy efficient and the cost of the trains is also much lesser compared to their imported counterparts.  The new trains include an advanced braking system to keep the noise levels in check as the earlier coaches were very noisy.The air-conditioning has also been improved so Delhiites can expect a cooler ride next time they board a Metro train.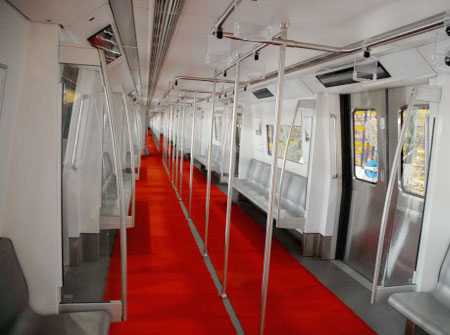 The bogie design has been improved and the flooring quality upgraded to ensure a smoother ride.   The coaches are state-of-the-art – these have been made using the most advanced manufacturing technology such as spot-welding robots, being used for the first time in the country for rail car body manufacturing.  The coaches are about 35-40% indigenous, as a large part of the spare parts, have also been manufactured by local vendors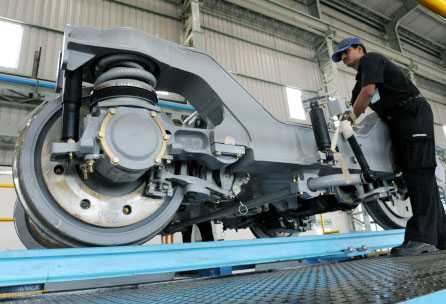 Panic triggers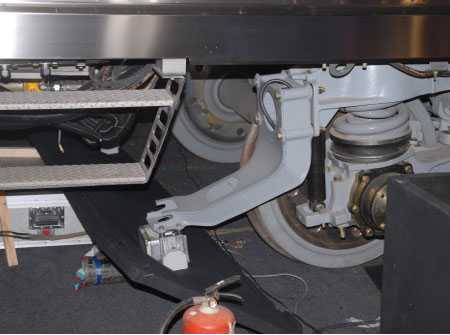 Panic triggers were pressed when the Movia jumped off the rail on a ramp made to unveil it at the Bombardier plant in Savli.  The train is environment-friendly in design. Surface transport vehicles contribute to nearly 84% to the carbon emissions in the atmosphere, followed by aeroplanes, which add another 15%. Rail-based transportation comprise for just 1% of these emissions.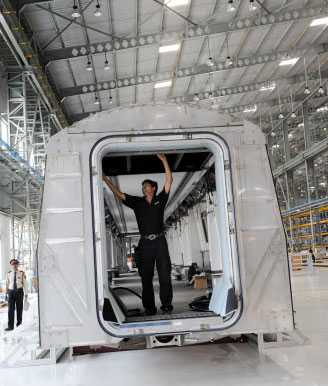 An engineer works on a Movia Metro Train at Bombardier Transportation at Savli.