Google Science Fair 2013 – Online Science fair for Teenagers
Google to recognize  teenagers from around the globe who have ideas that will change the world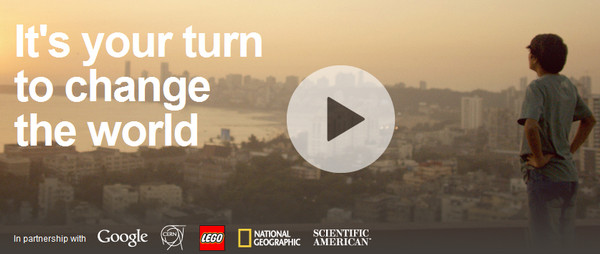 Google, the internet giant is organising an innovative online science fair every year to recognize  teenagers from around the globe who have ideas that will change the world.
This year the event is organized by Google in partnership with CERN, LEGO, National Geographic and Scientific American.
Aspirants can register for this event through the interface of Google Science Fair website. Once registered they can they can submit and continue editing their project up in the same website till 30th April 2013.
The best submission will be awarded the grand prize, which includes a 10 day trip to the Galapagos Islands – courtesy of National Geographic Expeditions. The grand prize also includes a Google scholarship worth $50,000, which can be used to further the students' education in any way they like, digital access to Scientific American and a grant worth $10,000 for the students' school, a hands-on experience at either CERN, LEGO or Google, as well as a Mindstorms LEGO set signed by CEO Jørgen Vig Knudstorp himself.
Scientific American is also sponsoring a new category, called Science in Action, that will award $50,000 to a project that tackles an environmental, health or resources issue.
The Inspired Idea Award, which will be given to the submission with the greatest potential to change the world.
A Team consists of fifteen judges will examine each submission across eight different sections and would initially select 90 regional finalists – 30 from the Americas, 30 from Asia-Pacific and 30 from Europe, the Middle East and Africa. In the month of June 2013, these regional finalists will be declared as Google as Top 90 finalists.
Judges will then pick the 15 finalists, who will fly to Google's headquarters in Mountain View, California for the finale event on September 23.
Visit this Google's official website for Online Science Fair 2013 for more details.
Also watch these interesting promotion videos for Google Science Fair 2013.