Google Drive – A good online edit, storage and sync service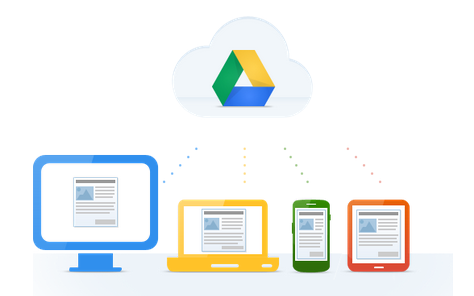 Those who are familiar to Google docs (docs.google.com), might have been introduced to Google Drive by this time as Google Drive which was launched this year is a beefed-up version of google docs.
If somebody ask me how useful to me are word and excel, it would sound like to me as how useful are paper and pen in a brick and mortar ( I mean real and physical!) offices.  After google introduced google docs some years back, it's like carrying all my documents physically wherever I go as I could open my word or excel documents wherever I go using Internet once I stored the same in google docs.  But google docs did not have sync facility.  In other words whatever the documents such as word, excel, pdf, presentations etc., I store in google docs will be in the internet, and I can edit the same online and save it.  But the same will be available to me in my computer off-line only if I download those documents.
Those days are gone now.  With the latest cloud storage technology Google has upgraded google docs now as Google Drive, which is an extremely useful online word, excel, presentation editor, storage and Sync service.  Each gmail account holder is provided with 5GB of storage free of cost at Google Drive.  Even the Dropbox, who is the leader in Cloud storage technology provides only 2GB of storage free of cost.  Moreover you can not edit your documents online in Dropbox.
The other most useful utility in Google Drive (which was available in Google Docs also) is file Sharing.  If you want to send any file to your friend or boss there is no need attach those in email etc.  Just put those in Google Drive and share either with edit facility or without edit facility to the person you wanted to share by entering their gmail address in the share option provided in Google Drive.  That's it.  The person to whom you wanted to share will be invited  with a email in his gmail inbox to open the document you wanted to share with him.
What about sync facility in Google Drive we were talking about?  Yes.  If you download and install Google Drive .exe file meant for syncing your computer with online Google Drive, the computer in which you installed google drive will be syncing with Google Drive online.  Whatever the documents you are storing in the Google Drive folder available in your computer will be synced with the online storage provided to you by Google Drive. So there is no need to upload or download each time after you edit and save a document either in your computer off-line or at Google Drive online.  Both the copies documents available at Google drive online in your account as well as at your computer at Google Drive folder will be same.  This facilitates total portability to your documents once you store those in Google Drive without the need to carry those in your pen drive, laptop etc.
Watch this Official Video released by Google to explore into Google Drive.
Go to Google Drive